Tonight American TV Network PBS, will air the premiere of a two hour major documentary on jazz legend Ron Carter. Six years in the making, "Finding the Right Notes" was produced and directed by the renowned producer/director Peter Schnall, a seven-time Emmy Award and Peabody Award winner.
Schnall reveals poignant and joyful details of the jazz maestro's life, from his early years as a cello student in high school through his years in the Miles Davis Quintet of the '60s and into his vital solo career that continues to expand.
Along with the film, the exclusive soundtrack of never-before-heard Ron Carter performances will be released as a CD by Freiburg, Germany-based In+Out Records. A 2LP version will be available in Europe on November 18 and early in 2023 in the UK.
The album includes a live performance of jazz perennial "Soft Winds" performed at the Newport Jazz Festival and an impromptu bass duet of "Willow Weep for Me" with Christian McBride at The National Jazz Museum in Harlem. There are also tunes from two New York Blue Note club sessions with Bill Frisell on "My Man's Gone Now" and a first-time recording with fellow bassist Stanley Clarke on "Bags' Groove." The most rewarding recording comes when Carter meets up with Jon Batiste at the Power Station studio for a conversation and ultimately a song: "Sweet Lorraine."
Toward the end of the production, Schnall had thought of reviewing Carter's history, but then decided to have someone else on screen. He invited Batiste who was once a student of the elder while he attended Juilliard. What better choice than to have two of music's most prominent artists talk together? The session lasted two hours. "My hope was that the two would play together," says Schnall. "When Ron showed up with his bass, I knew that something was going to happen."
Schnall admits that he didn't grow up as a jazz aficionado. His introduction to Carter came from his friend John Matera, a jazz enthusiast, who had invited him to see the bassist perform at the Blue Note in the West Village. "Towering over his bass, Ron played with a sensitivity that commanded attention," Schnall writes in the recording liner notes. "I was mesmerized. When the show ended, my friend John told me we had just witnessed the greatest living bass player. He wondered why a documentary had never been produced on Ron's 60-year career. Half-joking, I said, maybe now's the time."
So began Schnall's long journey interviewing Carter at his house, on the road, in the studio to fully understand the 85-year-old's majestic life story, with Jonathan Zalben serving the valuable role as the film's musical supervisor. He started out by writing a letter to Carter and then visiting him at home. "It was the most wonderful and interesting and surprising conversation. We chatted for two hours, not so much about music, but about life. I was so impressed."
If Schnall hadn't been steeped in jazz before, he certainly gained a depth of appreciation from Carter as well as from the other great jazz musicians he interviewed, ranging from Herbie Hancock to Sonny Rollins.
As for getting the documentary out to the public, Schnall first pitched the story to PBS. "They immediately said 'yes' to the project, they were very excited about the Ron Carter story," he says. "Later, when we presented PBS with our 90 minute rough cut, they asked if we could extend the show to two hours. That doesn't happen too often."
The same enthusiasm held true with IN+OUT Records. "They put together all the music in less than three months," Schnall says. "It's so important because it covers the kind of music that he's been playing his whole career."
The Documentary premieres tonight on PBS and is expected to be available for streaming soon. The sound track, also released today on IN+OUT Records, is available now on CD and all streaming platforms.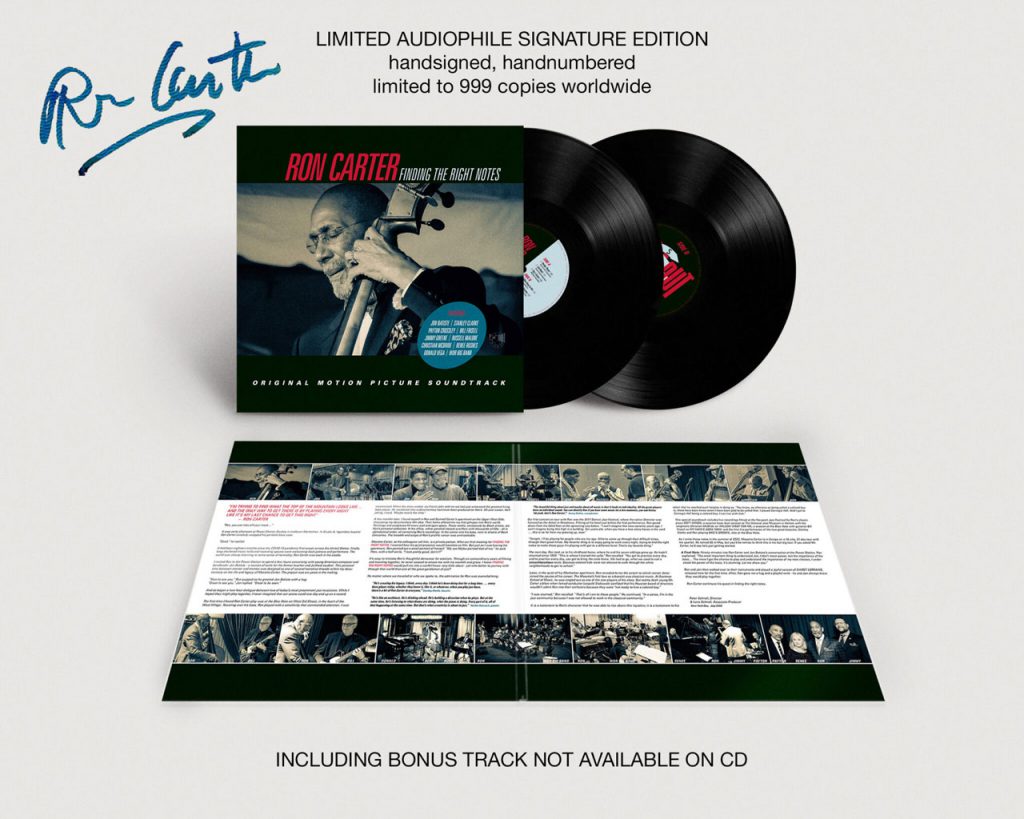 The album will also be released as a limited edition double LP, with each copy hand signed and numbered will be available from the IN+OUT Records website on the 18th of November.
More information on the IN+OUT Records website.
For more information on the making of the film, please visit the projects website here.

Editors Note: Ron Carter will be performing at Cadogan Hall on 13th November as part of the EFG London Festival. Details and tickets here.
Last modified: October 21, 2022