Composer and pianist Koki Nakano releases his new album Oceanic Feeling, today on the brilliant, independent French label, Nø Førmat! This is his third release with this label, and his previous albums Lift and Pre-choregraphed are incredible.
Born in Fukuoka, Japan, Koki has been developing his artistry since he was three years old. He studied composition at the Tokyo University of Arts and very quickly made a name for himself and innovative collaborations and projects with leading artists followed including recitals at the Lincoln Centre, Cadogan Hall and the Louvre. Based in Paris, his new album is causing great excitement and I was fortunate enough to see him perform the album recently in Paris and London.
The new album Oceanic Feeling is stunning. Inspired by a letter from the French essayist Romain Rolland sent to Sigmund Freud in 1927, the term 'Oceanic Feeling' is referred to as 'a sensation of 'eternity', a feeling of 'being one with the external world as a whole'. Koki explains:
'Personally, this sort of feeling is linked to the question about the boundaries around our entity which I conceived when I watched the dance piece ' SARA' by Sharon Eyal (I still didn't know about the word Oceanic Feeling that time). At the very end of 'SARA', when the dancers finished the piece gently forming all together a sleeping pose, it seemed as though they were to be back in their original state. This led me even further to wonder about the limit of our bodies or even our individualities themselves. It sometimes appears to me to be so variable and ambiguous'
Koki's connection to movement is an integral element to his work and when he first studied composition, he became aware of the importance of new ways of thinking and innovative compositional vocabulary. I asked him how this connection developed.
KN: From the beginning I was quite convinced that there were so many ways to develop using beautiful harmony, and melody as well, but using harmony and melody to liberate and how to not be stuck in old ways. Using innovative but common words, common grammar to create a unique shape. I was very aware that to imagine the choreography, the movement -unique movement – for me it gives different lights to the same vocabulary which is already used. Also, it can develop in other ways – the structure itself. I had this kind of feeling and intuition from the beginning of my studies of composition, so I always kept this image in my mind even before I started to collaborate with dancers.
The feeling of movement in Koki's music is quite incredible. Port De Bra, which means carriage of arms, is a staple ingredient of dancers. A set of exercises that instils grace, beauty and harmony to movement that is a core element of all dance training. One of Koki's tracks on the new album 'Port de Bra' is so interlinked you would think it had been composed – and performed by a dancer.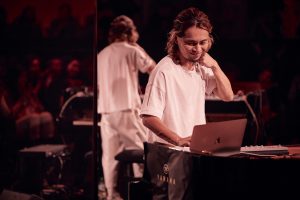 KN: Well that is such a pleasure to hear, because maybe finally my music is reaching this point! Since the last album I started to imagine having dance in the pieces whereas before it was just the idea. For this new album I literally composed, watching again and again videos of the dancers and I started to extract ideas. The basic fact is defined by the artist movement and I tried to really move my arms to really understand how much energy you need, how much time you need to reach to the other point. Fortunately, I had lots of occasions to collaborate especially after the last album, so I started to really know the energy – how much you need to move and how much pressure to give to the dancer for this movement.  
In 2019, Koki was involved in a fascinating workshop with choreographer Damien Jalet and visual artist Kohei Nawa, where he performed 'On the sea'. This project intensified his connection and understanding of dance and music, and in fact the indivisibility of the two, but also an additional component – water. Koki explained this incredible project.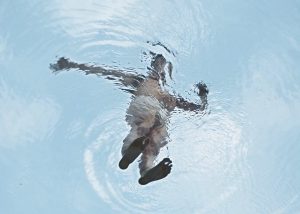 KN: They built the structure on the sea for the dancers, a base so they could stand on the surface of the sea and then they put the piano on and we all were soaking our feet in the water. We improvised listening to the sound of the waves and there was wind as well… it was really a huge construction and they did three days of preparation before. We went together with six dancers, great, great dancers and I had the opportunity to perform for three days, all day long from the sunrise to the sunset. It was a very, very special occasion. I really felt a very strong sense of synchronisation with the dancers and also the environment as well and I was again convinced that the dancer's movement could be one phenomenon. I was very aware that this experience was really supported by the fact we played on the ocean and water is always the connection between all great creatures, nature, all human beings and other objects. So, I started to research the ocean and water after this because I thought that the water could be the key to think about how to coexist with other things.
You can see and truly feel this exploration in this stunning video of 'Port De Bra', from the new album, directed by Benjamin Seroussi, with choreography and dancing from Mourad Bouayad. I find this piece simply stunning. A beautiful mix of simplicity and complexity on many levels. Koki explains that 'When I was composing the piece, I held an image of this movement being performed under the sea and each arm affecting the surrounding, leaving visible traves. The subtle movements of the melody incessantly generate some phenomenon in the space around'
Throughout the album, there are influences that take us to many places, physically and emotionally.  'Glances' is another stunning piece that follows a poem by an Italian poet, Vaerlio Magrelli, exploring the metaphysical aspects that lie in the act of 'seeing'. 'Body Scan' explores 'an Epicurean rooted in deep despair' and there is of course the obvious influence of Koki's Japanese roots and his home in Paris. I asked Koki about the geography of his influences.
KN: My interest is maybe all music, but you know to be a musician is the most abstract media, I think. There are no visual, concrete things, you can never catch, never touch it, so it quite easily can go beyond borders, any borders. So, in a way it will let me research what are the most common things – background, culture…So I think in terms of the harmony, in terms of pitch, these kind of things relate directly to human beings, their instinct. So, my interest is always to find the most common things as a human being and that's why I'm very fascinated because we all, regardless of race or nationality, we all have almost the same body.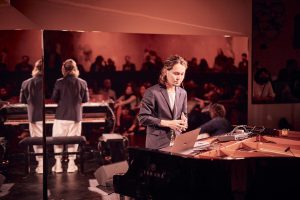 I have been so very fortunate to see Koki perform live recently, firstly in Paris and secondly in London (review) and his performances really are something to behold. As an artist he communicates with the audience in a way I have never seen before, it reaches you on so many levels. His new album Oceanic Feeling is simply beautiful. A stunning piece of work that I cannot recommend highly enough.
Koki Nakano is an artist that will stay with you. His music is beautifully intense and yet beautifully simple. Virtuosity that will blow your mind combined with the ability to find an emotional connection with all of us that is simply astounding.
Oceanic Feeling is out now and available here
To explore Koki Nakano work, please visit his website here
Koki Nakano on You Tube
Koki Nakano on Facebook
Koki Nakano on Instagram
Photos courtesy of Nø Førmat!
Last modified: July 11, 2022