Paris based Japanese pianist and composer Koki Nakano presented his captivating new album 'Oceanic Feeling' in two stunning settings – Palais de Tokyo, Paris and Stone Nest in London. I was thrilled to attend both events and explore the work of this brilliant artist.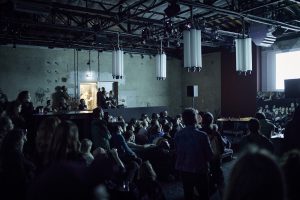 One of the things that was most exciting to me, was the variety of ways I explored Koki's album. In Paris, at the Palais de Tokyo, you could feel the excitement in the air as soon as you entered. A packed house and everywhere I walked in the crowd, I could hear people talking about the evening with great anticipation, an incredible buzz.  Drinks on the rooftop with the Eiffel Tower almost within touching distance, the atmosphere was exhilarating. The stage was simple. A grand piano, mirrors and a large screen. The seating, incredibly large (and very comfortable) sofas to allow us all to feel suitably relaxed and ready to embed ourselves in the performance. Koki arrived and he has such a beautiful presence – an awe – around him. That rare combination of brilliance without a hint of arrogance. His performance, stunning. His compositions have such a wonderful combination of simplicity and complexity that translates to an intense, yet, accessible emotional connection. I don't think I have ever experienced anything like it.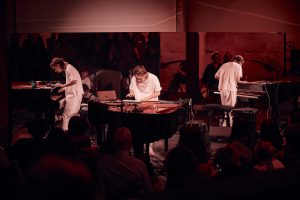 Koki's connection with movement and his work with inspired choreographers is integral to his work and the way he demonstrates this through his compositions and performances is simply outstanding. Port de Bras, (video below) performed beautifully both in Paris and London, demonstrates the depth to this integral link to movement. It is one of my favourite tracks from his new album – masterful – and it astounds me that someone with no dance training can interpret this movement with such truth and depth. Koki explains that 'My music often develops as if responding to body movements that I have in my head' but his work goes beyond a simple groove or movement you feel the movement, the emotion. In Paris, dancers Marion Motin, Nicolas Huchard and Mourad Bouayad were embedded in the audience and stood up to perform, where they were, at various points in the evening with beauty and intensity – this was a truly immersive experience like no other.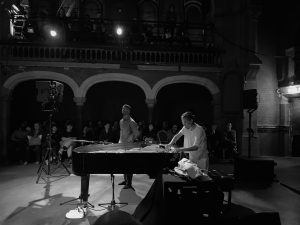 In London, Koki performed at the gorgeous Stone Nest venue, a Grade II listed former Presbyterian church built in 1888 which is truly hidden in the heart of the West End. Described as 'a platform for bold, visionary artists and a space where audiences can encounter an eclectic programme of contemporary performance', Koki's artistry was perfectly suited to this venue. A slightly more formal seating approach and overall feel compared to the Paris performance, and it was fascinating to see that after Koki had left the stage area, the audience very quickly hovered around the piano, looking at his technical set up and taking selfies with a definite 'the master performed here' awe about them. The dancers although seated in the audience, moved into the stage area for their performances this time and when I say 'the dancers', I am referring to world-renowned, contemporary dancers Nicolas Huchard and Christian Yav, who gave breath-taking performances, with emotions so real you could almost touch them. You can see very clearly why they have worked with so many incredible artists including Jean-Paul Gautier and Madonna.
Living up to their reputation of releasing 'extraordinary, original artistic projects' Nø Førmat! the independent French label, have a stunning catalogue of work and Koki Nakano clearly has the support, dedication and freedom of his label team and the importance of this, must not be underestimated. I highly recommend exploring their roster.
The new album 'Oceanic Feeling' is inspired by the expression 'Oceanic feeling' coined by Romain Rolland in a 1927 in the letter to Sigmund Freud to refer to "a sensation of 'eternity'", a feeling of "being one with the external world as a whole" and I will be exploring Koki's work in an interview coming soon. The album is released on May 13th and I highly recommend this beautiful album. Koki Nakano is an artist that will stay with you. His music is beautifully intense and yet beautifully simple. Virtuosity that will blow your mind combined with the ability to find an emotional connection with all of us that is simply astounding.
Nø Førmat! website
Koki Nakano Bandcamp
Koki Nakano on Spotify
Koki Nakano Facebook
Photography of Palais de Tokyo performance courtesy of Nø Førmat!
Last modified: May 2, 2022