Today sees the release of Dutch bassist Nick Kerkhoff's first digital single from his up-coming debut album titled 'Here and Now'. The full album will be released on the 14th of May. The album due for release on CD, Vinyl and on all digital platforms and features nine original tracks, all written and arranged by Kerkhoff. Joining Nick on this recording are Jesse Schilderink on Sax, Emanuele Pellegrini on Piano and George Panaite on Drums.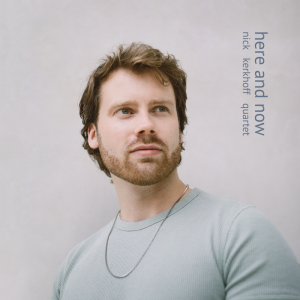 Having graduated from the ArtEZ conservatory in the Netherlands, Nick decided to concentrate most of his time on his own projects. "Over the years I've worked hard at developing my own style and I've focused a grate deal on composing. I like working as a side-man but main focus is my own music" explained Nick. The majority of the material that appears on the album was purposely written for the album however there are a number of tracks that are based on older material that was still lying around in scratch form and re-worked.
When speaking of the line-up Nick explained. "I've known Jesse, and George for some time and Emanuele came highly recommended by a colleague. The first time we worked together there was an immediate click, so, when I decided to go into the studio to record the album I chose these players because I new they fitted perfectly from a stylistic perspective."
The music presented on the album is new and fresh yet still rooted in the tradition. "I come from a musical family so I discovered jazz at a young age, while most of my friends were listening to pop music I was into Wayne Shorter and Pat Metheny for example." The albums title "Here and Now" points not only to the ability to be "In the Moment" but also refers to the wish to document a moment in time. Nick explained "For a long time I felt like I was almost ready to record my debut album. But I came to realize I would never feel like I was fully ready if I wasn't able to accept myself as the musician I am right now. For me this song is about being in the moment and going after what it is you want. We will always strive to be better tomorrow, but the beauty in this record is that it's honest and it captures us as the musicians we are today."
With "Here and Now", Nick Kerkhoff has created an album that not only documents this current period in his career but also sets the tone for all that will come. It's clear when listening to this album that Nick has staked his claim as one of the most innovative bassists on the scene today.
"Here and Now" will be available on 14 May on all streaming and download platforms as well as on CD and limited edition 180gram vinyl. If you wish to pre-order either the CD or Vinyl click here.
Line-Up:
Saxophones: Jesse Schilderink | Piano: Emanuele Pellegrini | Bass: Nick Kerkhoff | Drums: George Panaite
Track Listing:
1. Here and Now (8:57) | 2. Intro (1:39) | 3. Almada (6:22) | 4. Last Train Home (5:28) | 5. Could Have Been You (7:20) | 6. Siluae (6:32) | 7. Could Have Been You | (Reprise) (1:06) | 8. Leaves (4:50) | 9. The Voice of a New | Generation (4:20)
Release Date: 14 May 2021
Format: CD | Vinyl | Digital
Label: Independent Release.


New Release Spotify Playlist
The Jazz In Europe New Release playlist features tracks from the new releases featured on Jazz In Europe. Updated weekly, this playlist is the perfect place to discover new music from the leading jazz musicians currently on the scene. We hope you enjoy this selection.
The best way to keep up to date with all the latest releases is to follow us on Spotify. Just click the button below.
Last modified: April 16, 2021