OK, so it's time to come out of the closet and tell the world that I like creative vocal jazz. I'm also quite partial to Scandinavian music so when this album hit my inbox I was immediately curious. 'The Siren' is the latest release from vocalist Susanna Aleksandra. Born in Estonia, Susanna Aleksandra has travelled extensively spending time working and studying in Paris and LA before settling in Finland. The press release states that here "…she has found her new jazz home, collaborating and sharing the stage with some of the most revered Finnish jazz musicians top jazz musicians".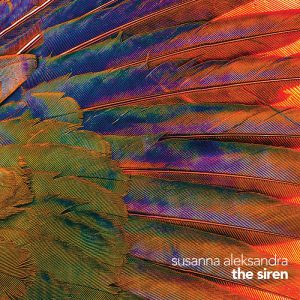 Susanna released her debut album titled 'Miracles' in 2015. Her second album 'Souls of the Night' (Blue Gleam) was released in Japan in March 2020 and this album is the international version of 'Souls of the Night'. The album was released in January 2021 through Eclipse Music. The Siren features mostly original material written by Susanna with the addition of one of my favorite standards 'Blame it on my youth' and a great re-working of the Finnish folk song 'Ruusu Laaksossa'. Joining Aleksandra on this album are Joonas Haavisto on piano and synthesizer, Joonas Tuuri on double bass, Ville Pynssi on drums and with the addition of percussionist Abdissa "Mamba" Assefa on 'Summer Came Early'. Susanna, Joonas Haavisto and Abdissa "Mamba" Assefa jointly share the production credits.
So, now with the formalities out of the way, let's take a look at the album. The album kicks off with the title track 'The Siren', inspired by a chance encounter in a Parisian department store with a retired dancer and choreographer. This jazz waltz exudes a nostalgic atmosphere and sets the tone perfectly for the album. I enjoyed the melodic twists and turns as Aleksandra imagines the dancer in her younger days on the stages of Paris. "The Path" follows. Pianist Joonas Haavisto sets up the track introducing the melody and paving the way for Susanna to enter with the lyrics that impart, what one can describe as, the wisdom of a parent to a child entering adulthood. Both musically and lyrically this track has a depth the requires a number of listens to peel back the layers of the onion. Musically this track is quite ethereal but with a subtle straight eight feel tying it all together.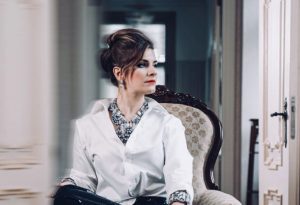 The pace is picked up with 'Clumsy' providing room for Aleksandra to display her scatting skills. Alternating from straight to swing, I thought lyrically it felt a little rushed however this, in no way, detracts from the track as whole. Oscar Levant and Edward Heyman's classic standard 'Blame it on my youth' follows. Susanna interprets Heyman's lyrics like a true story teller, a classic "bar stool" ballad. This song has special meaning for Susanna, in the press release she explains: "It's is a timeless song with a timeless message. For me, it a story of accepting past errors and learning self-acceptance. We should not regret the feelings that we have experienced but rather be thankful for them and grow."
As I mentioned above, percussionist Abdissa "Mamba" Assefa makes a guest appearance on 'Summer Came Early'. This track is in my opinion one of the many highlights of this set. I enjoyed the infectious odd meter grove, reinforced by the addition of Assefa, the solos on synthesizer by Joonas Haavisto and Joonas Tuuri on bass and especially Aleksandra's sublime vocal performance.
The following track 'The Love Song' is possibly the most commercial track on the album, with it's soulful pop feel. Lyrically the song speaks about accepting true love and becoming ready to fully invest ourselves in a relationship. This song was a finalist in the Finnish songwriting competition, Unelmastudio.
Speaking of the writing, at this point it's worth noting that one of the most enduring aspects of this album is the songwriting. Lyrically Aleksandra shows poetic depth and the ability to wrap this in intriguing melodies that often defy the limitation of structure. This is further evidenced on 'Ever Afters' and 'Let's call it a day'.
Ruusu Laaksossa is a Finnish folk song (in English, 'A Rose of the Valley') that is a metaphor of a boy finding a beautiful rose that he will never forget but as a poor wanderer, she remains only a beautiful dream. It's difficult to describe the beauty of the arrangement however you can listen to the embedded video above and see for yourself.
Closing out the album is 'I Will', a declaration to the unconditional love of parents for their children and written in a spontaneous moment while riding on a train. This short track featuring only voice and piano is the perfect coda to close out the album.
It's not often that I'm so charmed by an album however, for this writer, 'The Siren' did exactly that and I can say that it spent a number of days on repeat in my now antiquated CD player. I've spoken a great deal about the lyrical aspect of this album but it must be said that the instrumental performances of this recording are outstanding. Pianist Joonas Haavisto shows himself to be the perfect foil for Aleksandra's melodic escapades and both Joonas Tuuri on double bass and Ville Pynssi on drums are strong throughout, providing a solid basis for Haavisto and Aleksandra to weave their harmonic and melodic magic.
This album is a keeper and based on this I can only imagine we will be hearing a great deal more from Susanna Aleksandra in the future.
Line-Up:
Susanna Aleksandra – Vocals | Joonas Haavisto – piano, synthesizer | Joonas Tuuri – double bass | Ville Pynssi – drums | Abdissa "Mamba" Assefa – percussion (track 5).
Track Listing:
1. The Siren | 2. Your Path | 3. Clumsy | 4. Blame it on My Youth | 5. Summer Came Early | 6. The Love Song | 7. Souls of the Night | 8. Ever Afters | 9. Let's Call it a Day | 10. Ruusu Laaksossa | 11. I Will.
Release Date: 29 January 2021
Format: Digital | CD
Label: Eclipse Music.


New Release Spotify Playlist
The Jazz In Europe New Release playlist features tracks from the new releases featured on Jazz In Europe. Updated weekly, this playlist is the perfect place to discover new music from the leading jazz musicians currently on the scene. We hope you enjoy this selection.
The best way to keep up to date with all the latest releases is to follow us on Spotify. Just click the button below.
Last modified: February 5, 2021