I first saw the wonderful pianist Ignasi Terraza performing with magnificent trumpeter Andrea Motis at the Duc des Lombards in Paris a couple of years ago and I have been following him very closely ever since. A multi award winning pianist, his highly respected work in Spain has seen his reputation stretch globally and he has performed with an outstanding line up of musicians including Stacy Kent, Lou Donaldson, Frank Wess and Labelle to name just a few.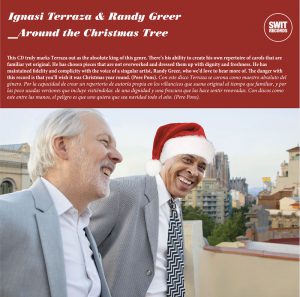 Having seen him perform, I was drawn in immediately by his incredible relationship with the keys. A tenderness and sensitivity that is rare and just so beautiful. His connection with the keys is quite something and it is truly an extension of his heart and soul.
Ignasi's latest project is a Christmas album with vocalist Randy Greer 'Around The Christmas Tree'. If you are looking for a stylish and joyful Christmas album, look no further. With a clear nod to Nat King Cole, this is the perfect combination of traditional Jazz Christmas songs and new compositions with a shout out to the end of the challenging year we have all been through.
The musicians are excellent, and I especially loved the inclusion of the congas and bongos on a couple of tracks, which really gives the album a slightly unexpected twist. The two instrumental tracks on the album provide an opportunity for the band to really shine and showcase their stunning musicianship with a special shoutout to Ignasi (piano), Josep Traver (guitar) and Horacio Fumero (Bass). Andrea Motis joins as a guest vocalist on a couple songs and in 'No More Lockdown' she tells us she wants to feel safe this Christmas and feel fresh air on her face and despite the topic, she makes us feel motivated, inspired and delivers beautiful vocal lines. Randy Greer's presence is felt throughout the album and his vocals are velvety smooth with a touch of Dr John especially during the song 'All the Blues you Brought Me' – beautiful – that perfect amount of seasonal melancholy and groove. But there are plenty of playful moments with a hint of Louis Jordan especially on the citrus inspired 'Freshly Squeezed' where Randy tell us that he 'can't walk around town with his head hanging down, squeeze it baby, squeeze it'. I even felt a little hint of Santa Baby herself, Eartha Kitt, with guest vocalist MG on 'Be-Bop Santa', a wonderful final track.
2020 has been a difficult year for everyone and we are all looking forward to a more positive and exciting new year. This album is the perfect companion for seeing out the old and bringing in the new with some fantastic music.
Line-Up:
Randy Greer: Vocals | Ignasi Terraza: Piano | Andrea Motis: Vocals (tracks 2 and 8) | MG: Vocals (track 13) | Horacio Fumero: Bass | Josep Traver: Guitar | Esteve Pi: Drums | Yonder de Jesús: Congas and Bongos
Track Listing:
Christmas Time In Barcelona | No More Lockdown | All The Blues You Brought To Me | The Secret of Christmas | Freshly Squeezed | Don't Let Your Eyes Go Shopping For Your Heart | Fum, Fum Fum | Waltzing Around The Christmas Tree | Let It Snow | What Are You Doing New Year's Eve? | Let's Make Everyday A Christmas Day | Cole For Christmas | Be-Bop Santa Claus/Jungle Bells.
Release Date: 6 November 2020
Format: CD | Digital
Label: Swit Records


New Release Spotify Playlist
The Jazz In Europe New Release playlist features tracks from the new releases featured on Jazz In Europe. Updated weekly, this playlist is the perfect place to discover new music from the leading jazz musicians currently on the scene. We hope you enjoy this selection.
The best way to keep up to date with all the latest releases is to follow us on Spotify. Just click the button below.
Last modified: September 10, 2023