Guitarist Tom Guarna has assembled yet another "dream team" of a band for Spirit Science, his second release for Destiny Records and his eighth overall. To realize a vision steeped in Pythagorean ideas of the science "sacred geometry," the New York-based Guarna convened a group of virtuoso peers: reed player Ben Wendel, keyboardist Aaron Parks, bassist Joe Martin and drummer Justin Faulkner. 
As mentioned above, the story Guarna spins on Spirit Science is a fascination with "sacred geometry, those laws that drive everything in existence," the guitarist explains. "It's where math and science meet with spirit and matter – ideas that humans have studied since the ancients, from Pythagoras to Da Vinci. Exploring that changed my perspective on music, really. It's inspiring to see how science reveals the patterns and shapes in everyday life, the patterns behind everything we experience from nature to architecture to music. Once you're aware of it, you see those implications everywhere. With Spirit Science, I wanted to evoke those primary, essential shapes – spirals, circles, squares – in my compositions."
Guarna, born in 1967 in Brooklyn and raised on Staten Island, grew up playing rock 'n roll and idolizing Jimi Hendrix and Jimmy Page. He eventually turned his attention to jazz and started listening to Charlie Christian and Barney Kessel for the roots of the music, then exploring the likes of Allan Holdsworth and John Scofield for their modern phrasing and expressive vocabulary. A graduate of The Juilliard School, Guarna has become a guitarist's guitarist on the scene, receiving acclaim for a sound marked by fluid runs and a gorgeous tone. His hook-heavy Destiny album of 2017, The Wishing Stones that saw him in league with an extraordinary group of musicians: keyboardist Jon Cowherd, bassist John Patitucci and drummer Brian Blade.
Guarna's artistry on Spirit Science sees him emphasizing a sense of the song. "I think my solos have become more compositional," he says. "And the writing itself places an emphasis on melody and space. I have become more comfortable with being more concise, resisting the desire to fill all the space with notes. I'm more patient now, I think, and drawn to the idea of the song, including not only a certain kind of tunefulness but also a sort of emotive storytelling in instrumental music."
Most of the song titles on Spirit Science relate to these scientific and spiritual concepts. "A Trion Re," for instance, refers to the sixth Platonic solid whereby light is an object. "Of course, you don't have to know any of that to like the music," Guarna notes, "the same way you can rock out to any song without knowing anything about the concept of the album the song came from." The inspirational concepts behind the new music also came into play during rehearsals. "The band was really interested in knowing where the pieces were coming from," the guitarist says. "Aaron, especially, because he already knew a lot about these things. We discussed the subject in relation to the song titles and the musical material, and was motivated to choose just the right mix of keyboard sounds to bring out what I was after in the music."
Spirit Science represents perhaps the broadest sonic palette Guarna has conjured on record. Along with Guarna's layered mix of electric, acoustic and guitar-synth tones, Wendel – who plays tenor saxophone on most of the record – plays distinctive bassoon on the memorial piece "A Reflection in a Reflection (for Kofi Burbridge)." Guarna says: "I wanted to incorporate another melodic instrument on this record – that's why I chose Ben and his horns. This is the first time I've worked with Ben, although I knew his band and solo work. I use so many effects with my guitar that I really wanted an organic sound, too – and his straight saxophone tone was ideal for that."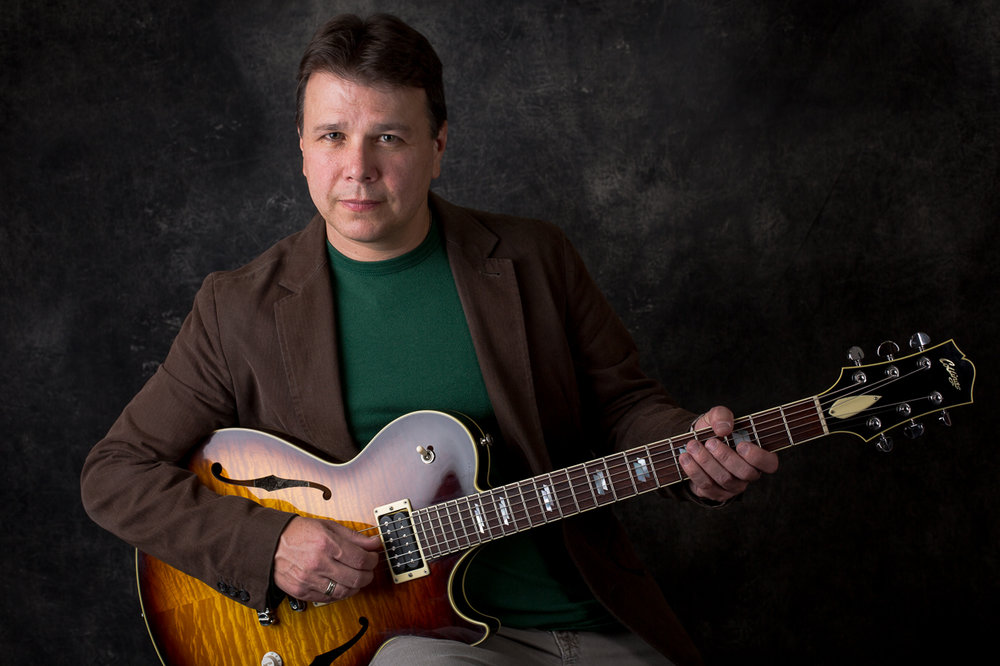 The members of the Spirit Science band pitched in with creative input, particularly Parks with his ideas for different sounds and background elements, even for suggesting form changes for some of the solo sections. "Aaron isn't only an excellent player – he's very conscious of the subject matter of a song and full of inventive arrangement details, something I knew from his own records," the guitarist says. "As for Joe Martin, I've played with him a lot, from trios to larger bands. I love his bass sound and his choice of notes – he has great ears. I had never performed with Justin before, though I knew his playing with Branford Marsalis. I had the idea that he and Joe would be good together, and I was right – their hookup was fantastic, so musical and sensitive to the compositions."
At a time when so many people are looking to science to save us from our global plight, the concepts of Spirit Science may have special resonance. "Science and natural laws drive every part of our lives whether we recognize it or not, there in the background making up our world and our experience of it," Guarna says. "As I said, you don't need to know a thing about it to enjoy this music, but I hope the song titles are at least evocative food for thought. Mostly, I hope that listeners experience the album as an imaginative sonic journey that they can take from the safety of home."
Line-Up:
Tom Guarna – Electric & Acoustic Guitar | Ben Wendel – Tenor Sax, Bassoon | Aaron Parks – Piano, Rhodes, Synth | Joe Martin – Bass | Justin Faulkner – Drums
Track Listing:
1. The Trion Re 06:53 | 2. Platonic Solids 06:16 | 3. The Genesis Pattern 07:30 | 4. Spirit Science 08:05 | 5. Two Circles 06:49 | 6. A Reflection in a Reflection 07:16 | 7. Metatron's Cube 06:43 | 8. Source 08:51 | 9. Lullaby for Lena 03:18
Release Date: 18 Sept 2020
Format: CD | Digital
Label: Destiny Records


New Release Spotify Playlist
The Jazz In Europe New Release playlist features tracks from the new releases featured on Jazz In Europe. Updated weekly, this playlist is the perfect place to discover new music from the leading jazz musicians currently on the scene. We hope you enjoy this selection.
The best way to keep up to date with all the latest releases is to follow us on Spotify. Just click the button below.
Last modified: October 9, 2020