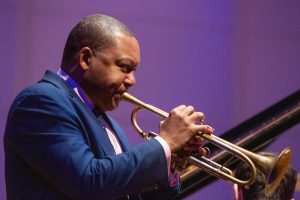 One of the most famous big bands in the world is coming to BOZAR, Brussels! The Jazz at Lincoln Center Orchestra are from New York and have championed the big band repertoire in jazz for many years. Its artistic leader and composer Wynton Marsalis holds nine Grammy Awards and a Pulitzer Prize for Music in his collection. Together they perform a singular tribute to the big band in February, the highlight being this fantastic double bill with the Brussels Jazz Orchestra on February 19th, 2020.
The Jazz at Lincoln Center Orchestra will also collaborate with the JLCO to organise workshops and masterclasses. The youth big band project Youth Jazz Collective will participate in a masterclass led by musicians of the BJO and the Jazz at Lincoln Center Orchestra.
Concert on February 19th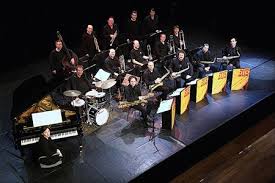 Henry Le Boeuf Hall, BOZAR, Brussels.
During this 'Big Band Celebration', we don't only exchange soloists with the JLCO, we also perform two world creations for double jazz orchestra by Bert Joris and Chris Crenshaw. A fantastic double bill for the history books. More info. Event on the website of BOZAR.

Masterclass with the Youth Jazz Collective on February 20th
BOZAR studio, Brussels
On February 20th, BOZAR has planned a school concert for young people. Together with the JLCO, Wynton Marsalis will explain the history of jazz and the role of each instrument in the orchestra, building bridges between music and social values. Besides this school concert, Brussels Jazz Orchestra and Jazz at Lincoln Center Orchestra will organise masterclasses and band coachings.
The Youth Jazz Collective (BJO's youth big band project), will get the opportunity to follow a masterclass in the BOZAR studio. (More info on the school concert on the website of BOZAR: 'Jazz for Young People').
'Night 352'

Curious about our other upcoming concerts? Check our concert calendar here. First new upcoming project: the premiere of 'Night 352' on March 28th, with Iraqi composer and qanun player Osama Abdulrasol. The 'Arabian Nights' story 'Night 352' (from the tales of 1001 Nights) is about the white slave princess Zumurrude. This saga from the renowned collection of stories was reworked especially for Abdulrasol into a modern parable, which inspired him to compose new music.
Read more about 'Night 352′ here.
Photo credits: Courtesy of artist management, Luigi Beverelli – and (c) info: all rights go to original recording artist/owner/photographer(s).
Last modified: February 17, 2020