At the age of 35 Maurits van Hout, like many started to ask himself; do I want to remain on this corporate career path regardless of the success and income, and continue day in day out for another 30 years? He realised it wasn't aligned with his personal passion for travel, meeting people and taking photos! He could have become a travel agent, but this idea was quickly discarded as it still meant he would be confined to an office on a daily basis.
While Maurits was living in Eindhoven he made the decision to return to adult education and travelled the short distance across into Belgium to attend the academy of photography in Brussels. He said; "it was much closer than Amsterdam and ten times cheaper. It also proved to be an enjoyable and relaxed environment to advance my photography skills from amateur status to a full-time freelance professional photographer."
Seventeen years ago Maurits sold almost everything he owned to raise enough money to purchase high-end photographic equipment, become self-employed and created a financial cushion so he could really focus on developing his photography business and reputation. He quickly realised that he could blend some of his communication skills from his previous career. He also learnt some valuable lessons from his clients about what people say they want and what they really envisage as the end result. Over time his reputation for his unique and creative entrepreneurial approach has garnered him a strong and repeat loyal commercial customer base. The journey has not been without its challenges and over the seventeen-year period thus far Maurits has learnt to diversify to make sure he achieves a regular income.
Editors Note:
The full photo presentation of the work of Maurits van Hout can be found in the Winter 2020 edition of the Jazz In Europe Magazine here. 
While the majority of his time is spent doing commercial high-end photography for companies, advertising, real estate and portraits, all of which he finds rewarding. The enjoyment and adrenaline rush of music photography started with a David Bowie concert.
Not aware you needed to have accreditation from the promoters, when Maurits tried to enter with his camera he was turned away. Non-deterred, he strapped the camera lens to his leg and the body of the camera onto his stomach and managed to get past the security check back. That was back in 1995, now things, of course, are all done correctly. Pop music photography became limiting at big-venue concerts as you only get 30 seconds to take pictures from a distance of 50 metres, that level of control knocked all the creativity out of music photography for him until he attended his first a Jazz concert.
Maurits quickly realised smaller jazz concert venues provided him with the environment for true creative music photography. Bringing him a lot of joy and personal reward. He enjoys the freedom he gains especially with backstage photography. He stated "You gain a much closer connection to the musician, but you also need to read the signals and know when it's not going to work, perhaps the musician is too tired, or there are too many external disturbances… so sometimes it's best to leave it. Never waste the relationship, if it doesn't work the first time you can always pick it up again at another gig the musicians are performing at on the circuit."
Maurits acknowledges that his own appreciation for jazz music has grown as the musician has become much more aware of their presentation. It vastly improves photography and is now an expectation of the paying general public as well.
His own Jazz photographic influences include: the black, white and lighting choices of Roy DeCarava. The visual storytelling of William Claxton and more recently, Jos L Knaepen for his quality images which includes his ability to capture movement.
His work as a Jazz photographer has now extended to both studio and location photography for both PR and images for CD albums as Maurits grows his portfolio. Steadfast in his view that the creation of an image is the basis of good design. Anyone can push a camera button, you must understand the light the position and what do I want to show!


Jazz In Europe Magazine – Winter 2020 Edition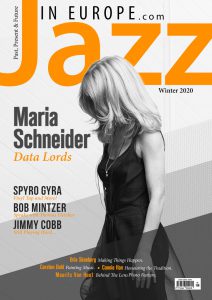 This article is an abridged version of the full interview that appears in the Winter 2020 edition of the Jazz In Europe print magazine.
Also included in this edition are interviews with Maria Schneider, Carsten Dahl, Bob Mintzer, Bria Skonberg and Connie Han. Scott Thompson speaks with the legendary drummer Jimmy Cobb. Darrell Craig Harris interviews Jay Beckenstein from Spyro Gyra and more.
You can purchase a copy of the magazine here.

Last modified: October 18, 2021