Editors Note: Jenny recently contacted me, sending me private excerpts of her upcoming debut EP album "Road to Salvation", I felt an immediate connection to the lovely blended sounds of Malagasy music, jazz, gospel and singing harmonies. I asked Jenny Raharivola | The Family to share their story with you. When the new EP album is released in early in 2020 we will keep you updated.
Jenny Raharivola | The Family
(translated from French into English for our readers.)
"A sweet aroma of warm friendliness in the air, hugs and joyous laughter at each practice, and professional encounters leading to deep friendships. Embodies the choice to extend your family". Music according to Jenny Raharivola, a young woman who embodies the family spirit of this group of Malagasy musicians with a contagious joie de vivre.
Born in Antananarivo, the capital city of Madagascar, Jenny is a young songwriter, guitarist and singer well-known today in the Malagasy artistic circles for the strong emotional and story-telling value of her instrumental compositions. The latter is strongly imbued with the different folk and traditional rhythms of her country which she delicately combines to bring compositions that are contemporary, jazzy and adorned with nature sounds.
The famous French bassist Dominique Di Piazza, known for the virtuosity and precision of his one-of-a-kind style, discovered her at the Madajazzcar International Festival – which he was the guest of honour – in October 2019. Particularly touched by her music, he spoke of her in this way: "Finally a piece of music that epitomizes the colours of the culture in which she was born. It's all I love. Jenny's music grips us deep inside and then lifts our souls to Him, who gives us the hope of eternal life. "
Having been gifted a natural ear for music, the young artist started composing melodies at age of 11 which that invite us to travel within, to self-contemplation, and find their originality in her novel way of playing the guitar. As a matter of interest, she developed her approach to music by taking full advantage of the freedom to tame this instrument and play it as she saw fit, which entailed not following a set of rules, nor finger positions, and therefore without a formal teacher. This approach gave her a singular style on the guitar that has earned her a reputation in the professional music world.
In 2010, Jenny performed at the first-ever TEDx conference in Antananarivo. During this event, she performed on the guitar one of her compositions speaking about the protection of the environment, "Vakon'Ala", for which Fanja Andriamanantena, one of the pioneers and benchmark of Malagasy jazz, wrote beautiful lyrics. This piece caught the attention of a few local city journalists and bloggers who started to talk about her on social networks and in the "Culture" sections of newspapers.
In 2014 and after a personal illness and recovery, Jenny made the compassionate choice, and with guitar-in-hand to go from house to house, from hospital to hospital, via retirement homes, to sing and encourage people to recover from their trials, through sharing her music. Together with a team travelling alongside her on this project (Kadosh Tour). By 2017, and fully supported by donors, this project offered free private mini-concerts within homes in Madagascar and Europe.
It was during this "tour" loaded with wide-ranging emotions, human experiences and artistic encounters that Jenny and her musicians decided it was time to share their music to a wider audience. Providing they could maintain the cultural and artistic milieu of the strong sense of belonging.
As a result, in March 2019, the group "Jenny Raharivola | The Family " was formed. This group of multi-talented Malagasy musicians bring together their expertise combining with Jenny Raharivola's compositions to make their voices heard into the world of professional music.
In October 2019, they unveiled their first introductory video (EPK) introducing the members of the group and telling the story of their current musical project: "Road to Salvation"

It will include Josia Rakotondravohitra, the drummer and percussionist of the group that needs no introduction in the Malagasy Jazz world. Also, well-known on the international scenes performing at the "Bari in Jazz Festival" in Italy as well as popular venues in Europe and the Indian Ocean region. With a wealth of experience in the art of promoting Malagasy traditional rhythms to other cultures, a skill acquired in the "Global Music Campus" in Tanzania and South Africa, Josia naturally took his place by Jenny Raharivola whose compositions blend perfectly with his experience, musical style and goals.
Another family member is the popular Madagascan keyboardist and jazz pianist, Njaka Rakotonirainy. A musician with a deep appreciation and understanding of the music from the remotest areas of Madagascar. Mixing traditional instrument sounds such as the "Marovany". transposing and fusing with jazz music. A well-liked and regular performer at the International Festival "Madajazzcar" with his trio called Weaver trio and at the "Yelewa Jazz Festival" on the holiday island of Mayotte.
Also part of the family is the young and exciting electric bass virtuoso Ranto Rakotomalala. having built of a name for himself performing at jazz clubs and music festivals in the Paris region with a unique groove that is strongly influenced by  Madagascan rhythms. Picked as a new emerging jazz talent and winner of the Madajazzcar springboard in 2009.  His bass playing is in perfect symbiosis with the singular way Jenny Raharivola plays the guitar. The two musicians quickly connected. This led them to work together on all of Jenny's projects. In 2017, he decided to strengthen his technical skills by continuing his studies at a music school in Paris (IMEP) while continuing to faithfully collaborate with the Jenny Raharivola big family.
The final family member is the young multi-instrumentalist Tsanta Randriamihajasoa who comes from a large family of Malagasy musicians and whose name is already buzzing on social networks in the capital city of Antananarivo. His playing has been broadcast on BBC Africa channel as well as being featured in newspapers of the Big Island. At just 21, this young musician plays twenty instruments with a rare mastery. His love of jazz has seen him perform at jazz festivals including the "Bari in Jazz Festival" in Italy as a trumpet player or pianist, and in events purely dedicated to traditional Malagasy music as a player of "Marovany" or "Sodina" (flute),  In 2018, his remarkable talent earned him the opportunity to participate at the 7th edition of "One Beat" in the USA. Bringing together emerging music leaders from around the world and he was the first Malagasy to be included. His meeting with Jenny Raharivola seemed to him like the beginning of a great musical adventure that will allow him to flourish on both human and professional level.
Jenny considers herself fortunate to be surrounded by elite young musicians of the jazz and traditional Malagasy music scenes of Madagascar.
Jenny Raharivola | The Family new EP due for release at the beginning of 2020 delves deeply into life's journey. A complexity of trials, tribulations, personal doubts but ultimately through these experience one can achieve joy. This first (extended play) EP is aptly titled: "Road to Salvation".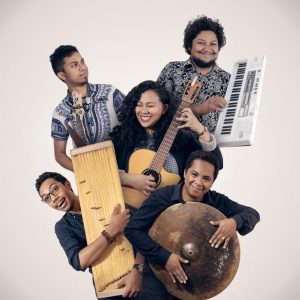 The Family band members are:
Jenny Raharivola: Composer & Songwriter | Acoustic Guitar & Vocal Lead
Josia Rakotondravohitra: Drums & Percussions
Njaka Rakotonirainy: Keyboards & Piano
Ranto Rakotomalala: Electric Bass
Tsanta Randriamihajasoa: Marovany, Sodina (flute), Trumpet & Cello
YT Channel: Jenny Raharivola
Photo by Felana Rajaonarivelo, Photo design by Eric Razafimbelo, and CD Cover (cartoon) – Rado Rakotondrainitomaho.
Last modified: November 26, 2019