In my journey as a writer and particularly as a music writer, I have come across a lot of artists. One of the ones that have struck a chord with me for various reasons (social history, musicality, creativity) is the multi-talented Khemist.  I was taken by his new EP and I wanted to build a conversation with him highlighting some particular points which you will read below.  I have great respect for Khemist, his look on life and his hard work are things that inspire and provoke sheer admiration.
Let's hear it from the man himself then.
You originate from Logan Valley in the US.  For the sake of our European readers, where is that and will you talk a little bit about the place?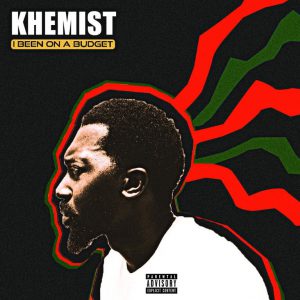 Logan is the name of a neighbourhood located at the top of North Philadelphia. The neighbourhood was named after James Logan who was the governor of Pennsylvania in the 1700s. Years ago, there were streams of water running throughout the land. This is how the word "valley" began to be attached to the name Logan. Logan was originally a suburb in the 1960s and 70s. Many of the houses built over this land fell due to the soil being too soft to hold up the homes. The property value in the neighbourhood fell along with the homes. That's when the African-Americans coming from the south also moved in and it became a low-income neighbourhood. Til this day, there is a part of the hood where there is vacant land because the soil is too soft for any large structure to stand on. This part of the land was built over the Wingohocking Creek. Many of the homes that do stand, do so on a slant because of the soft soil. This is part of the reason why the neighbourhood is not an ideal place for home builders and investors. Cambodians migrated from Cambodia to America and settled in Philadelphia after fleeing from Khmer Rouge in the '80s. Logan and South Philly have the largest population of Cambodians in Philadelphia. I grew up around Cambodians and they're some of my closest friends. Logan is where I was introduced to Khmer culture. During the '80s when there were several gangs in Philadelphia, there was a gang in the neighbourhood who called themselves the Logan Valley gang. In the late 80's/ early 90's Larry Lar became the first rapper to put the words "Logan Valley" in a song. Larry was also influenced by a Las Vegas basketball team who had the words Valley in their name. 
Being Philadelphia-bred leads me to ask you: what is Philadelphia for you? How has the city influenced you, if at all?
Philadelphia is my home. It's where I was exposed to the streets, religion, drugs, violence, racism, and the arts. It's where my Grandma prayed and my aunt made the best oatmeal. It's where my family and friends were murdered and strung out on drugs. I've seen the addiction of all sorts. The wickedness of the world lives here. It's also where greatness happens. Here is where I met warfare. Throughout the pain and troubled times, Philly (Philadelphia) produces some of the greatest minds to ever walk the earth. Our music impacts the world. The musicians here study and are loyal to the craft of musicianship. There's a Philly musician in every superstar's band. Our rappers and poets are the best of the best. Some are famous and some are not but here in the circles I'm in, I hear some of the best wordsmiths who will ever speak. Our authors are exceptional writers. This is a city for the arts. Singers sing with skill, passion, and conviction. It's the same for painters, muralists, and graffiti artist who conquer territory and beautify ugly shit. This is the city of legends.
Your formative years have been marked by certain dramatic events, will you talk these in more detail?   
Growing up in Philly will force a person to grow up fast. Children here witness traumatic events every day to the point where it becomes normalized. A lot of us don't realize how much of an effect the negativity and unfortunate circumstances in our environment has on us as individuals. We all deal with pain in different ways. Yes, I've been through some things but that's what music is for. 
How has your writing evolved would you say? 
It's more introspective. I've become more involved in the music and instrumentation part of songs. I picked up the guitar 5 years ago and it's helped me articulate how I want things to feel and sound. It's enhanced my creativity. I've become a musician and songwriter who raps well. I still continue to study the great poets, authors, rappers, musicians, songwriters, and singers of the world. Life is still happening so my mind has evolved, my gift has evolved, and my spirit has evolved.  
Would you say there is a main theme running along "Khemtrails"?  I have great admiration for your lyrics, "I been on a budget" is a big story combined with a jazzy funk rhythm.   Tell me about the inspiration behind this track. 
Khemtrails starts with me as a tour guide giving listeners a tour and history lesson of the hood where I'm from. Then I express how this hood has made me the aggressive lyricist and scarred man that I am. Next, I introduce the story of Samson who was a runaway slave once owned by James Logan. There I introduced the idea that any given one of the African-Americans in the hood could be a descendant of Samson. I then talk about the conditions of the environment we live in, what possible descendants of Logan have done with the land. The music is then fleeing and escaping what haunts you. It's also about wanting to be free of things suppressing you, not having medications so accessible in our community, and not being under the thumb of doctors who diagnose and give us unnecessary prescriptions to things hazardous to our health. I Been on a Budget is about how it feels when attempts to achieve a more level playing field in this land have failed. The feel of the record was inspired by James Brown. Anwar Marshall is the drummer, producer, and genius in bringing these ideas to life.  
You are not just a rapper, but also a poet, an observer of life, as well as a multi-instrumentalist.   Tell me how your life journey took you to where you are now.    
I come from a city with strong art culture. One of the greatest things my mom ever did was put me in art school when I was 12. I attended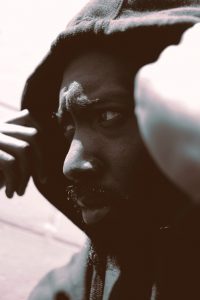 Fleisher Art Memorial for drawing, pastel and sculpture. At this age, most of my time as a twelve-year-old was spent writing, drawing, and being out and about in the neighbourhood. I was raised in a family of musicians and writers. My uncle Manly Pack is an incredible self-taught jazz pianist who has a room full of instruments in one of the most impoverished areas of Philly, Nicetown. I learned a lot from him; especially the importance of discipline and studying. My whole life he has handed me instruments and tried to teach me things here and there to see what would stick. Finally, I decided to stick with the guitar. Once he gave me a guitar, I signed up for guitar lessons at Philly Music Lessons while going to school at Temple University and Fleisher Art Memorial for oil painting. At Philly Music Lessons I met my guitar teacher, Phil Smith. I took about 4 lessons before I couldn't afford to pay any more. I began to continue to practice on my own whenever I wasn't out in the streets. Phil and I became so cool that we would work on things outside of the lessons. He began to give me lessons pro bono when he had time. During this period, Micah Forsyth introduced me to Anwar Marshall. I then began to create music I've always wanted to make while around the kinds of musicians I wanted to learn from. The studio sessions became lessons for me. I would ask these questions about theory and guitar stuff in the middle of writing my raps. Then I would practice those things. Philly rap DVD's, Def Poetry Jam, Philly radio, and reading made me the lyricist that I am. Listening to different genres of music made me the songwriter and musician that I am.  
Another very powerful track on the album is "Samson".  It is strong on both the music and the lyrics terms. Tell me about the band/ the musicians that worked with you on the EP. 
This is the band of all bands. It's a real honour to have the heavy hitter musicians on this project. Explaining who and how great everyone is will take all day. Anwar Marshall is the master drummer and producer of all these records. We have the best guitarists behind us: Anthony DeCarlo, Simon Martinez, Sam Borrello, Ben Karp. Legendary percussionist, Aaron Draper is a part of the project. The incredible vocalist,  Elle Morris is singing backgrounds throughout the entire project. Bassists Scott Ziegler, Eric Whatley, Jon Smith, and Andre Pinckney are playing bass on the EP. Keyboardist, Corey Bernhard is playing keys on the project. Saxophonists Tacuma Bradley and Tom Whitney, trombonist Sean McCusker, trumpeter Daniel Levine, and Flutist Brielle Leilani are all playing on the EP.
When are you coming to Europe?  
As soon as I'm invited. Let's make it happen. I would love to rock out over there. I know that Europe will be one of the main supporters of this amazing music we have. Travelling to your part of town is definitely a goal of mine.  
One last question, more on a personal side: what is your idea of relaxation?
On a beach with partly cloudy skies, clean sand and turquoise water. The weather ain't too hot or too cold. No cell phone, just a nice glass of Don Julio Real. Good food, good energy, and a clear mind!
The single "I Been On A Budget" was released on April 12th via Artists First Records, a Philly based independent label affiliated with Ropeadope Records. Khemist anticipates an Autumn release for the Khemtrails EP.
Artists music: Khemist
Interview by Erminia Yardley
My thanks to Fabian Brown at the mighty Ropeadope Records, Melody Forrester at Artists First Records and, of course, Khemist, for his time!
Photo credits:Brian Freeman
Last modified: August 9, 2019