Resonance Records, the Los Angeles-based independent jazz label noted for its historical releases, will issue its most ambitious release to date, the seven-CD/10-LP Nat King Cole boxed set Hittin' the Ramp: The Early Years (1936-1943) on November 1, 2019. Succeeding critically acclaimed Resonance archival collections devoted to previously unheard recordings by Bill Evans, Wes Montgomery, Sarah Vaughan, and other eminent jazz performers, Hittin' the Ramp offers the first in-depth survey of singer-pianist Cole's work in the years preceding his long hit-making tenure at Capitol Records.
"This is a really important project for Resonance," says Zev Feldman, label co-president and the set's co-producer. "We've done some pretty substantial packages over the years, such as our three-disc Eric Dolphy and Jaco Pastorius sets with 100-page booklets, but this Nat King Cole box is truly a definitive, king-sized set, clocking in at a staggering 10 LPs and seven CDs worth of essential early Cole material with enhanced audio."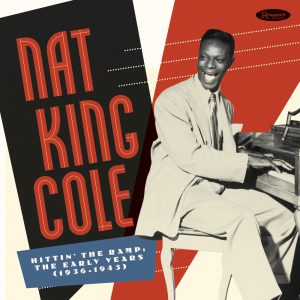 The limited-edition 180-gram ten-LP set was mastered by Matt Lutthans at Cohearant Audio with impeccable sound restoration by Lutthans and Doug Pomeroy. The vinyl will be pressed at esteemed audiophile record manufacturer RTI (Record Technology Inc.) at 33 1/3 rpm.
The set's co-producer, writer and historian Will Friedwald – who received Grammy Award nominations for his work on Mosaic Records' landmark 1992 box The Complete Capitol Recordings of the Nat King Cole Trio and the 1989 album Nat "King" Cole and the "King" Cole Trio – points out in his comprehensive notes to the collection that Cole's deep and influential jazz roots were often obscured by his towering reputation as a pop singer.
"At the height of his fame in the 1950s and '60s," he writes, "Nat King Cole (1919-1965) was primarily known as a popular singer — the biggest-selling artist of his generation, no less — who occasionally played the piano. By that point, only a few older fans and critics remembered that he had been one of the greatest pianists in the whole history of American music, a true spiritual descendant of Earl 'Fatha' Hines and Art Tatum, and himself a huge inspiration for Oscar Peterson, George Shearing, Erroll Garner, and many others."
Beyond Cole's brilliance at the keyboard, the Resonance set takes in his work as a vocalist and includes a new interview with the master pop singer Johnny Mathis, who discusses his debt to and friendship with his great predecessor.
"As a young boy, studying the art of vocalizing, Nat was everything I needed," Mathis says. "All I did was listen and learn… And then I want the people to remember that he also, also, also played the piano. Please, please, please remember that. Even as gigantic as a pianist as he was as a vocalist."
Co-produced by Zev Feldman, Will Friedwald, Seth Berg, Matt Lutthans, and Jordan Taylor, and executive produced by Resonance co-president George Klabin, Hittin' the Ramp homes in on Cole's prodigious early career, beginning with the debut sides he recorded with his brother Eddie for Decca Records as a 17-year-old piano phenom in 1936.
The majority of the set's nearly 200 tracks focus on the first work by the King Cole Trio, the seminal combo that put Cole on the map with a swinging combination of jazz, jive, and pop, with an emphasis on his simpatico creative partnership with the trio's longtime guitarist Oscar Moore.
In his notes for the collection, guitarist Nick Rossi notes that Moore's synthesis of such influences as George van Eps, Dick McDonough, Django Reinhardt, and Charlie Christian led to his "groundbreaking style, one which provided a template for how the guitar functions in a modern jazz setting."
Hittin' the Ramp compiles Cole's recordings – among them the first versions of "Sweet Lorraine," a staple of his '40s repertoire, and the R&B and pop hit "Straighten Up and Fly Right" – with his trio and in other studio settings (as sideman and accompanist) for Decca, Ammor, Excelsior, Premier, Mercury, and Philo (including a celebrated session for the latter label, founded by Norman Granz during the 1942 Musicians Union recording ban, with saxophonist Lester Young).
The newly discovered selections include several performances that were not known to exist before the research for the boxed set began. These include a privately recorded number, "The Romany Room is Jumping," a homage to the titular Washington, D.C., club that hosted Cole's group; the hitherto unheard Cinematone transcription "Trompin'"; and an unreleased 1940 trio rendering of Trummy Young's "Whatcha' Know Joe."
"Although nothing on this package can be described as 'common,' these are some of the rarest Cole items known to exist," Friedwald writes.
He adds, "Just in time for his centennial, we cover this quintessential American artist from his very first stirrings at the start of the swing era to the very precipice of universal fame during World War Two, with dozens of fascinating detours along the way. This, then, is the incredible but true origin story of a sound and a career that would change the world."
We'll publish more information on this important project as we get a little closer to the release date.
Last modified: April 26, 2020