Coming up – Eight days of fantastic jazz music, and again this year the jazz festival presents over 360 concerts at 45 venues all over the city, which together presents concerts for every taste. All in the 100th anniversary of the first-ever jazz concert performed in Aarhus.
This year's jazz festival is characterized by a string of concerts with strong international names. Among these are the Musikhuset Aarhus concerts with American world star Gregory Porter, the bass icon Marcus Miller, the jazz/soul singer Myles Sanko and, not least, a gala concert with Aarhus Jazz Orchestra and the Dutch pop and jazz diva Caro Emerald. In Helsingør Theater, Den Gamle By, one c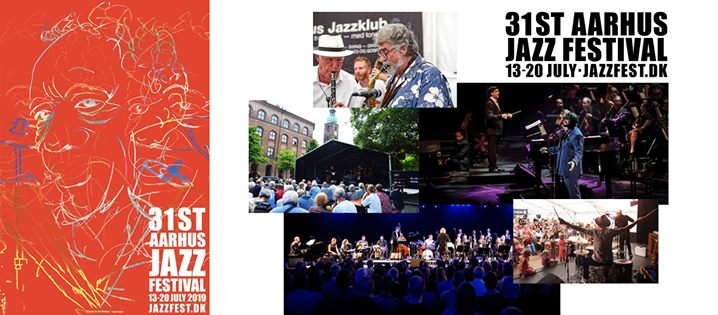 an hear eg. American guitar legend Bill Frisell with his trio or crooner Denzal Sinclaire & Graig Earle Trio.
Atlas offers a saxophone meeting between Indian-American Rudresh Mahanthappa and Danish Lars Møller, Kunsthal Aarhus features Morten Ramsbøl True North and Thommy Andersson's Wood Blood Ensemble, Aarhus Cathedral presents Jakob Buchanan feat. Chris Speed ??- and we could keep going. This is also the year in which Ridehuset Swingers held for the 30th consecutive year with music, food and community and this year's theme is Cuban Big Band Nights, where Aarhus Jazz Orchestra gets a distinguished visit from the award-winning Cuban-American composer and drum virtuoso Dafnis Prieto and two his childhood friends from Havana: Eliel Lazo(percussion) and Yasser Pino (bass).
Jazz through 100 years

In 1919, jazz was a real novelty in Aarhus. It was here that the very first jazz concert was played by Aage Rasmussen's orchestra at Hotel Terminus in Ryesgade 3, where the book shop Arnold Busck is now located. The jazz festival celebrates that jazz music has thrived and survived in Aarhus for a century with a number of events that focus on jazz history both here in the city and in general. At the concerts at Helsingør Theater, Den Gamle By, you can experience interpretations of the standard repertoire of jazz, as well as bids for contemporary jazz music with Bill Frisell, Carsten Dahl Trinity, Michala Petri / Marilyn Mazur / Daniel Murray, Denzal Sinclair, Bosnjak – Pasborg / Jobarteh and I Think You're Awesome. At Bispetorvet, jazz legends are celebrated with Tribute to Monica Z and The Blakey Project. The American drummer Art Blakey would also be able to celebrate his 100th birthday in 2019 and is, therefore, to be found on this year's festival poster by Finn Nygaard.
Live jazz history can be experienced with Skt. Paul's Band (Bispetorvet) or at the concerts at Telefontorvet, for example, Arosia – and then there are a lot of concerts throughout the city, which are related to jazz history in different ways. The project Jazzens Historie I Aarhus adds stories about the third and last period 1980-2019 to www.aarhusjazzhistorie.dk. There are also three guided tours with a focus on jazz history, and at Teaterkatten four Talking Jazz events are held with a retrospective, exciting stories and quirky anecdotes from the city's history with jazz music. Finally, you can see the mini-exhibitions Jazzens Historie I Aarhus at Dokk1 or Plakaten Swinger at the Danish Poster Museum (Den Gamle By).
Aarhus Jazz Festival has it all

The jazz festival in Aarhus is diverse and vibrant. You can hear jazz in squares, cafes, venues, in museums and churches. It swings all over the city from Jægergårdsgade across Ridehuset, Telefontorvet, Klostertorvet to Bispetorvet, Godsbanen, Sydhavnen and Aarhus Ø. The late hours are filled with music at the Late Night Jam Sessions at HeadQuarters and once again we present a children's jazz program both at Bispetorvet and Børnejazz på Dokk1.
The contemporary and experimental jazz is presented in several places around the city, as well as young musicians from the local music environment who are also richly represented. The New Directions initiative provides innovative concerts in the intersection between classical music and jazz with the musical meeting between recorder virtuoso Michala Petri, jazz percussionist Marilyn Mazur and the Brazilian guitarist Daniel Murray, as well as concerts presented by Århus Sinfonietta and AUT – Aarhus Unge Tonekunstnere. Also this year, new organizers have been added to the program, including Bak & Skak Jazzhouse, Frederiksbjerg Bypark, KP5 and Erling's Jazz og Ølbar.
In 2018, the award Aarhus Jazz Talent was instituted and won by the singer Karmen Rõivassepp. Again during this year's jazz festival and until 1/9 2019, everyone can nominate candidates for the Aarhus Jazz Talent 2019. This is done here at www.jazzfest.dk . In addition to the honour of winning there is a prize of DKK 10,000, sponsored by Aarhuus Stiftstidendes Fond.
See the comprehensive program for Aarhus Jazz Festival 2019 with all the organizers' concerts and detailed reviews at www.jazzfest.dk. There is free access to many concerts during the day and some evening concerts. The printed program is available at Godsbanen, Musikhuset and Dokk1. You can also follow the festival on the two apps: Aarhusguiden and Live Jazz Denmark.
Tickets sales for –  Aarhus Jazz Festival 2019
Photo credits: Poul Nyholm, Erik Umphery, Monica Frisell, Adrie Mouthaa, Lora Stoykova, – and (c) info: all rights go to original recording artist/owner/photographer(s).
Last modified: July 10, 2019