Editors Note: Recently we published a review of the new album "Hand in Hand" from pianist Ivan Paduart and guitarist Patrick Deltenre. We were so impressed with this album that we reached out for an interview to find out more about this project. We published the full article in the Spring edition of the Jazz In Europe Magazine. Below is an excerpt of the article. You can either view the magazine online or order your hard copy at the link below this post.
Throughout jazz history, there have been many Piano and Guitar duos, some successful and some not. There has been a long-standing Myth that piano and guitar don't work in a duo setting as the two instruments share similar rhythmic and harmonic functions, as well as sharing similar frequency ranges where the potential for clashes is always looming. This is not something that I would ascribe to and to debunk this myth you only have to listen to the Bill Evans/ Jim Hall duo's or indeed the many recording of Oscar Peterson with Herb Ellis. One recent example of how these two instruments can be successfully integrated in a duo setting can be found with the Belgium Duo Ivan Paduart and guitarist Patrick Deltenre.
The Duo in question consists of Belgium based musicians, pianist Ivan Paduart and guitarist Patrick Deltenre and the album titled "Hand in Hand" was released in late 2018 on the German label Mons Records.
Although the two have known each other for more than three decades Hand in Hand is their first recording together since the early 1990's fusion quintet Aftertouch. After that group disbanded their careers diverged however, the two always held the desire to work together again on another project. The opportunity arose in 2017 when the two musicians performed a Duo concert sparking the idea of recording a duo album together. Ivan stated, "The chemistry between us had always been there from the beginning and it seemed inevitable that sooner or later we would do a project together." Concrete plans for the recording came to fruition when music connoisseur Jean-Didier Boucau, being so moved by their performance became a benefactor for the project. In December 2017 the two entered the studio.
Ivan Paduart is currently considered one of Belgium's top jazz pianists and has long been regarded as a fixture on the international jazz scene with his own distinctive hallmarks in terms of composition and interpretation. Coming from a musical family, Patrick Deltenre, on the other hand, gravitated more toward the pop, chanson and blues world where he became widely regarded as one of Belgium's most versatile guitarists.
Recently I spoke to both Ivan and Patrick and posed the question of performing in a duo format and the challenges that it brings. Patrick stated. "yes, two multi-function instruments (rhythm, chords, melody) can be a challenge, it's a matter of finding the right place to be at all times. The most important thing is to constantly listen to the other. Playing without a rhythm section means we both always need to present and play with the dynamics, and most of all find the right voicings so we are at all times complementing each other."
This spirit is also reflected in the album title "Hand in Hand". In the albums liner notes the two musicians explain that the title "…contains two meanings. Firstly, of course, it reflects the collaboration as a duo; two musicians pursuing a musical goal together. Secondly, it is the combination of two harmonic instruments where their sounds are interwoven in such a way that individuality is maintained, while at the same time, genuine dialogue is created rather than simple musical duplication." Read the full article here…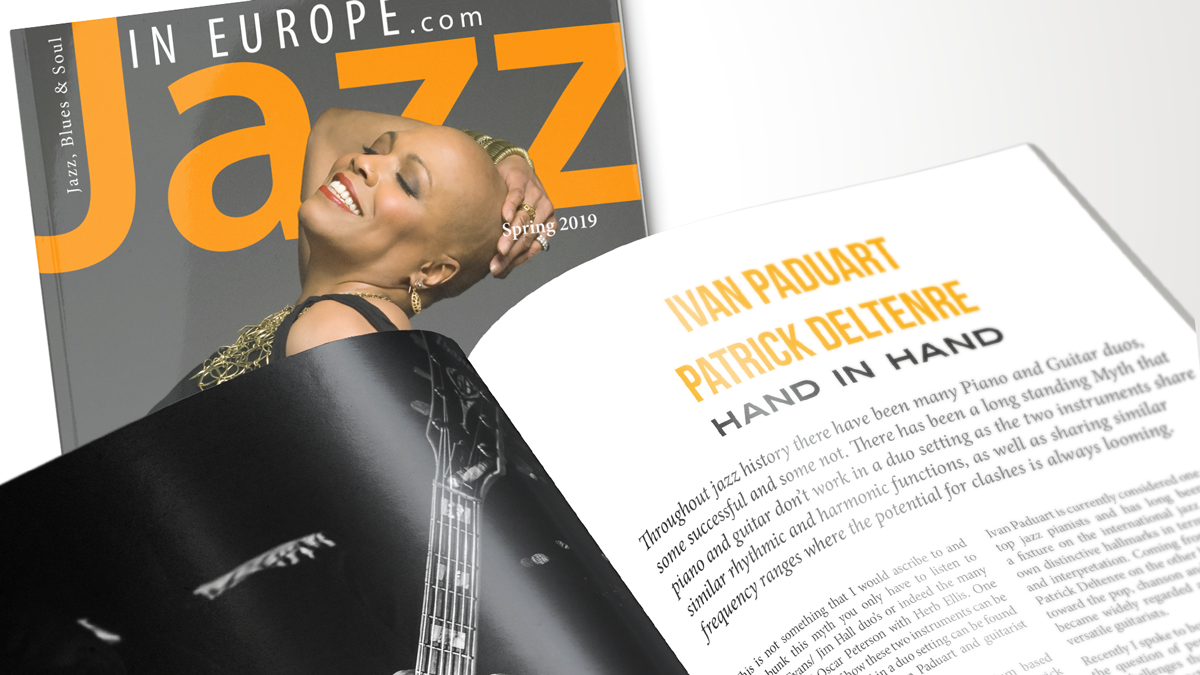 Last modified: April 25, 2020