Edition Records, the UK label with the impressive worldwide catalogue, has added yet another giant to its list: American saxophonist Chris Potter.
Potter recently released his new album, "Circuits" where he plays a multitude of instruments (tenor and soprano saxophones, clarinets, flutes, sampler, guitars, keyboards and percussion) and is joined by Eric Harland on drums, James Francies on keyboards and Linley Marthe on electric bass.
Let's stop to reflect for a moment: Edition Records, whose list of artists include Jason Rebello, Misha Mullov-Abbado, Rob Luft, Denys Baptiste to name just a few, have just added Chris Potter to their stable. The combination is lethal: one simply versatile record label and one super talented musician and composer (all the tracks on the album are written by Potter).
When I first listened to "Circuits", the music was, at first impact, different, innovative and melodious all in one.
For example, on "Hold it", an upbeat track where Harland's drums and Potter's saxophone work so well together, in perfect harmony. And then there is "The Nerve" with a slight Eastern accent that makes the composition unusual and compelling. It becomes addictive. "Circuits", the title track and the longest on the album (over 9 minutes), is like an abstract canvas full of passionate touches.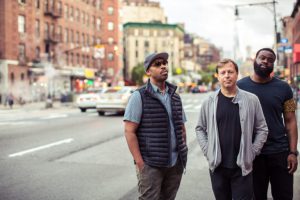 The mood changes slightly with "Queens of Brooklyn", dreamy and enchanting, I could have had it on repeat for a while. This particular track epitomizes, in my opinion, what Potter can do with his work in a totally inventive and open-minded way.
Linley Marthe's strong chords on "Exclamation" are well paired with Potter's vigorous sax, but it is on "Pressed for Time", the last track on the album that the sheer power and composition talent are heard in full. A full-on saxophone piece that takes the listener on a superhighway of notes. This is Chris Potter at his best.
Artist website: Chris Potter
Listen/Purchase:  Circuits
Review by: Erminia Yardley
Photo credit: Dave Stapleton.
YT Channel: Edition Records
Last modified: April 26, 2020