Do Not Ignore This! This is the highly inventive, original and compelling new album from explosive US quartet Kneebody. The music is adventurous, exuberant and powerful: music for a new generation, music that will inspire and excite, coming from a band with a committed and distinctive sound.
From the off, it commands your attention and surprises at every turn. Kneebody are a band with a long history, a deep mutual respect and a dedicated fanbase, yet this album marks a new beginning – a new line-up, a new label, and renewed focus. The album is Chapters, an all-encompassing and powerhouse album that mixes deep grooves and deft melodies with a wide range of guests including Becca Stevens, Gretchen Parlato, Michael Mayo and Josh Dion. Chapters is a modern day great!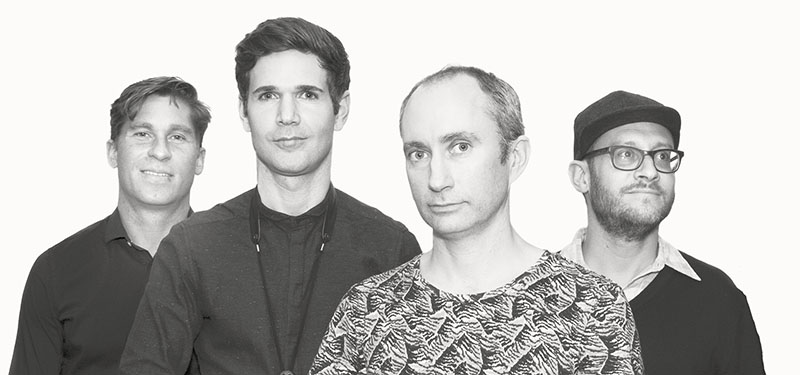 Referring to the title and its meaning, trumpeter Shane Endsley stated: 'The title references the episodic nature of life and the way our personal stories begin to form a narrative as we accumulate more time on the planet. Kneebody feels like a family. We came together as young people and have spent all these years growing together. We have our personal chapters and we have our chapters as a band and they all intertwine. Sometimes we have to look back to realize what a given chapter was about and sometimes it can be noted in the present. At this time, Kneebody is clearly entering a new period and this album illustrates the passage. We have the original quintet, the new quartet, and we have the arrival of these wonderful guests. From here, we begin the next chapter of our story.'
As with all Kneebody projects Chapters is performed in a spirit of deep respect for the individual musical talents of all. A band of 15+ years with the excitement and energy of one starting out, instantly recognisable, Kneebody performs the feat of creating music that's both musicians' music and music for the people. They have the ability to create the feeling of a rock band with the subtle language of jazz. This music is up there with the most engaging bands on the circuit – edginess, intensity and massive energy, tempered by respect and spirit accented by superb musicianship and virtuosity.
Release Date: 18th October 2019
Format: 2LP | CD | Digital
Label: Edition Records


New Release Spotify Playlist
The Jazz In Europe New Release playlist features tracks from the new releases featured on Jazz In Europe. Updated weekly, this playlist is the perfect place to discover new music from the leading jazz musicians currently on the scene. We hope you enjoy this selection.
The best way to keep up to date with all the latest releases is to follow us on Spotify. Just click the button below.
Last modified: October 18, 2019