This is personal now! That's my initial reaction to Singer-Songwriter Gisela Berndt's new album Nach Norden and Berndt really gets into each lyric and delivers it in a way that makes it feel personal to us too. In collaboration with the pianist Gero Koerner, they created music to suit each story and the result is a delightful collection of 10 songs, played exquisitely by an exceptionally talented band Gero Koerner (Piano), Werner Lauscher (bass), Benedikt Hesse (Drums) and sung with potent meaning by Berndt.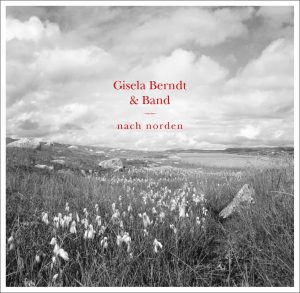 The first thing that strikes me on the first song Woanders (Somewhere Else) is what a great band this is. There is a joyful, energetic, sometimes staccato feel to this song and the piano solo is sublime, underpinned by the bass and drums, they're tight yes, but there is an incredible musical bond with these players that really comes across as they interplay throughout the song and indeed the whole album. There is a great vocal melody here too as with most of these songs and Berndt tells her story with great expression and drama.
Nach Norden (To The North), the title track, has a mesmeric start. There is a sadness to this song and the piano chords interweave with the vocal melody in a perfect blend of sweet, luxurious melancholy, enhanced by Lauscher's bass and the subtle brushes by Hesse. In fact, if I close my eyes I can see the characters in a Noir film, walking lamp-lit cobbled streets at night…in the rain (of course)!
Nachtzug (Night Train), begins out of time, with the lightly played piano of Koerner and delicate cymbals and percussion of Hesse, as Lauscher weaves his bass throughout. This is subtle artistry at its best, expertly bringing Brandt's songs to life. The vocals are again sung with deep meaning and, as Berndt tells her story, it's a surprise when the song heads into a pleasing, rhythmic Latin vibe and builds the drama and journey even more.
This band can swing too! On Im Kartenhaus (In The House of Cards) the band swing fast and hard, yet still, manage to create an atmosphere that is humorous and expressive. Erinnerungsstuck (Memento) is more old school, out of time to start, gently half spoken by Berndt, this song reminds me of Marlena (at her best of course)!
One of my favourites from the album is Warheit (Truth), there is so much depth to this song on many levels. It's gently swung by Berndt, who really gets into the lyric with deep meaning and potent delivery. The dynamics of this arrangement are gripping, it moves fluidly from one feel to another. When the band move into double-time feel the song drives beautifully and the interplay between Koerner and Lauscher is truly magical. The vocal melody is strikingly lovely too and the whole song drives and moves forward with finesse. Within the promotion for this album, we're told that Gisela Berndt paints – with her lyrics and with her voice. Well, this is the song I think that shows that to its fullest. Might I add, also with the band, as the instruments paint with her to create a strong visual image and the arrangement draws us to listen in different ways at different times, in the same way, as a great painting does.

My second favourite is Alles Richtig (All Right). Again, I see this visually and as I listen to the strong vocal melody, the careful, artistic use of the accordion, the beautiful piano line, the drama is so strong within this song that it's almost creating a Federico Fellini movie in my mind!
This album really means something to Berndt, it's felt in the atmosphere of each song, as the drama unfolds within each note, phrase and lyric. The overall feel is indeed haunting, atmospheric and draws you in. Some songs are stronger than others, of course, some really drive the story forward with fearless strength and others gently linger. The musicians are exemplary and bring Berndt's stories to life with multi-sensory magic! Berndt's story-telling is also exemplary and I can't help but see and hear these songs in an intimate club where Berndt and her musicians could really speak to you on every level.
The album ends with the bonus track Some Kind of Face Blind, with some beautiful bowed bass to start, mallets on drums, drawn-out cymbals and percussion, piano moving the song along with exquisite artistry, alongside some beautiful melodic story-telling by Berndt and creates a haunting, atmospheric and well-chosen final note and word!
Track Listing:
1. Woanders | 2. Nach Norden | 3. Nachtzug | 4. Im Kartenhaus | 5. Hauserwand | 6. Wahrheit | 7. Erinnerungsstuck | 8. Deserteur | 9. Alles Richtig | 10. Some Kind of Face Blind (Bonus Track)
Line-Up:
Gisela Berndt, Vocals | Gero Koerner, Piano, Fender Rhodes, Hammond B3 | Werner Lauscher, Bass | Benedikt Hesse, Drums
Label: Mons Records
More Information on Gisela Berndt can be found at her website.
Writer: Beverley Beirne
Last modified: December 13, 2018