With a very elegant blue suit, Christian Sands' diminutive figure stepped out on the Ronnie Scott's stage looking happy and eager to play another date to his international tour.  
Recently I have found myself reviewing more piano artists, whether being asked or selecting these myself, they have been very exciting write-ups so far. So, when I was asked to review Sands at Ronnies, I knew it was going to be a dangerous challenge: the artistry and talent that makes Christian Sands the musician he is nowadays, is not just difficult to pin down, but his chameleon-like style is reflective of a passion and love of jazz that make trying to define him simply impossible.
Sands started playing with furore, dangerously driving the audience to complete silence so that only heads were seen nodding to the beat. When "Reaching for the sun" was played, one of Sands' own compositions from his new album "Reach", the tones and the dialogue between his playing and Eric Wheeler's wonderful double-bass were flawless. There were vibrant crescendos slowly fading, then a deliciously soulful "I've got rhythm" offered the crowd something different, chromatically pure. There were people in the audience, listening with their eyes closed, nodding as if in conversation with Sands' own pianoforte.
The 1st set having run over slightly, Christian Sands, Eric Wheeler and Jerome Jennings, drummer and creator of many beats on the night, returned to the stage to illuminate what had been an already surreal day in London. Hurricane Ophelia had turned the skies in the metropolis a shade of orange glow, but this was soon going to be forgotten by all in the Club. There were long and fast pieces, up beat and slow ones, but it was "¡Óyeme!", inspired by Sands' visits to Cuba, that captivated me.
So what can I add here that is new and has not been said before about this young talented man?
Well, first of all, I do believe Mack Avenue Records, Sands' record label, deserves a thorough praise: to add Sands to the already big list of musicians recording for them (McLorin Salvant, Kyle Eastwood, Yellow jackets, Aaron Diehl etc), is simply a clever catch. Sands live persona, his whole body language, were that of a man who was bursting with talent and creativity, his inventive techniques and various rhythms were offered to the audience in an effortless and charismatic way. Time flew… unfortunately.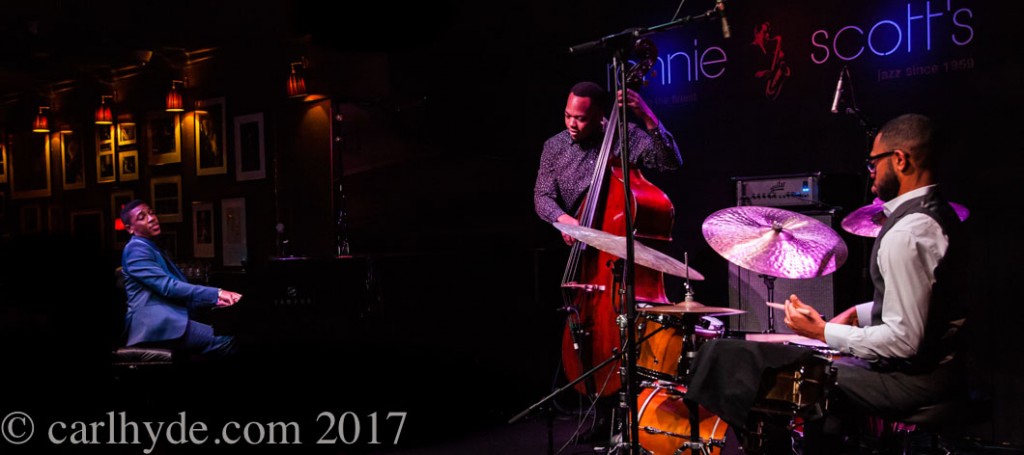 This, in my opinion, is only the beginning of something even better for Christian Sands.
Line up: Christian Sands – piano // Eric Wheeler – bass // Jerome Jennings – drums
Christian Sands New Album: REACH
Photos courtesy of Carl Hyde
Text: Erminia Yardley
YT Video: Mack Avenue
Last modified: July 15, 2018