By Becca Horne | Photo's Courtesy of Artist
There is conceivably, no good reason, an eighteen your old, American born, southern girl from the United States would fly across the Atlantic to sing for her supper in Paris. But then, an American in Paris seems to be a theme that works for those with romantic dreams and fearless hearts.
Hailey Tuck, is no exception. Born in Texas, USA, Tuck's childhood had all the ingredients to nourish the soul of a dreamer. According to Tuck she was raised on 1930's jazz, old black and white movies and vintage dresses.
"It was the romance of Paris that made me want to move to Europe," said Tuck–and move she did. Buying a one-way ticket to Paris is a bold move for any aspiring performer with a fascination for Edith Piaf and penchant for, "la vie en rose." A mere six years later and the 24 year old, Tuck is setting the world of Jazz on fire.
Sitting down for a quick Q & A session, Tuck shared some more of her thoughts and ideas about, jazz, location and life in general.
Why did you choose Paris as opposed to NY to start your career?
For me it was no choice! I'd been in love with Paris since I was a little girl. I used to obsess over the book, Madeline, and even did my third grade "business" project on "How to spend a million dollars on a trip to Paris." I'm ashamed to admit I actually had a super hard time spending the full amount, despite renting castles and private limos. I hope someday I get another chance.
How do the energies in Jazz differ right now between New York and Europe?
I've never lived in NYC, but based on my experiences living in Paris and London, word on the street is NY is a bit more hard and fast. Even Paris is much more relaxed than London. However, I'm playing my first show in New York Jan 16, at Joe's Pub in NYC, and have gotten lots of initial support for the show, so maybe it's not as tough as it seems.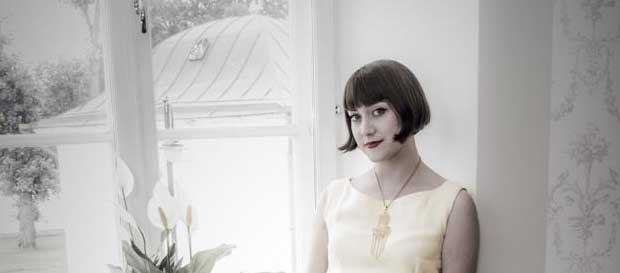 What are you learning about your craft?
I've basically been tour since April, and the most amazing experience has been evolving the music with my band, and gaining confidence in myself performing. I had a friend in the industry tell me really early on after seeing a show, that no offense, but she was surprised meeting me after seeing me perform because I was way funnier, smarter, and more personable than I came across on stage. So that was a massive wakeup call on relaxing and trying to let more of my personality through on stage, which I'm still struggling with!
What do you consider the biggest highlight of your career thus far?
EASY! Opening for Jamie Cullum at La Cigalr in Paris. He's such a cool guy, and even more strangely unknowingly a catalyst to all of this. I was talking to my mom two years ago, before moving back to Paris, and I was lamenting feeling stuck under the ceiling of jazz gigs, and wishing I could take it to the next level and play festivals etc. but not knowing how to go about it. My mother, unbeknownst to me, googled Jamie Cullum's management and booking company and sent an email with some recordings of mine, and miraculously they actually opened it and listened to it. They invited me to a show in Paris of one of their artists Anthony Strong at the Duc Des Lombards. Anthony was kind enough to ask me to sit in, we kept in touch, I quasi-stalked them, and eventually my manager signed me.
Who do you want to perform with the most?
I just played a festival in Sweden and met some New York guys named Gerald Clayton and Eric Harland (fellow Texan) playing with Charles Lloyd, they're amazing. Obviously I'd love to sing on one of Jamie's duet arrangements. Jim Barr from Portishead is in one of the best jazz bands of the moment, Get The Blessing. So maybe I can talk all of them into doing an album with me!
What major things do you have coming up?
First show in New York in January, South by Southwest(SXSW) debut in my hometown of Austin, where I haven't played in years. Followed by my first US tour. Plus I'm going to release some new material in March!
Jazz has gone through many incarnations over the past 100 years. But the freedom, the rhythms, the bold richness and mellow moods of this iconic genre continues to thrive. And as long as the dreamers, the fearless and those, like Hailey Tuck, with a penchant for rose colored glasses continue to create their own sounds, Jazz will always have its story to tell.
Last modified: July 15, 2018