Mette Juul, the accomplished Danish jazz singer, songwriter, and guitarist, is set to release her sixth release as a leader, "Celeste," slated for November 10, 2023. Known for her unparalleled vocal prowess and heartfelt interpretations, Juul embarks on a musical journey that combines timeless American classics, modern compositions, and her own original songs. For this captivating endeavor, she collaborates with the renowned American guitarist Mike Moreno and the multi-talented Lars Danielsson, both of whom also graced Juul's EP "New York – Copenhagen" in 2020.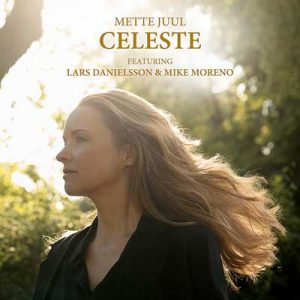 In Denmark and beyond, Mette Juul has left an indelible mark with her unique musicality. Her fourth album, "Change," released on Universal Music in September 2019, marked a turning point in her career. This was followed by "New York – Copenhagen" in March 2020, further expanding her global audience and earning critical acclaim. However, it was her third album in 2015, "There is a Song," that truly launched her career. Recorded in New York alongside Danish pianist Nikolaj Hess, Ambrose Akinmusire on trumpet, Rodney Green on drums, Joe Sanders on bass, and guitarist Mike Moreno, the album solidified Juul's signature blend of Nordic melancholy and the dynamic American jazz heritage.
Regarding the making of "Celeste," Mette reveals her desire to explore new musical horizons with Mike and Lars, using her vocals in fresh ways and drawing inspiration from their rich musical ideas. The collaboration was spontaneous, allowing the music to breathe and evolve in the studio.
The album's title, "Celeste," carries a profound meaning, signifying a heavenly or transcendent space—a place to escape the chaotic and intense realities of our world. Juul, Moreno, and Danielsson create a hopeful and ethereal sonic landscape, occasionally punctuated by the darker undertones of life. Employing instruments such as guitar, vocals, melodica, cello, and celeste in a chamber music-like setting, they push the boundaries of sound, leaving ample space for the listener to immerse themselves in the music.
"Celeste" takes listeners on an emotional odyssey, exploring themes of longing and the quest for a simpler, more meaningful existence. In "Northern Woods," Juul's vocals convey the idea that nature can offer solace to modern individuals in a fast-paced world, reminding us of something greater than ourselves. The track "Distance," featuring lyrics by Norma Winstone, delves into the enigmatic spaces between people and the uncertainty that prevails, all set to a backdrop of unfathomed city streets below.
One standout moment on the album is Juul's rendition of the American classic "Love Is a Many-Splendored Thing." With this timeless piece, Juul creates a setting of innocence, offering a refreshing take on a song that harks back to a different era while infusing it with a modern sensibility.
"Celeste" is poised for release on November 10, 2023, and will be available on LP, CD, and all major streaming platforms. As a prelude to the album launch, two singles have already been released: a captivating version of Victor Young's "Beautiful Love" and the thought-provoking "Distance." Having heard a full preview of the album, I can say that the listener should be prepared to be transported into the enchanting world of Mette Juul where music transcends time and space to touch the depths of the human soul.
Line-Up:
Mette Juul: vocals, guitar | Mike Moreno: guitar | Lars Danielsson: Double bass, cello, celeste, melodica, cymbals
Track Listing:
1. Beautiful Love: | 2. My Foolish Heart | 3. With a Song in my Heart | 4. Nature Boy | 5. I'm Moving On | 6. Distance | 7. Northern Woods | 8. Love is a Many-Splendored Thing | 9. Celeste | 10. Where you've Never Been
Release Date: 10 November 2023
Format: LP | CD | Streaming
Label: Naxos-Prophone
For readers in Denmark and Sweden, the album can be pre-ordered here.
Last modified: September 8, 2023