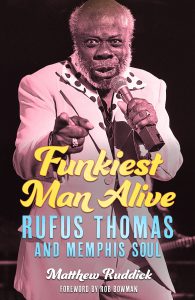 Matt Ruddick co-founder of Kind Of Jazz and author of Funny Valentine: The Story Of Chet Baker has recently published his second book Funkiest Man Alive: Rufus Thomas and Memphis Soul to rave reviews across the world. A finance man by day and a music devotee by night, the arrival of his second book after a 11-year gap has caused much excitement.
Rufus Thomas was a singer, DJ, songwriter and entertainer from Memphis, Tennessee working with Chess Records and Sun Records during the 1950s and then with Stax Records in the 1960s and 1970s.  He was also one of the first DJs on WDIA, the first US radio station that programmed entirely for African American's. Primarily known for his 'Do The Funky Chicken' song, Rufus was said to embody the very soul of Memphis and on his 80th birthday, the City of Memphis renamed a road in his honour – Rufus Thomas Boulevard. Little has been written about Rufus and Matt's book shines a well overdue light on his work. It was a wonderful to talk to Matt about his new book.
FR: This is your second book, after the huge success of Funny Valentine: The Story of Chet Baker in 2012. When and how did Rufus first appear in your life?
MR: I'd been aware of Rufus's big singles on Stax – Walking The Dog, Do The Funky Chicken, The Breakdown – for a long time, as I've been an R&B fan for many years. I was living in Hong Kong when Funny Valentine was completed and local jazz musicians asked me if I had met Sybil Thomas, the daughter of Rufus Thomas, who was working as a singer in Hong Kong at that time. We met for a coffee, and it turns out that she was Rufus's daughter outside of his marriage. We became good friends and I suggested to her that my second book should be about her father. When lockdown came along, courtesy of COVID, I decided it was the right time to dust off that idea.
FR: You clearly undertook a significant amount of research for the book, exploring not only Rufus' life, but the surrounding history of Memphis Soul and labels such as Chess Records and of course Stax. How long did the book take you to complete and what was your process?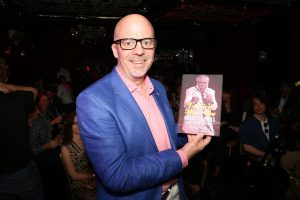 MR: This book took about two years to complete, from start to finish. It was much easier than Funny Valentine, which took me around ten years. I was helped by the Thomas family, especially Vaneese Thomas, who introduced me to family friends, key contacts at Stax Records, and also provided me with family photos.
FR: To my knowledge, this is the first ever full biography of Rufus, despite his significant contribution to American music. Why do you think this is?
MR: That's a good question. I think his success, both on Sun Records and Stax Records, was overshadowed by some the bigger names that came later; Elvis, Johnny Cash and so on Sun, Otis Redding, Sam and Dave and Isaac Hayes on Stax. In addition, I think there was a feeling that Rufus was more of a singer of novelty-type dance songs. Whilst there is an element of truth to that, there was far more to his repertoire than that. In addition, I love the fact that he constantly re-invented himself over the years – from tap dancer, to blues songwriter, disc jockey, R&B singer and eventually funk singer, too!
FR: Your book demonstrates the clear support of the Thomas family. How did you first connect with the family and develop those vital relationships to ensure Rufus' voice was truly heard?
MR: Whilst my initial introduction to Rufus was through Sybil, it was Vaneese Thomas who really got things started. I sent her an email to introduce myself, and she was excited about the project from the very start. I've lost count of the number of Zoom calls we had. While it was obviously amazing to talk to some of the legendary Stax musicians, I think it was the fact that she introduced me to old family friends that helped to give the book a more personal feel. In addition, Rufus loved to talk – so there were plenty of interviews available, most notably at the Smithsonian Institute – so that helped to get his own voice across, I think.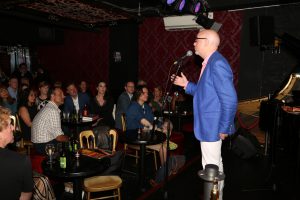 FR: The Funkiest Man Alive book world tour has seen you visit some wonderful places. What has the response to the book been so far and can you explain the thought process behind the specific places you visited?
MR: The tour took me to Memphis, Tennessee, Clarksdale, Mississippi, London and Porretta Terme in Italy. The first launch took place at the Stax Museum in Memphis, which is a must-see, and it was an honour to launch the book in front of the Thomas family. London was a good chance to launch the book with family and friends, while Porretta still hosts an amazing, annual R&B festival, Porretta Soul. Rufus played there for several years, so it was exciting to be part of this year's event.
FR: Having started his career as a dancer in the minstrel shows and then becoming one of the early African American DJs, the book explores the tight African American community Rufus was part of.  Charles Hughes, author of the essay 'You Pay One Hell of a Price to Be Black' in the brilliant book 'An Unseen Light: Black Struggles for Freedom in Memphis, Tennessee' is referenced in the book as a source and support for helping you navigate what you call 'difficult topics'. With such a vast area to explore, can you tell me how you approached these topics?
MR: Another good question, and a more difficult one to answer. There's no doubt in my mind that Stax Records was ahead of its time, and that most musicians – black and white – worked together in a way that was not possible in most of the city, where segregation was still an issue. And Stax was – and still is – a family. But families do argue, and it was inevitable that some disputes took place. I think the other point to note is that we are all more aware of issues such as 'white privilege', which was not necessarily a concept in the late 1960s, but obviously existed. However, I think it's important to note that for the most part, Stax did operate as a family and set a fine example for the rest of the city. In fact, when so-called 'race' riots did take place in Memphis, the Mayor called on local musicians such as Rufus Thomas and Isaac Hayes to appeal for calm in the local African-American community. The record label played a powerful role in the community.
FR: This book shines a well overdue light on Rufus, what do you hope people will take from the book?
MR: I hope they listen to more of Rufus's music, in particular. The Funkiest Man – The Stax Funk Sessions – is a great place to start. But I'd also urge people to visit Memphis – there's so much to see. The Stax and Sun Museums, Graceland, the Rock and Soul Museum, Beale Street, not to mention the great food. I can't wait to go back!
FR: Rufus was so full of energy and laughter and an inspiration to many. Having spent such a significant amount of time exploring Rufus and his life, what have you learned from writing this book?
MR: Make the most of life. To quote the great rockumentary, Spinal Tap, try to "have a good time, all of the time!" And stay funky…
To find out more and purchase the Funkiest Man Alive: Rufus Thomas and Memphis Soul, click here
Last modified: August 31, 2023