Launching his new album La Vie En Soul featuring Najwa Ezzaher on July 10th, Alex Scheuerer showed us that Pizza Express Soho, London, was the place to be. The new album launch was described as 'an invitation to gentleness, elegance and beauty à la française' but I would also add it was an invitation to an evening of exceptional groove, energy and outstanding musicianship.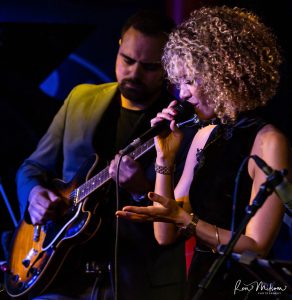 With his roots firmly inspired by la chanson française, Alex Scheuerer as a Franco-Swiss guitarist, composer, arranger and musical director presented us with intoxicating new arrangements of classic French songs with a diverse range of captivating grooves along with some of his own striking compositions. Featuring the remarkable French-Moroccan vocalist Najwa Ezzaher and an inspired band, the chemistry on stage was truly exhilarating.
Trumpeter Graeme Flowers plays on the album and I must admit to being disappointed to not see him at the launch as he is always brilliant, however, there was absolutely no need for my disappointment with Freddie Gavita stepping in and literally blowing us away, right from the beginning with an incredible solo.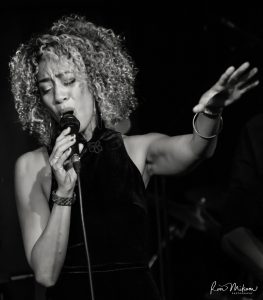 Introduced by Alex as 'the diva', Najwa was quick to point out that she is not a diva and the chemistry between to two leads was really quite wonderful and the banter and laughter on stage set the scene for a fantastic night. The duo have been working together for a few years now and their musical connection, that interplay on the stage, is exiting to watch. Najwa does embody all the positive elements of what is generally referred to as 'a diva'– she was powerful, commanding and completely engaging, working the audience with expertise and ease. Her vocal delivery was exquisite throughout the evening, and she kept the French speaking audience members, of which there were many, incredibly happy, with some people joining in at one point, which was a really touching moment. Her performance was outstanding.
One of the especially captivating elements of the evening was the incredible range of influences and undeniably tight grooves. Alex's virtuosic guitar brought us, at times, hints of Steely Dan and George Benson while also bringing some grooves reminiscent of Robert Glasper. Neo-soul, garage and funk were all there, beautifully wrapped around a deep traditional french influence. Known as 'music of the people' Alex and Najwa use the elegance and charm of la chanson française to bring us all in, connect with us and show us the way. It is with these wonderful combinations that they make their sound so unique and refreshing.
The brilliant Chris Rand on sax 'A self-confessed rock 'n' roller who flirts with jazz' was on fire and his work with trumpeter Freddie Gavita, throughout the night, was truly outstanding, keeping the groove where needed and presenting consistently breath-taking solos. Not forgetting fantastic work from Paul Michael on Bass, Chris Jerome on Piano and Mike Horne on the kit, the band were not only tight, the chemistry between them all overflowed into the audience and there was a real feeling of mutual mindsets and love of the music.
A truly wonderful night full of great music and great performances. More of this please.
You can see Alex Scheuerer & Najwa Ezzaher: 'La Vie En Soul' at Toulouse Lautrec, London on September 29th. I highly recommend you do!  Tickets available here
Photography by Ron Milsom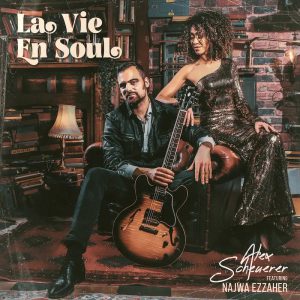 You can purchase the album through this link or stream here
For further information about Alex Scheuerer, please visit his website here
To follow Najwa Ezzaher please click here
Last modified: September 4, 2023