After it's prime in the 90s and early 2000s, many people quickly turned their noses up at fusion music and jazz rock: too cold, too technical, heartless virtuosity, showmanship, no melodies, only breaks and hectic improvisations over a chord.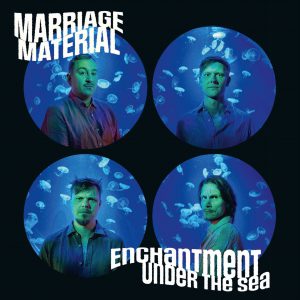 However, bands such as Tribal Tech or Joe Zawinul with his various formations such as his Syndicate have shown that fusion does have its good side, merging the soundscapes of pop and rock music with jazz's showpiece, improvisation. And as long as there are strong melodies as a basis, nothing can go wrong musically.
The Berlin-based band with the weird name Marriage Material avoids the term "fusion", preferring to call their music "cinematic jazz". Colorful and varied, the quartet grooves through their second album. The four musicians are not only popular studio and touring musicians in Germany, both in the pop or jazz genre, they can also be found on stage with Sarah Connor (pop) as well as with the jazz musicians Wolfgang Haffner, Nils Landgren or Torsten Goods. Marriage Material is the centerpiece project for these four. Or, as drummer Felix Lehrmann explaines: "Marriage Material isn't a project, it's a band, that's very important to us, and our band is so important to us that we block times for Marriage Material in the calendar to rehearse, to record and play."
"Enchantment Under The Sea" includes ten original compositions by the musicians, bassist Thomas Stieger, guitarist Arto Mäkelä and vibraphonist Raphael Meinhart share the work. Ballad-like compositions such as Stieger's atmospheric "Silent Creek" or the offbeat "Happy To Be Forced" by Finnish guitarist Arto Mäkelä are mentioned here as examples. Mäkelä uses acoustic and electric guitar adding the wildest effects, which bridge the gap between classic guitar and hard rock that battle it out with the mallets in terms of sound. This effect is largly due to the fact that Raphael Meinhart not only plays marimba and vibraphone, but also all sorts of synth mallets and vocoder.
The band's ten cleverly thought-out compositions, which are clearly based on their role models Zawinul Syndicate, Weather Report or Tribal Tech in terms of sound, show a band vision with quite cinematic borrowings. The instrument combo, which is a bit unusual due to the vibraphone, together with driving bass grooves and the pounding drums of the groove tandem Thomas Stieger and Felix Lehrmann also make the band an absolute live tip.
Check out tip: "Mega Pint Of Plum Spirit," a direct nod to Joe Zawinul.
Track Listing:
1. 1984 | 2. Happy To Be Forced | 3. Mega Pint Of Plum Spirit | 4. King Of Melancholia | 5. The Ring | 6. Silent Creek | 7. Calibraten | 8. Second Try | 9. Green Lagoon | 10. Peoples
Line-Up:
Raphael Meinhart -– vibes, marimba, malletkat pro, synths, vocals | Arto Mäkelä – electric & acoustic guitar | Thomas Stieger – bass, synths, vocals | Felix Lehrmann – drums
Release Date: 7. July 2023
Format: CD | Streaming
Label: Jazzline
Distribution: Leopard
More information can be found at their Website: marriagematerial.com
Last modified: August 17, 2023