As part of a year-long celebration of Nina Simone's 90th birthday, Verve Records and UMe have announced the release of You've Got To Learn, a newly-discovered recording of Nina's performance at the 1966 Newport Jazz Festival, set for release July 21 via Verve Records. Last week, the first single from the album, "Mississippi Goddam." was released along with a compellingly stylized lyric video.
Mississippi Goddam was to be an anthem to be her "first civil rights song". The song was first released on her album Nina Simone in Concert in 1964, that was her first release for the Dutch label Philips Records and is indicative of the more political turn her recorded music took during this period.
Simone was one of the most extraordinary artists of the twentieth century, an icon of American music. She was the consummate musical storyteller, a griot as she would come to learn, who used her remarkable talent to create a legacy of liberation, empowerment, passion, and love through a magnificent body of works. She earned the moniker 'High Priestess of Soul' for she could weave a spell so seductive and hypnotic that the listener lost track of time and space as they became absorbed in the moment.
As written in her official biography, when Nina Simone died on April 21, 2003, she left a timeless treasure trove of musical magic spanning over four decades from her first hit, the 1959 Top 10 classic "I Loves You Porgy," to "A Single Woman," the title cut from her one and only 1993 Elektra album. While thirty-three years separate those recordings, the element of honest emotion is the glue that binds the two together – it is that approach to every piece of work that became Nina's uncompromising musical trademark.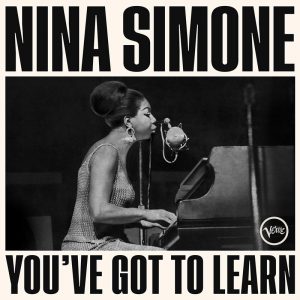 On July 2, 1966, the Newport Jazz Festival witnessed a legendary six-song set by Nina Simone that has remained etched in the memory of music aficionados for over half a century. Now, a previously-unknown and unreleased recording of the unforgettable concert is available for the world to hear.
The newly-released recording captures the essence of Simone's performance at the festival, showcasing her incredible vocal range and her unparalleled ability to connect with her audience. Listening to this recording, it's easy to understand why hearing Nina Simone in concert was a once-in-a-lifetime experience.
Starting with a mesmerizing rendition of "You've Got To Learn," Simone showcased the full range of her artistry, with an electrifying and uniquely-swinging performance of "Mississippi Goddam." The audience, unwilling to let her leave the stage, gave her a passionate standing ovation and were rewarded with an unforgettable show-stopping encore – "Music For Lovers."
Liner notes for the album are provided by Shana L. Redmond, a respected scholar and author who has written extensively on Simone's life and legacy. Her notes provide a valuable context for the performance and help listeners understand the historical significance of Simone's music.
The release of this recording is a momentous occasion for music lovers and fans of Nina Simone worldwide. It is a rare opportunity to experience the magic of one of the most exceptional performers of the 20th century.
Line-Up:
Nina Simone, piano
Track Listing:
1. You've Got To Learn | 2. I Loves You, Porgy | 3. Blues For Mama | 4. Be My Husband | 5. Mississippi Goddam | 6. Music For Lovers
Release Date: 21 July 2023
Format: CD | LP | Streaming
Label: Verve Records
More information on the legacy of Nina Simone can be wound at www.ninasimone.com
Last modified: June 14, 2023