British Jazz singer-songwriter, pianist & accordionist, Jonny Kerry recently embarked on a collaboration with fellow Accordion and bandoneon virtuoso, Richard Galliano and vocalist – producer Candela Cibrián. The first results of the collaboration have recently been released on all major streaming platforms in a form of a single titled "The Melody of You".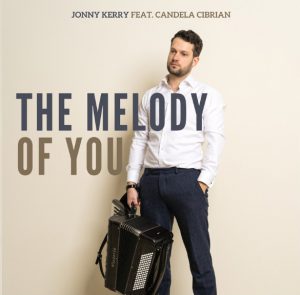 The song is based on Galliano's beautiful composition 'Viaggio with lyrics written by Kerry. Originally released in 1993 by Galliano as an instrumental on the album of the same name, Kerry takes the piece in a somewhat different direction, couching it in a Cuban Bolero feel. Kerry choose to leave the songs melody largely in tact however, the addition of the lyrics and the arrangement as a duet fit the slower tempo well adding a whole extra dimension to what already was indeed a beautiful melody.
The Argentinian singer, songwriter Candela Cibrián is Jonny's vocal partner on the track and I believe this was a good choice. Both voices, while highly different in timbre blend extremally well and I enjoyed the mix of Kerry's crooner style with the inherent latin sound of Cibrián's voice. Cibrián, while perhaps not widely known in Europe has made a strong name for herself in the Latin world based of her work with artists such as Moenia (Promotodo México), Chester Page (Warner Music, USA), Duo Violins (Planetworks, Grecia), Heels To Kill (Universal Music, España) WAY (Pirca Records, Argentina) and has written and produced original music for Daniela Milagros (Warner Music, Argentina).
Once described as "The Player making the Accordion cool" by Times journalist John Bungey, Kerry has consistently built a strong fan base both in the UK and on the Continent where he's racked up over a million views on YouTube. After catching his first break into the industry by performing in the acclaimed BBC drama Peaky Blinders, Jonny seized the momentum and since then has toured extensively sharing the stage with many of the greatest talents on the UK Jazz scene today.
This recording features an international cast on musicians including next to Kerry and Cibrián, the Argentinian trumpet player Sergio Wagne and bassist Nicolas Ojeda. Italian pianist Emanuele Filippi, now resident in Paris, joins the group on piano with the ensemble completed by New Jersey based drummer Matias Menarguez. "The Melody of You" is not your typical latin jazz track recorded live in a studio. Fully produced by Kerry, the tracks were recorded remotely across three continents and then mixed by Kerry at his home studio in the UK. The single was then mastered by Barry Grint at Air studios, London. That said, the track does not at all sound over produced and the energy and latin flair is abundant throughout. After enjoying listing to this track I was left hoping that the collaboration will continue and that in the near future we'll see more music being released by this group.
You can hear the track on all the major streaming platforms as well as on our New Release and Latin jazz Spotify playlists. Highly recommended.
Line-Up:
Jonny Kerry, vocals & accordion | Candela Cibrian, vocals | Sergio Wagner, trumpet | Nicolas Ojeda, double bass | Emanuele Filippi, piano | Matias Menarguez drums
Release Date: 27 January 2023
Format: Streaming Only
Label: Independent Release

Featured Image by Ron Milson.


New Release Spotify Playlist
The Jazz In Europe New Release playlist features tracks from the new releases featured on Jazz In Europe. Updated weekly, this playlist is the perfect place to discover new music from the leading jazz musicians currently on the scene. We hope you enjoy this selection.
Last modified: March 2, 2023