New York based, Argentine pianist and composer Emilio Teubal recently released his new album (his sixth as a leader) titled "Futuro". The title track, and most of the music on the album, was conceived of and composed during the initial lockdown in early 2020 for the newly formed, Emilio Teubal Post-Trio that also includes bassist Pablo Lanouguere and Chris Michael on drums.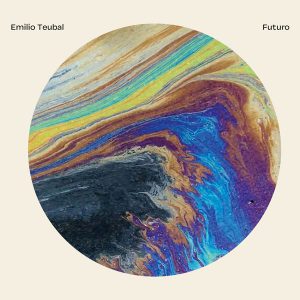 The album is reflective of Teubal's experience during this harrowing, uncertain time, with the added sadness of mourning the loss of his father. The music heard on this album came to life in the studio at the end of 2021 when the Post-Trio was joined by special guests, drummer Brian Adler (replacing Chris Michael who had a strong case of long-covid, and hasn't recovered since), vibraphonist Chris Dingman, guitarist Fede Diaz, and clarinetist Sam Sadigursky. The resulting album is an eclectic, modern collection of singular music which represents Teubal's rumination and contemplation about loss, grieving, and of course about the future; his own, and the world's.
Teubal explains, "Futuro (Future in English) is the word that synthesizes all those emotions that I felt during that period: the idea that suddenly we were living in a dystopian world not far from what is seen on those end-of-the-world movies I used to watch as a kid such as Mad Max and Blade Runner. On a more personal level, the loss of my dad in 2021 was a big part of the concept of "the future" that I had as a kid. Without much preparation, I found myself in a new reality that meant navigating a life without parents (is it even possible? I used to wonder)." Teubal pays tribute to his late father on the album's closing tune, "Los Ultimos Seran los Primeros." "'The last one would be the first,' is a phrase my dad would always use when I would lose a race or a game (probably against my brother). I finished writing this piece a few days before my dad passed in January 2021, so this is the last music he heard me compose and practice. This piece will always remind me of him, of those last days we spent together, and of how much I miss him. Closing this very personal album with this song felt like the right way to pay tribute to my dad," says Teubal.
Teubal also pays tribute to a dear friend who passed away recently, with the composition "Tokyo-Trenque." Teubal elaborates, "I composed this piece in the style of Zamba (a rhythm/form from the north of Argentina), dedicated to Eduardo Garcia, a very close friend who we lost in 2019. Eduardo was born in Trenque Launquen, a small town in the middle of the Argentine Pampas, and he passed away in Tokyo, Japan. The title of the song refers to his departure and arrival destinations."
Futuro is a recording in which many different styles and genres organically coexist. Argentine music, especially the folk rhythms zamba, chacarera, milonga, etc, is a common language that keeps the music and musicians on the same page. However, it is far from being just an Argentine music record as Teubal is strongly influenced by modern jazz, classical music, rock, cinematic music, experimental, and even by Balkanic and Middle Eastern Music. This mixed bag, is represented in much of the music, including "Children of MMXX," initially conceived using Chick Corea's Children's Songs as inspiration. "Next to the room where I have my piano, my then 7-year-old son was attempting to 'go to school' through Zoom. I felt for him, so I dedicated this piece to him and his generation; the kids who had to go through that horrible and disruptive experience during the pandemic," explains Teubal.
On "Remolinos (Tolerance)" a minimalistic piece that, instead of being inspired by classical minimalistic composers such as Phillip Glass or Steve Reich, was conceived as an homage to one of Teubal's all-time favorite rock bands, King Crimson. "The addition of Chris Dingman's vibraphone opened up new possibilities on this tune, and others that he appears on. The subtitle of the song, Tolerance, was added later and it refers to the nickname that was given to the song by my son and my partner at the time, who had to listen to me and tolerated me practicing such a repetitive song. It's also a wink to Crimson's, Discipline.
Los Que Fluyen (those that flow) is a Chacarera-infused song (Chacarera is a rhythm/song form/dance from the north of Argentina) that was part of the initial repertoire of the trio, but then acquired a new dimension in the studio thanks to the folkloric strumming of Fede Diaz's guitar. Teubal comments that, "los que Fluyen" refers to a particular method of composing music that flows very organically for me, but it also refers to those situations in which things/energy flows smoothly and effortlessly (it can be friendships, relationships, musical ensembles, etc). We tend to stop and pay attention when those things don't flow organically, but when they do, we don't even notice it, and not noticing usually is a sign that things are flowing.
Other highlights on Futuro include Lennon-McCartney's "Blackbird," arranged in the style that fits the trio, with elements of Chacarera, odd meters, and a minimalistic cinematic coda, providing a snapshot of the heterogenous styles of the recording; "Rio" (titled by Teubal's son after one listen), which works especially well with this trio due to, "drummer Chris Michael's adeptness with South American grooves," says Teubal; and "Tortuga," a piece Teubal wrote for solo piano and featured on his previous album, Tides. "One of the most challenging and fun tunes for the trio to play. The version we recorded with the trio departs from the solo piano version thanks to the beautiful solo bass interlude that Pablo Lanouguere wrote, that eventually leads to a free improvisation that works as a contrast for all the written material," explains Teubal.
Track Listing:
1. Futuro | 2. | Children of MMXX | 3. Cinco en Seis Cuerdas | 4. Rio | 5. Tokyo Trenque | 6. Remolinos (Tolerance) | 7. Los Que Fluyen | 8. Tortuga | 9. Blackbird | 10. Los Ultimos Seran los Primeros 05:02
Line-Up:
Emilio Teubal, Piano | Pablo Lanouguere, acoustic and electric bass | Chris Michael, drums (2,4,8,9,10) | Brian Shankar Adler, drums & percussion (1,3,5,6,7) | Fede Diaz, guitar (1,5,7) | Sam Sadigursky, clarinet (1,5,7) | Chris Dingman, vibraphone (3,6,9)
Release Date: 17 February 2023
Format: CD | Digital | Streaming
Label: Self Release


New Release Spotify Playlist
The Jazz In Europe New Release playlist features tracks from the new releases featured on Jazz In Europe. Updated weekly, this playlist is the perfect place to discover new music from the leading jazz musicians currently on the scene. We hope you enjoy this selection.
Last modified: February 28, 2023