The latest album from guitarist Herve Samb titled "Jolof" was released today via Euleuk Vision Records. With the release of Jolof, his sixth album as a leader, Samb showcases his exceptional instrumental technique and his talents as a composer, but also a personal vision of his art and the message he intends to entrust to it. The title, Jolof, refers to the ancient empire, the territorial, ethnic and cultural constitution from which flows the present day Senegal. Born in Rufisque, not far from Dakar, Samb turns to his African roots, without neglecting what has continued to feed his music over a career rich in multiple encounters and experiences within the world of jazz and blues.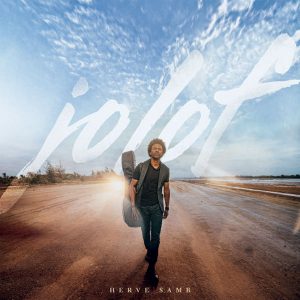 From a stylistic aspect the has been described as Sabar Jazz a concept that Samb has made into a style in its own right after a formal and identity-based quest that begun on his previous records, Time To Feel and Teranga. But what exactly is the sabar? This Wolof word (the native language of the Wolof people of Senegal) designates both a set of percussion and its king drum struck with bare hands or with the help of a stick. It is to sabar percussion that Senegal owes its title of "republic of drums". Indissociable from the Senegalese identity, its rhythm gave birth to the Mbalax style, today assimilated into the country's modern music thanks to its star singers, with Youssou N'Dour, in the lead. Omnipresent in all celebrations and ceremonies, Sabar has become synonymous with "party". Hence the festive dimension of this album that remains nevertheless marked by the desire to carry a positive message. For example: self-confidence with the track "Gëm sa Bop, Doole", courage in "Song Ko" and "Làmp Faal" that carries the message of perseverance.
Through his collaboration with local musicians, particularly the great singer Omar Pene and his percussionist Alioune Seck, Samb has gained access to the mysteries of Sabar, the traditional art and it's educational implications. "Alioune Seck is one of the best percussionists in the country. He comes from a family of Sabar performers, with all that this implies in terms of knowledge and spirituality. "Thanks to him, I was able to acquire the codes" states Herve thankfully.
From this collaboration, and the elective affinities it reveals, emerged the remarkable Song "Ko, Barbatóor" and "Yàkki", in a moving and inclusive merging of rock, jazz, and traditional music. Here Samb brilliantly succeeds in his confrontation with the vigorous rhythm impelled by the drums.
As proof of a permanent search for the balance between tradition and experimentation, he uses the singular harmony of the Serer voices in "Ñaan" and was inspired by a Bach sonata in "Doole", a breathtaking 7-minute piece in which the Tassu (an ancestral vocal form specific to the Sabar that is somewhat close to rap) is summoned. Samb originally saw himself as a blues musician, and in "Gëm sa Bop", he rediscovers his first vocation with this piece couched in a pentatonic mode. With Jolof, Herve also fulfils a dream of his youth by taking over the singing on three tracks, a role handed back to the griot Alpha Dieng on the rest of the album.
Born in Senegal, guitarist and composer Herve Samb discovered his musical passion at the age of 9 years old. Fascinated by the traditional rhythms of his heritage and the progressive music of the African American culture, Samb was determined to develop his own music as a force of Panafrican expression and identity. In August 1998, he arrived in France and soon caught the attention of some of the hottest Parisian musicians . It is the beginning of a international career : Amadou &Mariam , David Murray , Meshell Ndegeocello , Phaoroah Sanders , Cheikh Tidiane Seck , Jacques Schwarz-bart and Richard Bohringer to name just a few.
With the release of Jolof, he embarks on a personal mission which leads him to return to his roots and to an identity that he intends to keep open. "People thought I was an American because I was assimilated into the jazz and blues scene. A compatriot even asked me one day 'are you really Senegalese?" Jolof could not have given a more resounding and definitive answer to this question.
Line-Up:
Herve Samb, guitar & vocals | Pathe Jassi, bass & vocals | Ndiaw Macodou, drums | Alioune Seck, sabar percussion | Alpha Diend, vocals
Track Listing:
1. Jolof | 2. Song Ko | 3. Yàkki | 4. Làmp Faal | 5. Doole | 6. Ñaan | 7. Gëm Sa Bop | 8. Barbatòor | 9. Yow | 10. Senegaal
Release Date: 10 Feb 2023
Format: CD | Digital
Label : Euleuk Vision


New Release Spotify Playlist
The Jazz In Europe New Release playlist features tracks from the new releases featured on Jazz In Europe. Updated weekly, this playlist is the perfect place to discover new music from the leading jazz musicians currently on the scene. We hope you enjoy this selection.
Last modified: March 2, 2023