You Hit The Spot, sees Chicago based vocalist Tracye Eileen return to her roots as a straight-ahead jazz vocalist for her fourth release as a leader. Her previous releases "Why Did I Say Yes?" (2018) and "It's Time" (2020) both saw Eileen venture into the Soul, R&B and Adult Contemporary market and with some success, "It's Time" charted on several major music charts in the U.S. and abroad and was a staple of radio playlists in 67 countries and over 220 radio stations.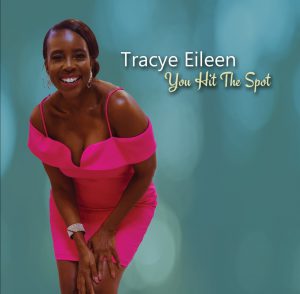 In the press release, Tracye stated that "You Hit The Spot is a homecoming to straight-ahead jazz, which has been part of her life for as long as she can remember." And yes, straight ahead jazz is definitely what this album is about, both stylistically and in the choice of well known vocal standards straight out of the American Songbook repertoire. As far as the line-up is concerned the album presents two ensembles, one recorded live and featuring Tracye's long time live band made up of Dennis Luxion (piano), Paul Martin (bass), and Linard Stroud (drums), and a separate studio sextet that is featured on three tracks. The studio line up appears on tracks 1,2 and 8 and consisted of a sextet of Chicago studio stalwarts including Jeremy Kahn (piano), Jon Deitemyer (drums), Stewart Miller (bass), Steve Eisen (reeds), Raphael Crawford (trombone), and Victor Garcia (trumpet) with arrangements by Thomas Gunther.
The first of the tracks recorded in the studio and the albums opener is the early 1960's hit "I Love Being Here With You" written and originally performed by Peggy Lee. Taken as a medium up shuffle, Tracye immediately sets the scene with two great vocal choruses that build with the addition of a set of strong backgrounds appearing in the second vocal chorus. After a number of short solos Tracye pick's it up at the bridge and takes it out, losing none of the energy built in the opening. A great introduction and shows that Eileen as more than impressive vocal chops.
We remain with the studio band for the following piece and the albums title track "You Hit The Spot". Taken at almost exactly the same tempo as the opening track (this time without the shuffle), this track features a somewhat Basie-esque intro before handing things off to Eileen for the opening chorus. Once again Tracye delivers a strong vocal performance however it's Victor Garcia's trumpet solo that truly grabbed me on this track.
The first of the small band tracks follows with the "You Can't Take That Away From Me". Normally I'd put this song in the "Done to Death" category and skip to the next song, however that would have be doing myself an injustice as Tracye truly breaths new life into this tired old classic. Recorded live at PianoForte, a high end piano dealership with a wonderful performance space and recording facilities in Chicago, you can hear that this group of players have been around the block together more than a few times. However, it's Eileen that is firmly in charge with the trio responding seamlessly to her cues.
"Almost like Being In Love" is taken as a straight up Bossa and is the only latin flavored track on the album. I would have liked to have heard more of an arrangement here, yet the band still deliver a good performance, albeit a little to much like a jamsession version. This is not the case with "The Very Thought of You" with it's beautiful rubato intro before settling into a slow ballad feel. This is without doubt one of the highlights on this album and Tracye takes all the room necessary to display her story telling skills as she weaves her way through the lyrics. "Just In Time" is the only track on the album where Tracye presents the songs verse, I would have liked to have heard more of this on the recording as many of the songs presented her have great verses. I enjoyed the duet with the bass in the opening vocal chorus. Once again the vocal performance is wonderful and it's refreshing to hear a vocalist tackel this repertoire in an original way and without any hint of the cliché.
The final Live song on the album is the 1938 Rodgers and Hart classic "This Can't Be Love". As far as the arrangement goes there's nothing  "out of the box" here, however this track swings from start to finish largely due to Eileen's spot on vocal timing consistently placing the emphasis in exactly the sweet spot.
Closing out the album is the third track recoded with the studio sextet. The song in question is the Edward Redding tune "The End Of a Love Affair". The arrangement here is a little more rhythmically complex than the previous two studio tracks and includes the addition of of strings. I particularly enjoyed the way this track builds climaxing with Eileen demonstrating her not unsubstantial vocal range.
Now I have to admit, I'm not a huge fan of vocal jazz albums with American Songbook standards, however, once again I'm reminded of the old adage of "You can't judge a book by it's cover". Instead of taking these standards and re-imagining them as something else, Eileen has remained strictly true to the tradition. As stated in the press release, Tracye Eileen has indeed added "a contemporary edge" breathing new life into this set of well worn classics. So, this leaves me with the question, what is it about this album that makes it special? The answer is simple, It's Tracye Eileen's vocal performances.
I'm sure this album will appeal to a wide audience, but to convince a self confessed vocal snob is no mean feat, yet Tracye Eileen has done exactly that. Highly recommended.
Track Listing:
1. I Love Being Here With You 3:21 | 2. You Hit the Spot 3:00 | 3. They Can't Take That Away from Me 3:10 | 4. Almost Like Being in Love 2:40 | 5. The Very Thought of You 5:31 | 6. Just in Time 3:52 | 7. This Can't Be Love 2:49 | 8. The End of a Love Affair 4:45
Line-Up:
Tracye Eileen Band ( Tracks 1, 2, 8)
Tracye Eileen vocals | Jeremy Kahn piano | Jon Deitemyer drums | Stewart Miller bass | Steve Eisen reeds | Raphael Crawford trombone | Victor Garcia trumpet
Tracye Eileen Trio (Tracks 3, 4, 5, 6, 7)
Tracye Eileen vocals | Dennis Luxion piano | Paul Martin bass | Linard Stroud drums
Release Date: 26 August 2022
Format: Digital
Label: Honey Crystal Records



New Release Spotify Playlist
The Jazz In Europe New Release playlist features tracks from the new releases featured on Jazz In Europe. Updated weekly, this playlist is the perfect place to discover new music from the leading jazz musicians currently on the scene. We hope you enjoy this selection.
Last modified: September 10, 2023