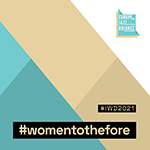 Today is International Women's Day. Starting today and for the following two weeks, Jazz In Europe together with the Europe Jazz Network will be highlighting some of the most prominent women currently active in today's jazz world under the common hashtag, #womentothefore. Each day we will be publishing new interviews and re-publishing some great articles that we have published over the last few years. To kick this off we start with part one of a great two part interview with Maxine Gordon by Fiona Ross. Stay tuned for Part two of this interview tomorrow.


Maxine Gordon. Historian, researcher, author, producer, scholar, consultant. President of the Dexter Gordon Society and President of Dex Music LLC (which controls the copyright to Dexter Gordon's compositions and licenses his name and image). She was also married to Dexter Gordon. Woody Shaw's 'Theme for Maxine' was written for her.  Now that I have had the huge honour of meeting Maxine, I will add role model and utter inspiration to this list.
Maxine has just completed an epic journey of writing 'Sophisticated Giant: The life and legacy of Dexter Gordon'. The book is a masterpiece. Everything you think you want from a biography and things you didn't realise you needed. The beautiful combination of historical facts, anecdotes and Dexter's own words is brought together through Maxine's own experiences, allowing us a precious insight into not only Dexter Gordon's world but the wider context of time – this is a much-needed narrative. Maxine's love and dedication to the role she has in bringing this story to an audience, makes it clear the value she places on the importance of the story that must be told – and told in the right way. Maxine Gordon is someone who carries within her the spark of true jazz, it's in her very fibre, it runs through her veins and she is not only holding and sharing the flame of Jazz,  she is an actual part of that fire.
'Maxine can translate for you. She speaks Be Bop' – Dexter Gordon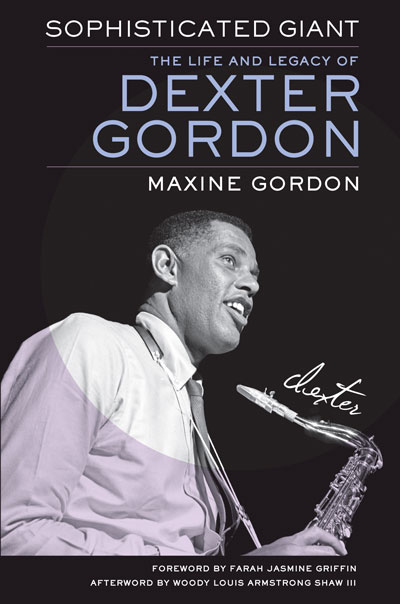 I first met Maxine in a gorgeous, typical Parisian café in the Bastille district of Paris where we discussed her book, life with Dexter Gordon, the Jazz industry and so much more. I left this experience enlightened, inspired and honoured to have had the opportunity to sit and talk to such a legend. The whole experience would be a chapter in any biography of my own life.
I asked her about her experience of writing the book and what she hoped people would take away from it.
MG: I mean I promised him (Dexter Gordon) I would do this, but when I made the promise I didn't really know what it would take. I mean he died in 1990, I had to go back to college – I wanted to write about jazz in the context of African American history, – but you know, I had to study it. You have to learn research methods, oral history. I mean I didn't want to just write another jazz biography – that wasn't what he had in mind. One of the people I quote extensively in the book is Jimmy Heath. He used to say to me, you got to get this book out before you die – and he's 90! I was like, don't worry, I'm getting it out. What I had in mind, was Dexter's life story, as a way of talking about African American history, jazz history, his idea of living outside the country. Dexter read in the paper that we were expatriates 'I thought we were just living in Europe' so just because you are travelling and working somewhere else, doesn't mean you are no longer part of that country. I hope people will think about Jazz in wider terms, people would be encouraged and particularly interested in incarcerated people – we have a very big problem in the US. My idea is to take the book to the prisons, drug users, the drug users union in Copenhagen, I went there and its was so great, I was like, can I put my husband picture up here? And they were like, we love Dexter! He never hid the fact that he was a drug user and he is a great hero. So, I'm interested in people that can identify with Dexter and what he said about his life and yes there were ups and downs, but in the end, he had a happy ending. He was an optimist.
FR: You are only accepting interviews from women and African Americans and all the book launch events are at independent book stores – an obvious question, but why?
MG: Ha, makes me sound a little narrow, doesn't it? Ha! Well, most Jazz writers, or critics as they are called sometimes, typical ones, are men, of a certain age, white and I have found their approach does not include black cultural history and it doesn't include the issues of gender and social issues that we are interested in. So, I was hoping that this book would be not so much a jazz biography, but a story of the culture of his life, musical, social and political and that he'd be the character to tell the story but the story would be bigger. My idea was to present him in relationship to African American cultural history. Our focus is Jazz, of course, but there are many other issues that we need to address. The idea for the book tour is to follow the geography of Dexter's life. LA Nov, New York, Barcelona, Madrid, London etc. the launch in London is at Honest Johns and this is where all the musicians would hang out in London when they came to play at Ronnie Scott's. Dexter would always go to Honest Johns and buy vinyl – he always liked to keep up with the latest recordings. Honest Johns, you know, they care about music. And I'm only doing independent book stores – I'm not doing chains – and I want to do black owned book stores.
Maxine is deeply passionate about the rights of musicians and the chapter 'Business Lessons' shows the harsh reality of contractual law and the impact on musicians lives. She describes Dexter and Miles Davis sharing a single room in 1946, taking turns to sleep in the one bed, but how they loved every minute of it because they were playing on 52nd Street.
MG: I have a chapter on what I call the political economy of bebop. I supported Prince when he put the word slave on his face. Love him. (personal note, a halo literally appeared over Maxine's head at this point) I thought when I do start to write a book, I want to be clear and in Jazz studies, the focus is always on the big stars at the expense of what made them. You know Count Basie said, 'I'm nothing without the band' and Duke Ellington – it's always about the band. I always tell people, especially young women, if you are going to go in the business and think people are going to say thank you, acknowledge how hard you work – well if they do, and I used to make this joke until it happened –  if they thank you it's because they have a terminal illness. But then my very good friend, was sick, and he said I want to tell you something, and I got very worried, and I asked him are you sick, and he was like no – but he died a week later – and he just wanted to tell me that he appreciated that I never repeated, anything I saw or heard on the road with him. He said I just want you to know that that's why we let you stay around. I was like ha, you didn't let me stay around, I just stayed around! I was like first of all, I can't remember, second of all, I don't think about it, I don't care! I was a road manager with 50 musicians, bookings to deal with, what did I care what they were doing?!
FR: You must have been so strong and fierce! You must have faced issue with being a woman back then?
MG: No, I just didn't know it would be that hard. I mean, now, if you thought about it, if you want to be a performer, would you do it? No. If you really thought through the economics of it and all the things involved, you'd be like never mind.  No, I didn't have any barriers, actually not. And with the discussions going on at the moment, and talking to women about harassment I wonder why I didn't have any of those problems. I think it was because I was just always around women. Shirley Scott and I were such good friends and I travelled with her, and we always had back up. It was very different back then, I mean there was a very famous booking agent back then and he paid my very first phone bill with Dexter. I saw this phone bill and was like what am I going to do and what he said was you must be doing a good job if you are making a lot of calls. I showed him the bill, and he said, ok I'll pay it. And then when I made money and tried to pay him back, he wouldn't take it. I just think I was around people that, by their experience, knew – you know some people come into the business, but they're not like musicians, you know. And not that I'm fearless, but I'm not afraid to confront things if they don't come through. I mean what we know now with the whole' me too', but back then, a lot of people are lucky because their careers would have been over. But now, I've told some people – don't take down the music because you don't know how to act. Don't mess this up. And women have to be very careful today.  Camille Thurman, I love her. I'm totally devoted to her (even though I'm retired) and Dee Dee Bridgewater and I heard her and we went down and Camille got out of the car and Dee Dee said, 'look if any one messes with you or touches you, makes you uncomfortable, you call me. You got back up. Maxine and I got your back'. Then she said,' I'm not going to let them do to you what they tried to do to me'.
I love that. Incredible. Maxine and I talked about how women seem to often get labelled with the term diva or that they are difficult, when in reality they are just being strong, confident and not afraid to stand up for themselves
MG: What I would say about women in the business, always being attacked for being difficult, singers getting the diva label, but you know, I don't accept that. Sometimes we have to be a little more you know, stronger, forceful, than the norm. Thinking about recording contracts – when I was negotiating Dexter's first contract, I remember this guy, he was a great guy, and he was like Maxine, what you are asking for is not standard practice, and I said, well your standard practice is very unappealing. It doesn't apply to what Dexter needs or wants.
Despite Maxine saying she wasn't especially strong or fierce, she is very clearly an incredible woman.
'In the end, we are joined together by our love of the music and our love of the musicians who have sacrificed so much to play it night after night' – Maxine Gordon
This is Part One of this insightful interview, you can read Part Two here.

Interviewer: Fiona Ross
Purchase the book: Sophisticated Giant – The Life and legacy of Dexter Gordon  by Maxine Gordon
More information: The Dexter Gordon Society
Photo credits: Courtesy of Maxine Gordon – and (c) info: all rights go to original photographer(s).
Last modified: May 3, 2021