The title of What Comes Next, the latest album by guitarist Peter Bernstein, certainly echoes a question that we've all been asking ourselves in recent months. Locked away, wary of leaving the house during a global pandemic, divided by politics and protests, all during the most vital Presidential election in living memory – any one of those issues would spell an uncertain future.
But look again at that title: Bernstein very deliberately left off the question mark. While the interrogative continues to apply, especially for musicians in a world without gigs, Bernstein set out to make a statement as well. Available now on Smoke Sessions Records, What Comes Next not only arrives in the midst of quarantine but was recorded during the lockdown as well. With what once was the simple act of gathering four stellar musicians in a room to play music together, the album points a musical way forward in the way that only the most incisive jazz can.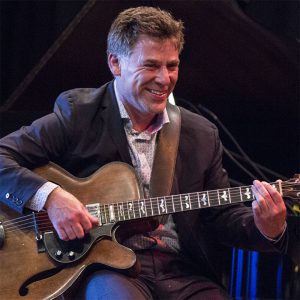 "Without the question mark, What Comes Next implies that you have some idea, some intention," Bernstein explains. "That seems like such a huge concept now, but it's inherent to the very idea of playing jazz. It's the basic question that we deal with all the time when we're given the freedom to improvise: now what do I play? What note should come next? Where are we in the conversation? With everybody's lives being put on hold, that idea can be extended beyond the fact of just playing music."
With tour schedules and conflicting dates hardly being an issue these days, Bernstein assembled a dream quartet for the date. He's joined by Grammy-winning pianist Sullivan Fortner (Cécile McLorin Salvant, Roy Hargrove), drummer and frequent collaborator Joe Farnsworth (McCoy Tyner, Pharoah Sanders) and for the first time on one of the guitarist's own sessions by the always exquisite bassist Peter Washington (Bill Charlap, Art Blakey and the Jazz Messengers).
The opportunity arose when New York's legendary Sear Sound studio reached out to Smoke Sessions about the possibility of attempting a responsible recording date. The label quickly sprang into action developing a plan to test everyone in advance and then to adhere to social distancing while in the studio. "We all kept our masks on," Bernstein recalls, "It felt a little strange at first, but I'm just thankful for the chance to try and create something with musicians I love. It was such a beautiful day."
The timing was especially fortuitous as three months of isolation had given Bernstein plenty of opportunity to compose some new music. Two of the pieces on What Comes Next were written in quarantine: the title tune, which feels like a tentative but optimistic waltz into a an undetermined future; and the melancholy "Empty Streets," which reflects the unsettling feeling of living in one of the most hectic and densely populated cities on the planet and finding it devoid of its usual humanity.
"It was really bizarre," Bernstein describes. "I felt like this place is too big to be so quiet. It was a little bit spooky, but in a strange way necessary. The streets should have been empty at that point."
Bernstein didn't set out to write music confronting the tenor of the times, but the feeling inevitably seeped into his songs. That's the usual path that the guitarist takes when composing, another way in which the album title feels relevant. "I try to let a tune write itself as much as possible," he describes. "I tend to tinker with music for a long time until it feels like it has its own identity. I try to get inside the consciousness of what I've written and then ask, 'What does it want to be next?'"
Release Date: 16 October
Format: CD | Digital
Label: Smoke Sessions


New Release Spotify Playlist
The Jazz In Europe New Release playlist features tracks from the new releases featured on Jazz In Europe. Updated weekly, this playlist is the perfect place to discover new music from the leading jazz musicians currently on the scene. We hope you enjoy this selection.
The best way to keep up to date with all the latest releases is to follow us on Spotify. Just click the button below.
Last modified: October 17, 2020