In this complex era of Pandemic and social emergency, guitarist Simone Gubbiotti has decided to re-release his album titled "Resilience" in an effort to share a message of positivity and deep humanity. The capacity to react to the adversity and turning this into an opportunity is the main theme of the album recorded at Mount Rest Studio, New Paltz (N.Y) in 2014 and for this re-release remastered and renewed. The strong autobiographical connotation of the album is enriched by the presence of two giants of Jazz, Jay Anderson on bass and Adam Nussbaum on drums.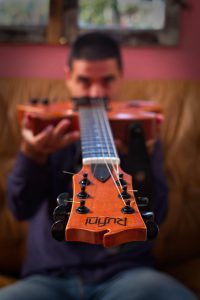 The album is a collection of ten songs based on a contemporary sound and style and for those familiar with the work of Gubbiotti, plenty of surprises. This collection contains eight fascinating originals composed by Gubbiotti and two standards arranged in a surprising way where the element of poly-rhythm is always present. Despite paying a tribute to the tradition and melody, Gubbiotti is able to investigate new harmonic paths generating unusual and spider-like harmonic progressions combined with the challenge of odd meters.
Resilience is a trait that is common throughout Simone's life. As a musician, he has a strong presence in both the USA and Europe. Currently based in Umbria (Italy), Simone frequents the US regularly where he has performed and recorded with musicians including Peter Erskine, Sid Jacobs, Joe La Barbera, Arthur Blythe, Lewis Nash, Adam Nussbaum and Jay Anderson. Yet, music was not Simone's first passion, he began his career in the world of sport where he played professionally for a number of top Italian soccer clubs including AC Milan. After sustaining a serious knee injury and suffering severe depression, Simone took the decision to refocus and pursue a career in music.
His story has been told in the autobiographical book titled "Underdogs" published in Italy in 2017 and with an English version scheduled for worldwide release in 2021. You can find out more about Simone's story in Fiona Ross' interview published on this website.
Simone is very active as a leader and sideman performing in a number of important projects such as the Paul Wertico Quartet. With his trio #Underdogs, he toured and played in several international Jazz Festivals in Poland, UK, The Netherlands, Italy, USA and Mexico. His collaborations include Ari Hoenig, Joe Lovano, Enrico Pieranunzi, Gabriele Mirabassi, Adrian Oropeza and many others.
The album is now available on all major streaming and download platforms with a vinyl release planned for late 2020.
Line Up:
Simone Gubbiotti- guitar | Adam Nussbaum- drums | Jay Anderson- Bass
Track-Listing:
1. Hybrid Motivation | 2. September | 3. African Latitude | 4. Resilient | 5. Stop crying | 6. Blue in Green | 7. Anomalous Composer | 8. Witch Hunt | 9. Therese | 10. Requiem per un Sogno
Release Date: 22 May 2020
Format: Digital
Label: Self Release



New Release Spotify Playlist
The Jazz In Europe New Release playlist features tracks from the new releases featured on Jazz In Europe. Updated weekly, this playlist is the perfect place to discover new music from the leading jazz musicians currently on the scene. We hope you enjoy this selection.
The best way to keep up to date with all the latest releases is to follow us on Spotify. Just click the button below.
Last modified: October 8, 2020