Italian guitarist, Simone Gubbiotti's story is one of strength, resilience, passion and Jazz. His career started in Sports and his hugely successful work as a professional footballer led him to play for top clubs including AC Milan when he was just 15 years old. He sadly suffered an injury and eventually gave up his football career and began to suffer from depression. He was homeless for a while and lived in his car for 5 months with his dog Wayne (named after Wayne Shorter). During that time, he picked up a guitar for the first time and wrote a Jazz album – in his car, with his dog. His story sounds like it should be made into a Hollywood blockbuster.
He has also written a book 'Underdog- l'Arte dell Sfavorito' which talks about his life experiences from training as a sportsman and how Jazz helped him face adversity. Simone has released three albums, 'Promise to my Friend' 'The Hammond Trio' and 'Resilience', and recently came over to the UK to perform with another Italian, Jazz pianist Marco Marconi.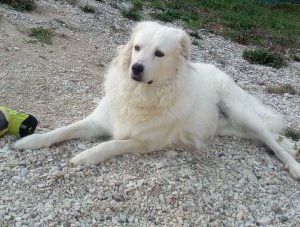 I have had many conversations with Simone and with so many diverse experiences, it is difficult to know where to start. I was fascinated to hear about his months living in a car with his gorgeous dog, named after Wayne Shorter.
SG: Yes, I lived in my car for 5 months with my dog Wayne – Wayne Shorter is one of my idols so he was named after him. My Mum wasn't well, and my parents were getting old and we decided to buy a place together. We put our money together to build a house but there was a time in between where we didn't have any money and we got into some problems. I found a temporary solution for my parents, but no one wanted to have me with Wayne, as he is a big dog. Well, I love him, so couldn't be separated. Then, well, I just got in my car. And when I was in the car, I wrote the album, 'Resilience'. I had to keep playing. I was trying to be normal. At a certain point, I remembered a word I'd heard during the NBA final in 2015 (Simone is a huge Basketball fan). During the game the speaker was talking about Detroit being a resilient team, they were the underdogs. I talked to myself and then I remembered this word.
We spoke about his experiences growing up and how he lost a lot of people that he was close to from quite an early age and how music helped him understand.
SG: During my childhood, I lost many, many friends because of drugs and illness and I was surrounded by death. Some of my friends were around 14/15 years old and I remember many people in the streets, around drugs and you know, peer pressure, if you don't do the same thing you're out. I was playing football, so I was far from that scene in many ways. The death of my grandmother was a big part of my depression and this was about time passing. She was very important to me and we were so close but then I picked up the guitar. It helped me concentrate my energy on something else. Music saved my life but, ha, also ruined my life, ha. Music lets me grow every day as a person and as a musician. My challenge is working hard every day and being the best, I can every day.
Simone grew up around sports and had no plans at all to make music 'I was born with football'. The first time he picked up a guitar was at the age of 25. His transition from footballer to musician evolved through his experiences with depression and reflecting on his life and problems.
SG: I never played music until I was 25. I was in a deep depression that I started experiencing when I was around 21. I remembered that my father when I was a little boy, bought me a classical guitar that I had never played. The guitar was just there in the corner, and I just took the guitar. It wasn't anything rational and it helped me focus on something different and not my problems. I wasn't healthy, I could barely walk and well, I was basically dead…. and I just started playing. It happened pretty quick.
As a 25-year-old brand new musician, Simone taught himself to play but did go on to study with Berklee College of Music and GIT in Los Angeles.
SG: I didn't know anything about Jazz or anything and I was self-taught basically. But then I wanted to find a teacher or a course to teach me techniques and I ended up in this Jazz clinic, although I didn't know it was going to be Jazz. In the audition, I was asked all these questions about chords and harmony etc. and I didn't know anything. I got some tickets to Umbria Jazz, having never really experienced Jazz and Ornette Coleman was playing. I didn't understand anything. But at the end, all the audience were standing up all crazy, completely crazy and this guy was a genius…. well, I felt really stupid as I didn't understand it…so I said to myself, I have to understand why these people went so crazy and why they are acting this way. And that's why I play Jazz. To understand that concert.
Simone also had more than a little help from the great American Jazz guitarist, Jim Hall.

SG: I met him in Italy in a restaurant. I just went up to him and told him that I attended his Jazz clinic yesterday and can I have lunch with you? He was so kind and so nice, and he said yes, sit down! We became friends and he inspired me a lot. When I started playing, I had many problems with my right hand. I loved Jim Hall because he was so melodic, playing so few notes. I couldn't play fast notes, initially, so he helped me. His phrasing is amazing and I love melody.
It is not often you hear of athletes turning into Jazz musicians although you can imagine there are many similarities. Mental and physical resilience, self-reflection and of course, discipline are highly relevant to both. Simone and I discussed these similarities and how he feels it has helped him develop as a musician.
SG: With Sports and Music there are many, many points in common. For example, the time you spend on your instrument is very similar to the time you need to train yourself to have a good physical state. I don't know how it is in the UK, but if you don't have friends, the politics, it's tough, but you know sometimes when you deserve something, you don't always get what you deserve. Definitely, the discipline in Sports has helped me in my music. I am very quick to identify any weaknesses, which means I can work on them which is how you do it in sports. You work on your weak side, not your strong side.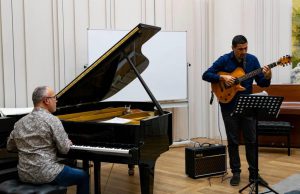 Simone has been very busy performing all over the world including taking part in the wonderful Jazz Beyond Borders Mexican Tour this year and has recently performed in the UK with fabulous Italian pianist Marco Marconi at Benslow Music along with delivering some guitar clinics. Although growing up in the same area of Italy, Umbria, the two musicians actually met on Twitter but have created a close bond and are working on a project together called 'Away From Home'. I caught up with Marco and asked him how this came about and what it is like working with Simone.
MM: We immediately established a very genuine friendship and mutual respect. We first played together last August in Italy during a festival and I immediately realised that we could play together – I really liked his jazz approach and his style. Simone lives in Italy, I live in England, but we both have had the experience to leave and work away from home and we both consider this life choice very positive. The Italian Music scene is very challenging you know? We have both had a successful life abroad and so this is why we have called our duo 'Away From Home'. We are planning to record an album in 2020 and are aiming to tour Europe and South America. We are both are very ambitious.
It has been so wonderful talking to Simone about his life and experiences, and I am very excited to see what happens next for him. His project with the incredibly talented Marco Marconi sounds very exciting and can't wait to hear their work together. Simone has shown us that giving up is never an option and that resilience really is the key to finding your way.
Artist FaceBook page: Simone Gubbiotti
Senior writer: Fiona Ross
Photo Credits: Lorenzo Papi, Niccolo Righini – and (c) info: all rights go to original recording artist/owner/photographer(s).
YT Video – Simone Gubbiotti Channel
Last modified: April 25, 2020