The melancholic elegance of previous recordings has been put aside for the newest project by Avishai Cohen (trumpeter). Big Vicious is the name of his new project and "Honey Fountain" is their first single released on ECM earlier this year, and with the full album released today.
It is lush and upbeat, as his most experimental cross-genres group thus far with Cohen leading on trumpet, synthesizer and effects, backed by younger Israeli players including Uzi Ramirez on guitar, Yonatan Albalak on guitar and bass, Aviv Cohen on drums, and Ziv Ravitz also on drums and sampling.
"Cross my Palm with Silver" (2017) and "Into the Silence" (2016) both on ECM have solidified Cohen's signature sound as a haunting dreamscape, influenced as much by the many decades of developments in modern jazz tradition and then significant ruptures from this, as Miles Davis's "Silent Way" sessions, and contemporary classical music such as Ludovico Einaudi, or Pink Floyd's most expansive and contemplative songs from "Dark Side of the Moon." The new group could certainly push this space rock side even further, and it is also most likely based on their backgrounds.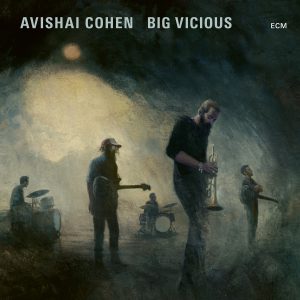 Big Vicious notably does not include one of Cohen's closest collaborators, the pianist Yonathan Avishai, but the two did recently release a recording as a duet "Playing the Room" (on ECM) in 2019. Meanwhile, the new collaborators bring different backgrounds (not all jazz musicians), especially with Uzi Ramirez, a psychedelia/Americana rock-pop guitarist from Tel Aviv (Ry Cooder meets Jerry Garcia), and Aviv Cohen (aka Sol Monk) who also is a producer with projects from groovier club jazz to psychedelia.
In his recent video interview with Ola Onabule for Jazz in Europe, Cohen described Big Vicious as his newest band using sound filters and electronics for a sonically new direction as opposed to his more traditional jazz quartet. He also says that this band has played together for a few years, but had never recorded until recently. "It's more electronic, more silo and damp…," he says, or something like this.
Big Vicious could be a playful nod or tribute to the hard-driving and probing free-bop to funk-rock fusion explorations that Miles did with "Big Fun" (recorded after the "Bitches Brew") from 1969-1972 with John McLaughlin, Dave Holland, Chick Corea and Al Foster, as well and long-time collaborators Herbie Hancock, and Wayne Shorter; but, Big Vicious is more importantly something new for Cohen, not a retro Miles project and certainly an altogether fun project too, departing from his elegiac jazz for an upbeat and potentially blistering sound as if "Big Fun" could be pursued in the 21st century with the newest, state-of-the-art "filters and electronics" in the hands of yet another generation of young musical enthusiasts. This album shows the glorious and full sound of Avishai Cohen's and his newest project Big Vicious. Highly Recomended.
Track Listing:
1. Honey Fountain | 2. Hidden Chamber | 3. King Kutner | 4. Moonlight Sonata | 5. Fractals | 6. Teardrop | 7. The Things You Tell Me | 8. This Time It's Different | 9. Teno Neno | 10. The Cow & The Calf | 11. Intent
Line-Up:
Avishai Cohen: trumpet, effects, synthesizer | Uzi Ramirez: guitar | Yonathan Albalak: guitar, bass | Aviv Cohen: drums | Ziv Ravitz: drums, live sampling
Release Date: 27 March 2020
Format: CD | Digital
Label: ECM Records
Artists website: Avishai Cohen
Senior writer: Tony Ozuna
Photo credits: Ziv Ravitz  – and (c) info: all rights go to original recording artist/owner/photographer(s).
Last modified: April 26, 2020