As I mentioned in one of my recent tweets, my first write-up for 2020 is going to be about the Grammy-award winning vocalist, New Jersey-born,  Jermaine Holmes debut album. "Stronger than my Fears", on the Jeneyus Productions label features so many talented artists playing and singing on the album, it quickly becomes the perfect little gem.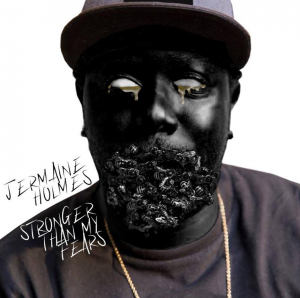 Although only just over 40 minutes long, the album is flawless, slow and up-tempo, soulful with r&b tonalities and featuring one of my favourite trumpeters, namely Keyon Harold, the album is full of many sounds and the stories are stronger on all counts!
When I first listened to it, I was immediately hooked. I recognized Holmes' powerful and yet emotional voice. I had first seen him perform live at Ronnie Scott's a few years ago as part of Keyon Harold's band. I was not wrong when I thought he was a true individual and still I feel caught by a voice that is different, it makes me feel, it has the power to move.
With his newly released album, Jermaine Holmes has achieved something that many try to get, but that in actual fact is not always easy to obtain: intelligent musicality with very strong lyrics.
Just listen to the album-opening track, "Never Knew Love" or the 8 minutes long "Time", featuring the beautiful voice of Kendra Foster or "Sunshine" (ft Lyndell Lumzy), such powerful, thoughtful tracks.
As this year starts to move on and new releases start to flow in, I have to say, Jermaine Holmes' "Stronger than my Fears" represents a new force and one I am so happy to be writing about, finally!
In case, dear reader, you are still hesitating, go get this album and play it over and over and you'll see.
Favourite track: "Never knew Love", a great track for motivation and reflection all in one!
5 stars  – Senior writer: Erminia Yardley – Photo/media credit: Jermaine Holmes – and (c) info: all rights go to original recording artist/owner/photographer(s).

Last modified: January 24, 2020