On January 30th through February 1st in Rose Hall, a melding of the performing arts will take the stage entitled Transformation with Glenn Close and Ted Nash. This groundbreaking new work by Jazz at Lincoln Center saxophonist/composer Ted Nash, supported by the Jazz at Lincoln Center Orchestra with Wynton Marsalis is joined by the award-winning star of stage and screen, Glenn Close appearing in a featured role.
Nash's most recent creation for the JLCO, The Presidential Suite, earned him Grammy® Awards for Best Large Ensemble Jazz Album and Best Instrumental Composition in 2017. (His new CD Somewhere Else: West Side Story Songs earned him a 5-star review in DownBeat.) Needless to say, Nash is on fire!
Glenn Close is considered one of the greatest actresses of her generation. She is the recipient of Primetime Emmy Awards, Tony Awards and Golden Globe Awards. We all have our favourite movie with Close stealing our hearts.
"Glenn and I worked together previously on my recording Presidential Suite. She also was a guest reader on the Jazz at Lincoln Center program Let Freedom Swing. She has become a friend and fan of the band. After Presidential Suite, Glenn and I kept in touch and started talking about how we could continue being creative together. This collaboration brings together my being commissioned by JALC to write a long-form piece, and Wynton's invitation to Glenn to do a project with us. It just came together."
Transformation brings the world of music, spoken word, stage and this thing we call life into one cohesive performance. "We seem to make the performing arts feel like it's a luxury, something extra, something only certain people can enjoy," explains Nash. "It's a constant struggle. The arts are for everyone and should be supported heavily, and enjoyed by everyone. Self-expression – the ability to share our thoughts and feelings – should not feel like an extra-credit class. It should be the main subject.
In the arts, we tend to separate the formats – music, fine art, dance, etc. But I think the best examples of art is when two forms come together. It's hard to hear music without needing to move or look at a painting without wanting to sing or watch dance piece without feeling the urge to play a rhythm instrument. Art forms are incredible collaborators."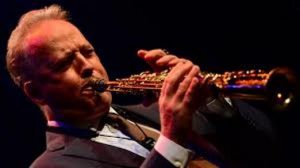 Nash's original work is inspired by pieces, curated by Close, exploring the idea of  Transformation: from chaos to order, order to chaos, darkness to light, hatred to forgiveness. "The inspiration for the music comes from the pieces that the guests offer, as coordinated by Glenn," Nash says. "She has invited many writers and thinkers to contribute. My compositions will be inspired by these thoughts and ideas and expressed in as many ways possible using the instrumentation of the Jazz at Lincoln Center Orchestra.
I have a transgender son, and this is one example of Transformation that will be represented. Eli Nash will be one of the guests and will read a letter he wrote to me when he transitioned."
Nash says that he and Glenn are working together on this revolutionary project as a team. "Glenn is conceiving the program for the most part, which will certainly include writers with backgrounds in philosophy, psychology and sociology. My job will be to interpret the writings of these great thinkers. There will be a through-line in the composition that I hope will be philosophical. I have been exploring the idea of balance and have been inspired recently by writings of Simone de Beauvoir, Time Dean and Patrick Stokes on this subject.
This is not limited to jazz. The transformation will be influenced by classical composers like Berg, Stravinsky, Debussy as well as jazz artists like Ornette Coleman, Thelonious Monk and John Coltrane. But this is how all composers create: they synthesize the work of great artists who have come before and combined it with their own imaginations and experiences."
Nash ponders, "Transformation is the fullest expression of Change. It can be physical, emotional or spiritual. Change, the shallower/simpler version, can be things like young to old, day to night, etc. A great example of physical transformation is the caterpillar to the butterfly."
This evening brings a very personal discussion that Nash shares with you, the audience. This takes bravery, honesty and love. It is a deep, searching voyage. "All creative experiences make us go deep, says Nash. "That is one of the blessings of being an artist – it makes you look inside, and learn about yourself as well as many other things outside yourself. Each creative experience leads to growth. Just like this Transformation project: the act of preparing and presenting it is transformative. We hope that the audience will feel in some way transformed after hearing the music and words we will offer."
When we look back in history at the civilizations that existed on this earth, we look to the artistic contributions that they made. Like the pyramids, the Roman Empire, the Greek philosophers, the artists and sculptors. Nash adds, "People need to express themselves. Art and culture are wonderful opportunities for people to show who they are, how they feel and think. Without art, music, dance, theatre, etc. to allow people to express themselves, it's a little scary to think of alternate ways people might choose to do so – like war. Also, people who study and participate in the arts, and in particular music, do better in other subjects in school. So it is clear that being artistic opens up the mind and can even make you smarter."
Join us on this incredible journey with Ted Nash, Glenn Close and the Jazz at Lincoln Center Orchestra on January 31st through February 1st in Rose Theater. A new year. A new beginning.
"My goal is to create music, unlike anything I have ever composed and get sounds and expressions out of the JLCO I have not heard before. Ambitious, for sure," Nash adds with a smile.
For further information/TIX – visit: jazz.org
Senior writer: Scott H. Thompson is an internationally published jazz writer.
His original article was published in PlayBill Arts
Photo credits: Brigitte Lacombe, Frank Stewart – and (c) info: all rights go to original recording artist/owner/photographer(s).
Last modified: December 4, 2019