For this edition's Behind the Lens feature, we cross the pond to meet New Jersey based photographer and graphic designer Chris Drukker. During his career, Chris has photographed many of New York's top jazz musicians, designed close to 1000 album covers and worked in various capacities for many of the cities top institutions including Jazz at the Lincoln Center and WBGO Jazz radio. As a child, Chris was interested in Illustration and this passion was carried through to his high school years. After graduating, Chris attended an applied graphic design course and on completion entered the corporate world working as a graphic designer for some of the countries top corporations including AT&T and Dow Jones to name a few.


Editors Note: This article is an abridged version of the article that appears in the Autumn 2019 edition of the Jazz In Europe Magazine. The Magazine is available here.

In 2008 Chris made the decision to leave to the security of the corporate world and further build his career as a freelance designer. Chris explained, "The corporate world is tough and although it provided some security, I was looking for something more satisfying." His focus on the music business was logical; for many years he had been involved with the jazz world in various capacities with a focus on marketing & design. When asked about this transition from the corporate world to the music industry Chris Stated: "Well, it didn't feel at all like a transition, it just sort of took over."
Chris' passion for photography grew out of his work as a designer. A meeting with bassist Rufus Reid led to a commission to design the art-work for his "Seven Minds" album on Sunnyside Records. Now, almost 35 years on, Chris has produced the art-work for close to 1,000 albums for Sunnyside, Passin' Thru Records, Savant, HighNote among others. I asked Chris if he considered himself more of a designer or a photographer, he explained, "I'm both, for me photography and graphic design are just two sides of the same thing, it's all about balance and form."
Zeroing in on his work as a photographer, Chris' main areas of focus are portrait, location and live concert photography. I asked Chris about his process. "I always like to start by understanding what the client needs, in some cases, this is different from what the client thinks he or she wants. Before any session I like to have a strategy meeting, this really helps me get an idea of where to go with the project. I tend to focus on the eyes and hands, I believe these say almost everything about the subject. With musicians, the instrument is also important and then lastly I look at the background. I also think it's vital that the subject feels comfortable with the process, I have to admit, sometimes I feel I am as much a psychologist as a photographer.
Often we'll have the location set before the shoot however there are times when I like to spend time walking through the city with the client and when we come across a great setting we take the shot. I recently did a series of shots for vocalist Paul Jost. We spent the best part of a day just walking around Manhattan taking shots. As I said before, the most important thing is that the client feels comfortable."
Chris recalled a story regarding a shoot with Houston Person. "I did a session for Highnote Records with Houston Person, I was up most of the night thinking how best to approach this. I realised I needed to make this as painless as possible. We had a limited amount of time, so I had already scoped out the location and once we arrived I just hung back while Houston and the others were discussing things. While this was going on, I just started shooting. After about 15 minutes Houston said, "So where's the photographer, we better get these shots done." I replied, we're done! I have what we need.
Chris is equally at home in a concert environment and has built a huge portfolio of live shots. For many years Chris was the house photographer at the New Jersey venue "Trumpets" run by guitarist Enrico Granafei and Kristine Massari. According to Chris, the venue had a great list of musicians coming through and it was a great opportunity to build a portfolio and expand my network. I asked Chris how working in a live setting differs in his opinion from other location work. He explained, "When doing a live shoot, it's important to keep out of the way as much as possible. Often this is not easy, I spend a fair bit of time on the floor, in fact, I have been called a photo ninja in the past. Again, it's all about emotion and light. I look at it like slipstreaming in the emotion of the moment and feeding off the energy on stage."
I asked Chris if he had any closing thoughts. He replied, "I always remember a quote from Art Blakey—if you take care of the music, music will take care of you. I think this sums it up."


Jazz In Europe Magazine – Autumn 2019 Edition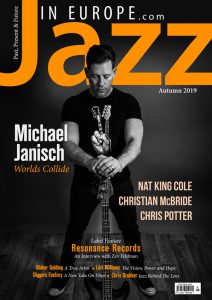 This article is an abridged version of the full interview that appears in the Autumn 2019 edition of the Jazz In Europe print magazine. Also included in this edition are interviews with Michael Janisch, Chris Potter, Christian McBride and Lori Williams.
We have a label feature on Resonance Records, Zev Feldman speaks about the label, it's history and their new Nat King Cole "Hittin' The Ramp" project. We also have a great article on the Diggers Factory, an innovative French company offering a great service to indie artists wanting to release vinyl.
We also speak to author Will Friedwald and take a look at the legacy of Nat King Cole. This editions photo feature focuses on New Jersey based photographer Chris Drukker. You can purchase a copy of the magazine here.

Test by: Andrew Read | Photos by: Chris Drukker.
Last modified: October 18, 2021