Women gathering for a historic new recording. The Warrior Women of Afro-Peruvian Music uniting their fierce talents in a statement of Pride and Power.
With strong voices and stellar musicianship, these women pose a defiant challenge to racism, sexism and marginalization, seizing their rightful place in Peru's musical culture and beyond
Just Play (@justplayglobal) provides a platform for Afro-Peruvian women musicians including Rosa Guzmán, Charo Goyoneche, Sofía Buitrón, Araceli Poma (producer) and more, recording together for the first time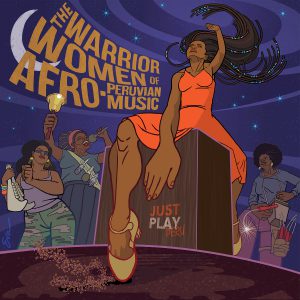 Just Play, a roving multi-city journey of musical discovery launched in 2014 by Executive Producer and bassist Matt Geraghty, has thus far involved encounters with musicians in New Orleans, Havana and San Juan. A model for cross-border collaboration that transcends ethnicity, social status, tribes and cultures, Just Play is now proud to share the result of Just Play Peru: a vibrant chronicle of time spent in Lima, Peru with inspiring women musicians working together for the first time under one banner, on the unique new album The Warrior Women of Afro-Peruvian Music.
Produced by Zé Luis Oliveira (Music/Content Producer, Recording and Mixing Engineer) and Afro-Peruvian vocalist Araceli Poma, with co-producer Javier Lazo (Musical Director), The Warrior Women of Afro-Peruvian Music unites a powerful group of women who are often overshadowed by their male counterparts in Peruvian culture, yet equally deserving of the spotlight. These women — vocalists Poma, Rosa Guzmán, Charo Goyoneche, Sofía Buitrón, Maricarmen Padilla, Milagros Guerrero, Victoria Villalobos, violinist Maria Elena Pacheco and percussionists Catalina "Cata" Robles and Gisella Giurfa — perform separately and together on the album. The singers are supported by memorable guest appearances from harmonica virtuoso and innovator Howard Levy, a founding member of the Grammy-winning Béla Fleck and the Flecktones, and pianist and multi-Grammy-winning arranger Gil Goldstein.
"We were honoured to bring these talented female Afro-Peruvian singers and percussionists into the studio together for the first time on the same session," says Geraghty. "Hearing about the challenges they encounter daily as black female artists in Peru — the discrimination, invisibility and inequality — made this even more important to document." Combining their formidable talents, the Warrior Women now speak with one voice to their aspirations, their hopes, intending this album as a force for racial and gender parity for Afro-Peruvian women.
"One of the biggest challenges of being a black artist and a woman in Peru is being considered totally invisible," says percussionist Cata Robles.
"In Peru, the cajón has been an instrument until recently completely prohibited by society and indecent for a woman to play, because you have to spread your legs to play it," says percussionist Gisella Giurfa. "There's a lot of inequality for women artists in this country. We need more platforms like Just Play to let the world know about us."
"We have to fight twice as hard — being black and a woman. It's a daily struggle," says singer Charo Goyoneche.
Aspiring to a future free of racism and sexism in Peru, these Warrior Women distil their message of unity across 10 tracks featuring richly stacked choruses and solo feature performances.
Long before the Just Play initiative arrived in Peru, these women were already a force, however, underrecognized globally. Gisella Giurfa is the Director of the Warmi Rock Camp Perú for girls, part of a worldwide alliance that empowers young women through music; she also tours regularly with GianMarco, a UNICEF Goodwill Ambassador. Poma has done extensive research on popular music from the Peruvian coast; her singing weaves together the cultural diversity of Afro-Andean Peruvian music and her Andean ancestry. Rosa Guzmán and Victoria Villalobos are both vibrant performers in the Música Criolla genre. Guzmán is the daughter of renowned composer "Tato" Guzmán, who wrote the opening track on this album, "Quebranto." Villalobos is the daughter of the eminent "Don Pepe" Villalobos, who wrote "Te Recuerdo" and "Comadre Cocoliche."
Milagros Guerrero has toured extensively around the world, spreading Afro-Peruvian music as a soloist and with the Novalima Collective. Charo Goyoneche is an actress and singer who has strengthened the image of Afro-Peruvian women and is widely admired for her interpretive powers. Sofia Buitrón is featured on seminal recordings of Afro-Peruvian music and is currently teaching about the music's roots and traditions. Catalina "Cata" Robles is a specialist in the pedagogy of percussion and the distinct Afro-Peruvian tap dance called Zapateo. She directs a percussion ensemble and programs in Lima for students with special needs called Formato Inclusivo.
Like previous Just Play projects, Just Play Peru is more than a performance initiative, but also broadcast and educational webisode series about global unity, creativity and freedom, focused on building alliances between musicians in North and South America. To that end, The Warrior Women of Afro-Peruvian Music is accompanied by a documentary film, with individual chapters releasing over the course of months into early 2020, each chapter pegged to a different track from the album. The women are interviewed in these episodes, asked to comment on how they define creativity and freedom, or how they view the role of women in Peru's music scene and society more broadly.
In this way, Just Play Peru seeks to make an impact more lasting than a single album. The organization's network is currently 275 musicians strong, with over 100 videos tracking collaborations in the coastal cities it has visited thus far — a platform intended to foster visibility and connectedness on a larger scale. To that end, Just Play will soon undertake projects with musicians in Brazil, Bolivia, Ecuador, Colombia and Senegal. The organization seeks to emphasize the footprint of the African diaspora in the Americas as a common thread in its journey.
The instrumentation on The Warrior Women of Afro-Peruvian Music blends the voices of the Warrior Women and the sounds of Afro-Peruvian percussion including cajón, cajita ("little box"), quijada (donkey jaw bone) and checo (gourd). In the mix are also electric and acoustic bass (Matt Geraghty), Rhodes and Steinway pianos (Misha Tsiganov), and nylon-string and electric guitars (Coco Vega, Neal Alger, Ernesto Hermoza), and Angelique Kidjo drummer Yayo Serka.
The sum total is a piece of musical work deeply reflective of the Just Play mission: to capture spontaneous musical collaborations and stories, rich in local history and cultural heritage, acting as a catalyst for demystifying cultural differences.
Available July 19th from Apple Music, Amazon and Spotify.
YT Video & Image – Just Play
Last modified: July 31, 2019