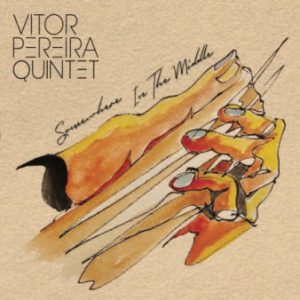 The self-funded third album by the Portuguese born and London based guitarist Vitor Pereira and his Quintet, "Somewhere in the Middle", will launch at the Vortex in London on 5th December.
Recorded at Eastcote Studios in London, this is an album that impresses on all sorts of levels. At first glance, for example, and bearing in mind this is a project all funded by Pereira, the physical CD is very well designed, illustrated by the work of artist Rob Challens' colourful drawings: they fit just right on the cover as well as the back and inside the gatefold.
The 8-tracks album has distinguished styles for everyone, guitar riffs as well as melodic sax tones, but the strength of the album lies in the concept that "there's plenty of space to be innovative and unique when you navigate in the middle". Very true and perfectly done on the album.
The bass lines are at times dark and incisive: just right. Pereira's solos offer a new angle of compositional skill, something that it is both refreshing and curious in one. The two saxophones, namely tenor and alto, lead some powerful tracks throughout.
A great third album!

Personnel: Vitor Pereira – guitar/ composition; Chris Williams – alto sax; Alam Nathoo – tenor sax; Mick Coady – bass; Adam Teixeira – drums.
Artist website: Vitor Pereira
Writer: Ermina Yardley
Last modified: December 4, 2018