Hand to Earth is one of the most characteristic contemporary music ensembles in Australia. Central to their music are the Yolngu Manikay (song cycles), an oral tradition from North East Arnhem Land, Northern Australia, dating back over 40,000 years. These songs exist to traverse vast time and space, perpetually creating the continuous—known as raki, the spirit that unites everything. Presented by the Music Meeting in Nijmegen (The Netherlands), The band will perform live on November 21 at De Lindenberg.
Hand to Earth is an invitation to open your ears: transcending genres and traversing continents, breathing contemporary life into these ancient traditions. The combined vocal approach of Yolngu songman Daniel Wilfred and Korean singer Sunny Kim expresses a profound human commonality while invoking raw elemental forces.
Fusing this with contempory jazz, trumpeter and composer Peter Knight employs his minimalist influence to create a soundscape of electronic and acoustic texture that beautifully blend with these contrasting voices. The combination of clarinetist Aviva Endean and the enchanting didgeridoo sounds of David Wilfred take the listener to previously unimaginable sonic plains. Together, the ensemble handles these mystical elements with a masterful improvisational touch.
Peter Knight's artistic practice defies categorization, thriving in the interstices between genres, cultures, and categories. Over the past few years, he has emerged as a prominent international figure in contemporary music, engaging in commissions, collaborations, and performances with a diverse array of artists, including Anthony Braxton, Nicole Lizée, Amir ElSaffar, Daniel Wilfred, and Paul Grabowsky. Notably, Knight served as the Artistic Director and co-CEO of Australia's Australian Art Orchestra from 2013 to 2023. With Hand to Earth, he received an ARIA Award nomination in 2022.
As mentioned above the Yolngu Manikay tradition plays a central role in the bands music thanks to the contribution of Daniel Wilfred. Wilfred, a cultural ambassador and Yolngu songman represents one of the world's oldest song traditions on earth. Hailing from Ngukurr in southeast Arnhem Land, Wilfred is not only a leading musician but also a ceremonial leader. His voice and the rhythmic resonance of his bilma (clapping sticks) have reverberated across the globe as he showcased the rich heritage of his tradition. Notably, he played a significant role in inaugurating Jazz 100, offering both a heartfelt acknowledgment of country and a collaborative musical performance with the Australian Art Orchestra.
In the northeast of Arnhem Land, the Yolngu people have been singing Manikay for thousands of years. Manikay consists of song cycles passed down from generation to generation, originating from the ancestral beings that originally populated and shaped Yolngu homelands. Accompanied by bilma (clapsticks) and yidaki (didgeridoo), Manikay song cycles are traditionally sung during ceremonies, containing ancient knowledge essential to the Yolngu way of life. Manikay, the traditional clan songs are intricately connected to specific myths, tied to distinct geographical areas, and associated with particular social groups. Serving as a vital bridge, Manikay establishes a connection between mythology, the land, and social structures. The varied musical and textual expressions reflect a significant degree of improvisation during performances.
Daniel Wilfred explains that these are sacred ritual songs, but they are also songs about the land and the plants, animals, people, and spirits that inhabit it. Mokuy, the ancestral spirits, reside everywhere in the landscape and take care of the Manikay. These songs offer a glimpse of the ancestral treasures hidden in each Yolngu homeland.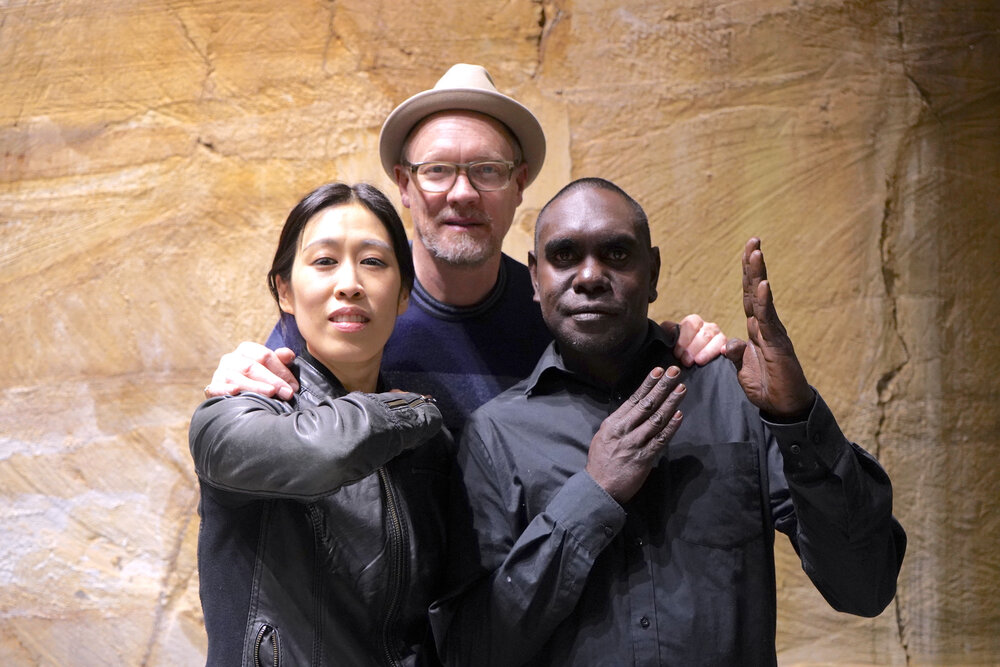 Hand to Earth has seamlessly woven this tradition into the fabric of contemporary jazz, crafting a mesmerizing auditory journey that transcends conventions. The result is a unique musical and spiritual experience that stands out distinctly in the European jazz landscape.
The band is performing live in the Netherlands at De Lindenberg in Nijmegen on the 21st of this month.
For more information and tickets are you can visit the Music Meeting website here..
Line-up
Daniel Wilfred – stem
David Wilfred – stem
Sunny Kim – stem
Peter Knight – trompet/elektronica
Aviva Endean – klarinet
Last modified: November 14, 2023