Hailing from the vibrant LA jazz scene, bass player and composer Logan Kane steps into the limelight with his debut album, "Floor Plans." Scheduled for release, this coming Friday via Ghost Note Records, this venture marks his inaugural full-length recording at the helm of an acoustic jazz quintet, showcasing his profound musical vision.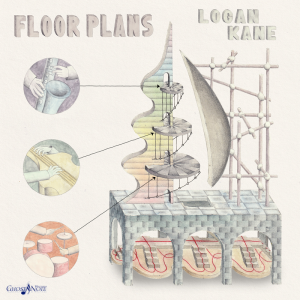 Having honed his craft under Ambrose Akinmusire, Peter Erskine, and Vince Mendoza, Logan Kane has emerged as an award-winning soloist. At a mere 26 years of age, he effortlessly straddles the realms of double bass in the jazz domain and bass guitar in alternative genres, collaborating with eminent figures in the industry.
"Floor Plans" introduces Logan Kane's artistic finesse to the world through Ghost Note Records, an innovative LA-based label at the forefront of a burgeoning movement in jazz-oriented music. Embracing influences from jazz, classical, math rock, and contemporary music, Kane's compositions cast a broad atmospheric shadow, captivating listeners with an enigmatic and innovative voice.
Kane's band, featuring David Binney on alto sax, Mark Turner on tenor sax, John Escreet and Paul Cornish on piano, Jon Hatamiya on trombone, and Benjamin Ring on drums, embarks on a musical journey navigating rhythmic and contrapuntal challenges seamlessly infused within the compositions.
Stylistically elusive, "Floor Plans" echoes whispers of Ornette Coleman with at times a hint of 70s fusion however, in totality the album has a fearless free jazz character to it. Highlights of the album include the lively "Stuck," exploring the realms of frantic free jazz, and "DSP," with a more electronic feel yet still firmly rooted in the contemporary soundscape. Not unexpected on an album lead by a bass player, you will find a number of solo bass tracks titled aptly "Bass Solo One" and "Bass Solo Two". Both of these demonstrate the Kane is indeed in command of his chops and show his mastery over his instrument.
This album demands active engagement; it's an expedition into an energetic, relentless, and creatively charged auditory experience. It's not the background score for a serene evening, but a bold statement calling for attention. For those ready to embrace the challenge, Logan Kane's "Floor Plans" is a fascinating odyssey into an artist's distinct world, replete with intricate musical patterns and unbridled creativity.
The album is available on October the 6th via Ghost Note Records.
Line-Up:
Logan Kane, bass | David Binney, alto sax | Mark Turner, tenor sax | John Escreet, piano | Paul Cornish piano | Jon Hatamiya, trombone | Benjamin Ring, drums
Track Listing:
1. Start The Album | 2. Where Within | 3. Droplet | 4. Floor Plans One | 5. Labor Day For Machines | 6. Bass Solo One | 7. Stuck | 8. Floor Plans Two | 9. DSP | 10. Spiders | 11. Bass Solo Two | 12. Mountains | 13. Digit | 14. Floor Plans Outro
Release Date: 6 October 2023
Format: CD | Streaming
Label: Ghost Note Records
Last modified: October 4, 2023