Charlotta Kerbs and The Strays is a new band kicking up a storm, co-founded by Finnish singer/songwriter Charlotta Kerbs and bassist/songwriter Darrell Craig Harris. Born out of an online collaboration, the duo have developed some incredible work in a relatively short amount of time with some fantastic gigs and radio play across the globe. Their recently released 'Muscle Shoals Session' EP was recorded in the historic Muscle Shoals Sound Studio in Alabama, linked to artists such as Aretha Franklin, Cher, Etta James and many more. Shining a light on this new duo and their experience at Muscle Shoals, we chatted to both Charlotta and Darrell about their partnership and new EP.
Darrell you are based mainly in Las Vegas, but are always travelling around the world and Charlotta you are in Finland – how did you both first connect?
DCH: Charlotta is such an amazing talent. That's what struck me and how we kind of first met. There is a friend of mine, Niklas Rosström, a TV producer in Finland who works with Hemma Live, a TV show on YLE which is like their version of the BBC. He produced a show where they would go into artist homes and interview them and then have them perform. I was watching one of these episodes and after watching a few, I saw Charlotta's episode and she was speaking in Finnish and then all of a sudden she started to sing and I was like wow! Singing in perfect English and very soulful…almost kind of Aretha vibe and I was wow, who is that?!! So, I contacted Niklas and he got us connected and we did various things online, trading tracks back and forth, writing and then we finally met in person. I've been going to Finland since around 1989, so I have a background with a lot of friends there.
CK: I was very, very happy when Darrell first contacted me on Facebook after watching my episode. I immediately felt very inspired by Darrell's way of visualising things, dreaming big and this feeling that everything is possible – we can do anything and just dream it to achieve it! I really felt that from a very early stage and was very inspired by that. We were trading messages and after a little while we also started trading song ideas and tracks and that developed into three singles that we have now released – and the new EP!
Darrell, we know that you have an extensive catalogue of work as a session bassist including working with Cirque Du Soleil, Billy Preston, and the QUEEN Rock Symphony but Charlotta, how did you begin your musical journey?
CK: I've been singing for as long as I can remember! None of my parents are musicians but I have some folk musician relatives and I have always listened to a lot of music in my home. I started taking singing lessons when I was around 12/13 years old and a few years later I started my first band, a garage band – progressive rock music and some experimental stuff which led me onto jazz improvisation. Later on, and after high school I decided to study music and studied here in Finland and became a musician and a singing teacher from there. Since I graduated, so 10 years or so, I've been working as a freelance musician, songwriter and composer.
One of the many wonderful elements of Charlotta's voice and her music is the diverse range of influences you can hear. You can find her singing traditional Finnish folk music and then the next minute some Aretha inspired female empowered soul.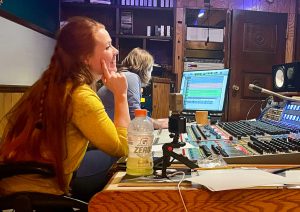 CK: I'm definitely like a music researcher. That's the big meaning of music and life for me and that has always been my thing to explore different styles – exploring and bringing different spices from here and there and bringing them to my own kind of palette.  I mentioned that I started out diving into progressive rock and this is a music where you combine a lot of different musical styles and that set the foundation for my thinking. I always wanted to be free to expand limits and always explore and develop.
Having worked together online, creating some remote recordings, the two finally met.
DCH: I went over to Finland and Charlotta has a lovely farm, and we went there with the idea of let's just get together in person.  We've been running online projects and there's a video I put up of us sitting outside on her front lawn and we were just talking and actually that video is the first time we really played together. It wasn't rehearsed, it was just spontaneous, and it was funny because we were playing, I think we both felt like wow something's happening here… it's fun because we're a really good team. We both have very similar energy and we're very much aligned – let's just try this, let's try that, let's try this gig, add new things.  So, we have a similar vibe and we really get along well, hanging out and working. Working on the Muscle Shoals album, we had a great time exploring the city and it's nice to have that connection beyond just music because it helps the music and brings something fresh into what you're doing creatively. So yeah, it's been a fun ride so far.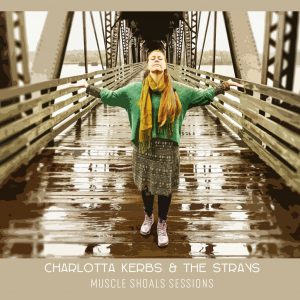 Your 'Muscle Shoals Sessions' EP must have been so exciting! Recording in a studio so embedded with legends. How did that all come about?
CK: I think it was one of the times Darrell was visiting me in Finland and we were having one of our sessions and talking about further plans and recording. Darrell asked if I'd ever heard about the FAME studio in Alabama and I told him I'd seen the documentary, twice, and cried. Darrell told me that he'd been there doing sessions and we just threw it out there as an idea and a few months later I found myself on a plane down to Nashville.
That must have been so incredible, just walking into a place where so many legends have played. Did you feel any pressure?
CK: Yes, a very proud moment indeed and sort of like a very spiritual journey and it felt like coming back to the roots, even if my roots aren't from there but still it felt like coming back to the place where so many of my musical heroes and so many of those who inspired me to be the one I am today, started out. I was just soaking it all in…the inspiration and the energy. It's something very special to be there and feel that energy.
DCH: It's very spiritual down there and a special place. I think we all feel, as recording artists that you have got to deliver, especially when you're having to put together the finances and all of that stuff but a big part of that, which we talked about a lot, is really building your team and the team there is really stellar, it's world class.
And deliver, they did! Here is the video for the first single from the EP Come What May
Can we explore the EP and the writing process a little? How did this work?
CK: Well we have six songs on the album and one of the songs we wrote together and the rest of the songs are my compositions but we arranged them together. So, it's collaborative which is what we both like. I thought a lot about what kind of message do I want to bring the world and what kind of message do I need to hear and the world needs to hear. I felt that I needed to bring a positive vibe… uplifting. So a lot of the songs are about light, love and gratitude.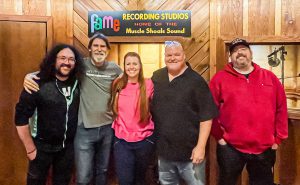 DCH: Charlotta and I have talked about the writing process a lot and you'll hear a lot of musicians, famous songwriters talking about 'I woke up and had this idea and I wrote it in 5 minutes or 10 minutes' or 'we were at the end of the session and we decided to just try this jam but that ended up being the biggest hit we ever had'… that's the universe giving you gifts. Allowing the universe to give you gifts.
CK: One of the reasons that we went to Muscle Shoal was because of the sound and the light in the studio. We wanted to make the most out of that sound and I had that also in my mind when I wrote these songs. Many of the songs I wrote for myself just as much as for others and that was a new way of thinking for me and taught me many new things. Very therapeutic. Many of the songs are like reminders to myself to always have the light within ourselves.
It was wonderful to talk to Darrell and Charlotta and explore their new music and we hope you enjoy exploring their work too!
Click here to listen to Muscle Shoals Sessions
Click here to find out more about Charlotta Kerbs and The Strays
Photos provided by Darrell Craig Harris
This interview was first published in the Women in Jazz Media July 2023 magazine
Last modified: September 7, 2023