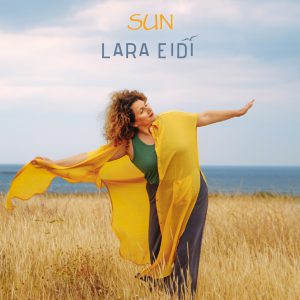 After several single releases and collaborations over the last few years, Lara Eidi has graced us with her most ambitious and uplifting work yet; her new album 'Sun'. Enriched with motivational messages and themes of hope and freedom, Eidi used this project to rebuild and rediscover her voice after 'three heavy life-altering years, that had weighed on my heart and soul'.  'Sun' is a musical light to behold; a look into the past to re-create what has been lost, in new and beautiful ways.
'Even on the darkest of days, there is always Sun…'
Born from the isolation of the pandemic, Lara moved from London to her birthplace of Athens to realise her vision for this project. With the help of the finest musicians in Athens, Lara Eidi's vision became a reality, built upon a base of folk storytelling and unique genre exploration. Her genre crossovers include folk, electronic dubstep, classical contemporary, jazz and world music. Lara seamlessly travels over these musical fields, adding her own distinct twist as she goes along.
The first track on the album 'Breathe Love' begins with a driving rhythm which is met with soothing vocals and cinematic strings. The backing vocals are established from the start as a key element of Lara's compositional process, spotlighting her experience with choirs and ensemble singing. The string section is made up of Eirini Anastasion on the cello and Catherine Tepelana and Tasos Gousetis on the violin parts.
'Tide' is built on diverse musical textures and motifs, paired with Lara's ethereal vocals. The lyrics paint an image of a young girl 'wandering in dreamland', a folky narrative that is reflected in the music long before Lara starts singing. 'Damien' continues this storyline, of a wandering soul looking for their freedom and re-connecting with the natural world. This track's harmony becomes a bit more bluesy, demonstrating Lara's influences and ability to incorporate different musical colours throughout her work.
'Forgive' features Harry Pandazis on bass, who introduces the groove after an ornamental and fluttery opening. This is a welcomed, mood-altering contrast.
The title track 'Sun' plays on Lara's choral experience, with an acapella-like introduction and intertwined melodic lines and harmonies. This song explores the complexities of love, which is emulated in the complex vocal and string arrangements.
'Sun' is a wonderful example of how closely linked music is with our emotions, a true form of self-expression. It brings these feelings to life in an inventive way, whilst developing Lara's compositional style and making for something very special.
Track list:
Breathe Love
Tide
Hello Gravity
Damien
Hang On
Forgive
Sun
Maybe Then
Recorded at Sun End Studios
'Sun' mixed and Produced by Giotis Paraskevaidis ( AUX STUDIOS)
Mastered by Nasos Nomikos of VU- Productions Mastering Studio
Cover Photo : Valeria Isaeva Photography
Design : Ideas Print, GR
All songs written, arranged and performed by Lara Eidi, Giotis Paraskevaidis and Stavros Parginos
Band members on Album
Lara Eidi- Lead Vocals, Backing Vocals, Piano, Acoustic Guitar
Petros Fatis- Drums
Harrys Pandazis- Bass
Stavros Parginos- Cello
Eirini Anastasiou- Cello
Catherine Tepelena- Violin
Tasos Gousetis- Violin
Last modified: September 18, 2023