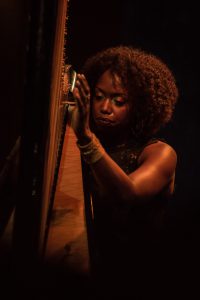 The award-winning composer, harpist and educator Brandee Younger has been kicking down doors since her first release Prelude in 2011. Six albums later, she was the first black woman to be Grammy nominated for best instrumental composition and inspired by the work of Dorothy Ashby and Alice Coltrane, Brandee has brought the harp to new audiences and is showing the world what the harp can do – and some.
I often focus on female instrumentalists, giving a platform to those perceived unicorns – female drummers, female guitarists etc.- areas where women are often not seen, but as is often the case, women have been there all along, they have just not been given the attention and respect they deserve. The jazz harp certainly comes under that category, although in some ways, it feels that the harp is having some sort of movement, moments of power where there are far more harpists platformed than ever before. I hope most people are now aware of, the two great harpists, Dorothy Ashby and Alice Coltrane, who were not given the platforms they deserved at the time and arguably it is only now that their work is truly valued, respected and celebrated. This is in no small way due to the work of artists such as Brandee Younger.
I am always honoured to spend time speaking to incredible women and I use the word inspirational often but it is the perfect word to use while I am here writing about Brandee Younger – an incredible woman who is indeed inspiring. It was wonderful to talk to Brandee and she was everything and more than I thought she would be. Like her music, she exudes passion, energy, strength, inspiration, motivation, power, excitement – and so much fun!
With only a few jazz harpists being platformed and with the size of the instrument, harp is not the obvious choice as a starting point in music and so I began with an obvious question, by asking Brandee how she found the jazz harp and how that journey began.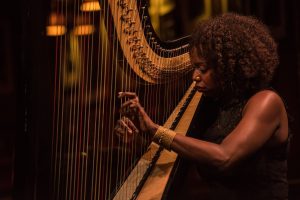 The harp in general was first introduced to me by a woman who played harp as a hobby and I would go over to her house, play flute and we would play duets. She's told my parents that 'if she takes lessons, she could probably get a scholarship' and that's the word that all parents need to hear… it's the only word that parents care about – scholarship! So, I pursued the harp but in terms of genre, I did what I was supposed to do, all my studies, but I would also want to play what I heard on the radio. I would show up to lessons with a CD of whatever I was listening to on the radio and my teacher was so sweet and as long as I did my studies, she would write out a lead sheet for me of whichever pop tune I felt like playing. What was important to me was that if I'm going to sit here and spend all this time practising then I want some of it to fit me and my personality. I wasn't listening to classical music, I was listening to hip hop, I was listening to R&B, listening to whatever was popular, so it really was just a case of making the instrument fit me instead of the other way around.
Brandee has created an exciting and genre blurring new sound with flavours of hip hop, funk, soul, classical and jazz and her innovation was unsurprisingly noticed early on with artists such as Beyonce and John Legend. With very few black female jazz harpists, and being inspired by Ashby and Coltrane, developing her own sound leads to some obvious comparisons, but when Brandee was asked to perform at the Alice Coltrane Memorial concert, in May, 2007 by Ravi Coltrane, it was a turning point in not only embracing Alice's music, but using her platform to share and celebrate with others.
Really from that point on, when I started to work in this genre, I made it a point to celebrate their music in literally every performance I did. I felt that the harp world didn't appreciate Ashby and Coltrane. I wasn't so concerned about the jazz world and I was really thinking about the harp world not really embracing them.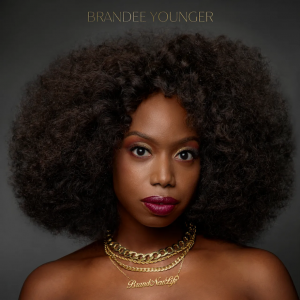 Brandee's latest album, the brilliant Brand New Life is defined as a 'tribute to the enduring legacy of Dorothy Ashby' and includes original works by Brandee along with some Dorothy Ashby tracks that have never been recorded with Brandee's unique and inspirational voice. Recorded in Chicago because Brandee wanted 'that Chicago grease on it' there are several special guests including the mighty Meshell N'degeocello. The album is stunning.
I have my own music, I write my own music, have my own style but with this record I didn't really want it to be a tribute but I've been sitting on this for years and this was my opportunity. Wax and Wane, that I recorded a few years ago, was literally a Dorothy Ashby tribute – her music and one clear concept but this album is a little different because it has music no one's ever heard before and stylistically it's me. Over time my style has cemented more so instead of me playing a certain way, this time around I could really play this music through my lens. There are couple originals on there and it is clear that these are not Dorothy Ashby but that clarity and that distinction? I'm secure in that.
Despite the feeling of some sort of jazz harp movement (Tara Minton and Alina Bzhezhinska immediately spring to my mind) there are still very few harpists and in fact, Brandee recently won the Jazz Journalists Association award for 'player of instruments rare in jazz' and in DownBeat Magazine's Critic's Poll she won under 'miscellaneous'. I asked Brandee for her thoughts on any jazz harp movements.
I don't feel that even when Alice and Dorothy were working in harp there was any kind of harp movement because if you look at it, they were women and jazz – red flag – they were black women on harp – red flag  – and then harp in jazz – red flag. Because of that time in history, I'm sure this contributed to why they were really under celebrated, those three things. If you look at their body of work, Ashby's body of work is crazy, both as a leader and a side person and then Alice Coltrane was always in the shadow of John Coltrane…just like an extra layer that some people felt it was just because of John Coltrane but I look at it as her being stuck in the shadow as Coltrane's wife.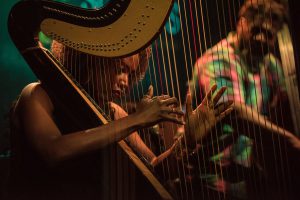 In a rare female dominated field and in fact a white female dominated field, representation and the perception of the harp is key and I asked Brandee what needed to change.
I think it's about feeling like it's inaccessible and feeling like it's something that you can't do you know? When you're young and you don't see yourself and all you see are images of a white woman playing harp. If I'm a little black boy or I'm a little Puerto Rican boy, I don't see that.  I don't see a black man or a Puerto Rican man playing harp so I may not think that's for me. So, I do think what's most important is that people know that is for them if they want it. Whatever you see, you might see the white woman in an orchestra and that's fine but that doesn't mean that you can't be the black man and know the skies the limit.  I think that's really the most important part, that there are no limitations and you don't let what you see most often cloud your judgement.
Brandee's work in education is significant. She is currently on the faculty at The New York University Steinhart and The New School College of Performing Arts and has taught at Adelphi University, Nassau Community College, University of Hartford and residencies and masterclasses include The Royal Conservatory of Music, University of Birmingham, Howard University, Princeton University, Tulane University, Trinity College and Berklee College of Music. Brandee is also the Symphonic and Jazz Harp Artist in Residence at the Cicely L. Tyson Community School of Performing and Fine Arts. With this vast experience in an educational environment, I asked her if she thought the landscape was changing for the harp.
There are tons of harp students, tons! There are students but what we're trying to do is diversify, we want to see diversity. In classical music you tend to see only white and Asian so we're just really trying to diversify and that's not just the people, but the style of music.
Brandee is quite solitary in her field and understands the power of role models and representation and I am going to have to quote Spider Man here 'with great power comes great responsibility'. I asked her if she ever felt any pressure.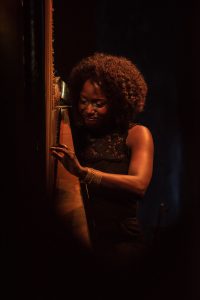 I do think about that especially because I teach at the university but to be honest, I can only be myself. And what I mean when I say that, is anyone that knows me, knows I am a clown. People that that don't know me, they don't know I'm a clown, but I'm not going to hide who I am, and I am probably going to post something really stupid…I'm not going to post something inappropriate but something stupid? Yes! But that's my personality and that's important to me, that I can be myself. That is what works for me, that I don't put on a persona, and I am very much flawed. When you grow up playing classical music everything must be perfect, all the time… you cannot make mistakes and that's real pressure. I can only be sincere and being sincere includes flaws. When I got rid of needing to be perfect all the time, things started to flow more naturally.
And that is in fact Brandee's superpower. Brandee being Brandee in everything she does. All those attributes I listed at the beginning, her passion, energy, strength, humour partnered with her incredible virtuosic playing and composing and of course her knowledge of her instrument is truly inspirational, motivational, powerful and so very exciting.
All photos by Monika S Jakubowska taken at Ronnie Scott's, London.
This interview was first published in the Women in Jazz Media July 2023 magazine
NPR Music celebrated Black Music Month with some brilliant live 'Tiny Desk' concerts. 'Together, these artists represent the past, present and future of Black music and these carefully curated shows are a celebration of Black artists expressing themselves in ways we've never seen before' Enjoy this brilliant concert of Brandee Younger:
Last modified: September 22, 2023