Jimi Hendrix is considered one of music's most influential and iconic artists. After arriving in London in 1966, he quickly solidified his name as an innovative and creative figure in the rock n' roll genre.
Today, 56 years after the release of "Purple Haze" from The Jimi Hendrix Experience, the song is still regarded as having one of the ten best guitar riffs in classic rock alongside other legendary tracks from Led Zeppelin and the Rolling Stones. Iconic for its earworm quality, "Purple Haze" fused tradition and innovation, setting the tone for his legendary career.
Despite his notoriety in the rock genre, however, Hendrix is also known for his ability to blend genres. Having said that — can Jimi Hendrix be considered a jazz icon? In today's post, we'll look at why his musical abilities and trailblazing career allows him to join music's jazz icons:
The sound of Jimi Hendrix
Jimi Hendrix is known for bringing out sounds from his guitar that no one at the time could. His sound and music are often referred to as hypnotic, featuring his signature distorted tone. This is due in part to his use of music equipment. Hendrix championed the sounds of reverb and fuzz. The development of effects pedals was integral to his sound; before Gibson developed their Maestro pedal, artists needed to destroy their equipment to achieve distortion. Hendrix's use of Dunlop fuzz pedals helped create his distinct, aggressive tone. However, fuzzes have a lower clipping threshold than a distortion pedal, so they may sound similar to a synth. The Dunlop Dallas Arbiter Fuzz Face is one of Hendrix's most used pedals, helping him distort and experiment with guitar sounds while drawing inspiration from genres such as blues and jazz.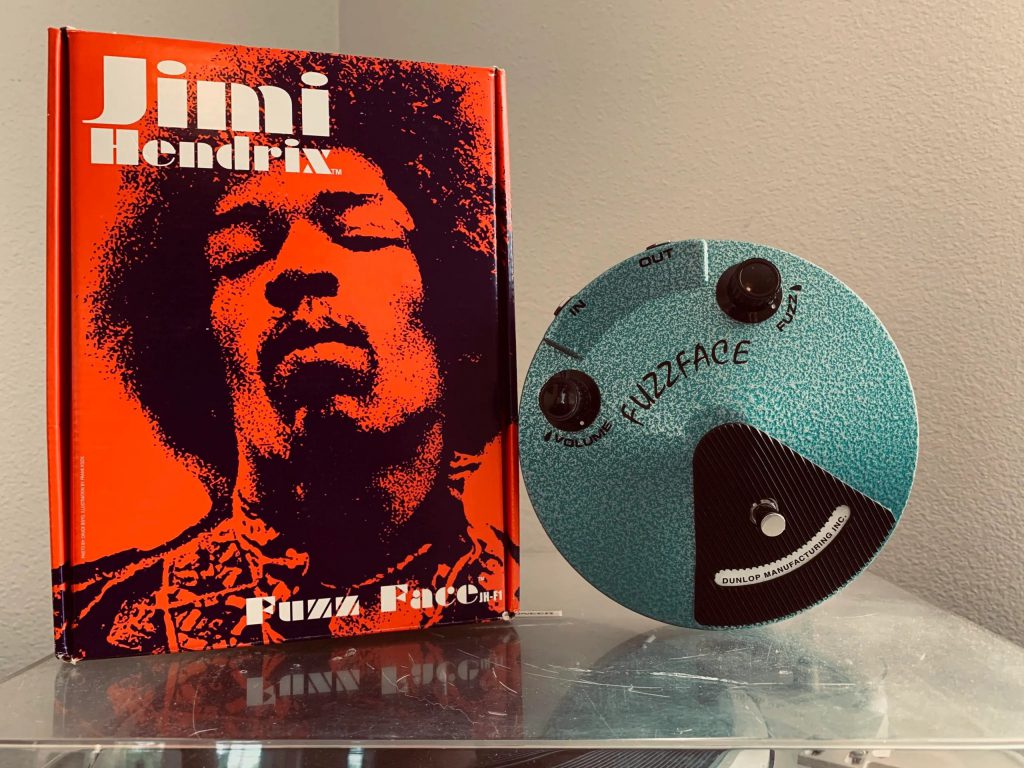 Another piece of equipment Hendrix used is the Uni-Vibe, giving his guitar the swirly quality that makes his sound hypnotic and, at times, reminiscent of the Hammond organ with a Leslie. In a recent tribute to Hendrix, pedal manufacturer Dunlop released mini pedals that capture Hendrix's distinct sound while featuring the trippy visuals from his 1968 Shrine Auditorium concert poster. One of these Hendrix-themed and inspired pedals is the Uni-Vibe, used in songs like "Machine Gun," where you can hear Hendrix's guitar's pulsating sound.
More than his equipment and genre influences, Jimi Hendrix's guitar improvisation ability is perhaps one of his best connections to jazz as a genre. One of the defining elements of jazz music, improvisation, is what makes Hendrix's live performances so distinct. In his improv, Hendrix slides and bends notes effortlessly, making live Hendrix experiences intense, emotional, and much harder for other guitarists at the time to recreate or imitate.
The impact of Jimi Hendrix
We can argue that Hendrix's improvisation techniques are still not strictly jazz-friendly and that other genres like rock do use improvisation as well. However, Hendrix's ability to fuse genres like blues and jazz into the rock genre because of his experimental guitar sounds influenced jazz musicians who weren't usually part of his circle.
Towards the end of his short-lived career, Hendrix was even more sonically experimental, blending rock, blues, and soul elements, often at the brink of jazz. During this time, Hendrix worked with jazz musicians outside of his usual niche, including sessions with Larry Young and Dave Holland — Miles Davis' London bassist. While most of these releases came out posthumously, there are allegedly more unreleased and unissued jazzy experimentations by late-era Hendrix.
Larry Young, with whom Hendrix recorded a "Hendrix/Young Jam" session, is part of the recently released Elvin Jones recording from Blue Note Records. We wrote about this previously unissued release from Elvin Jones, one of jazz's most influential drummers, a hidden treasure from jazz history.
Finally, in 1970, Jimi Hendrix was voted into the Readers' Poll Hall of Fame of DownBeat magazine — an American magazine dedicated to "jazz, blues and beyond." It was the first time a non-jazz artist was voted into the magazine's poll, with the public cementing Hendrix's place in jazz as a genre.
Featured Image: Jimi Hendrix in Ahoy | Credit: Ary Groeneveld
Made available under the Creative Commons
Last modified: June 6, 2023