Featured Image by Franck Benedetto
In 2022, guitarist Quentin Dujardin released two album recorded during the pandemic titled "2020 and 2020 Live". Both albums recorded between the lockdowns in 2021 and tell the story of an musician in a period that "was very inspiring in his fight against the silence imposed on artists."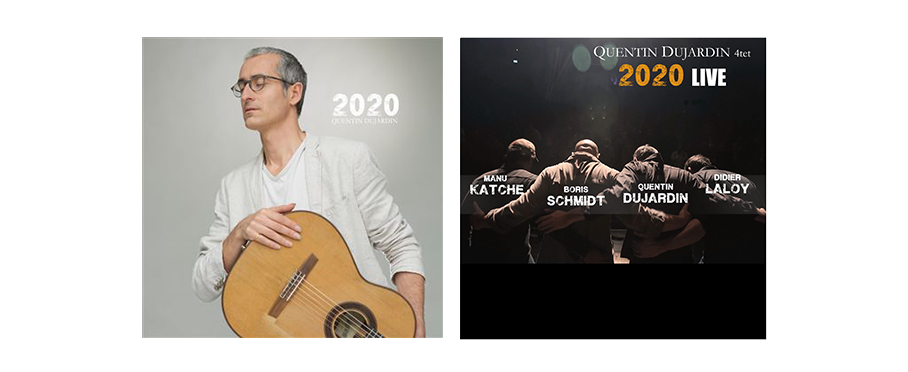 One example of this came in Febuary 2021 when the Belgian government began permitting religious gatherings of up to 15 people, while still prohibiting live cultural events. Protesting this double standard, Quentin Dujardin gave a public performance, titled Ave Maria, on a Sunday in a local church. He was arrested after five minutes.
These two album were in the words of Quentin "the fulfillment of one of his childhood dreams to bring together two big names: Manu Katché and Nicolas Fiszman." Quentin collaborated with them previously, notably on the albums Catharsis with Katché (2016) and Veloma with Fiszman (2007). With both of these recordings Quentin Dujardin quietly pursues his path, remaining resolute in sound and emotion. It is this combination that moves his audiences, an approach he has maintained for almost 30 years sprinting across national and international stages.
In 2005 Toots Thielemans saw in him "an extraordinary revelation", a bottomless well of finesse: in composition, touch and sensitivity. Along the way, the guitarist proved himself fascinating on his album Distances, in collaboration with the American producer Lee Townsend (Bill Frisell, Pat Metheny). He also performed live or in the studio with Bijan Chemirani, Olivier Ker Ourio, Richard Bona, Matthieu Saglio, Mahsa Vahdat and Ivan Paduart, to name a few.
With the pandemic now behind us, Quentin Dujardin has again been performing regularly in collaboration with his stage partners Manu Katché , Didier Laloy and Nicolas Fiszman. In October they performed a series of concerts in Belgium and on March 17, the group will be in Paris at the Pan Piper. The concert begins at 20:30 and will feature music from both the studio and live albums. The full details are below:
Date: 17 March 2023
Time: 20:30
Venue: Pan Piper: 2-4, impasse Lamier – 75011 Paris
Ticket Price: €28-

More information on Quentin Dujardin and the 2020 albums can be found here on his website.
Last modified: March 6, 2023