German vocalist, Franziska Loos released her debut album "Generation Anything" earlier this year on the German label Mons Records. With the end of 2022 approaching, I can honestly say that I found this to be one of the best albums that crossed my desk this year. With this in mind, I reached out to Franziska to find out more about her and get a little background to this album.
Prior to turning to music, Franziska studied marketing and communication, "While I always wanted to be involved with music, my parents wanted me to do a "real degree" so I choose marketing and ended up working in that area for a while" explained Franziska. Finally the draw to music took the upper hand and Franziska enrolled at the conservatory in Osnabruck Germany to study jazz vocals. As I mentioned earlier, I was highly impressed with her album and as the editor of this platform I like to think I have my finger on the pulse of what's happening in the scene so I wanted to know how she managed to stay under the rader. "Well, that's a hard question to answer and perhaps it's just circumstance" she remarked. "When I started studying, I was already quite a bit older than the other students so I wasn't eligible for a lot of the competitions where you can get good exposure as most of them have age limits. So basically I had to grass roots it! Also I wanted to do my own thing and that's not always the quickest way to break into the scene. You know, I found out it's pretty hard to book a large band, especially as a student so that was a challenge but we did manage to do a few small tours in Germany."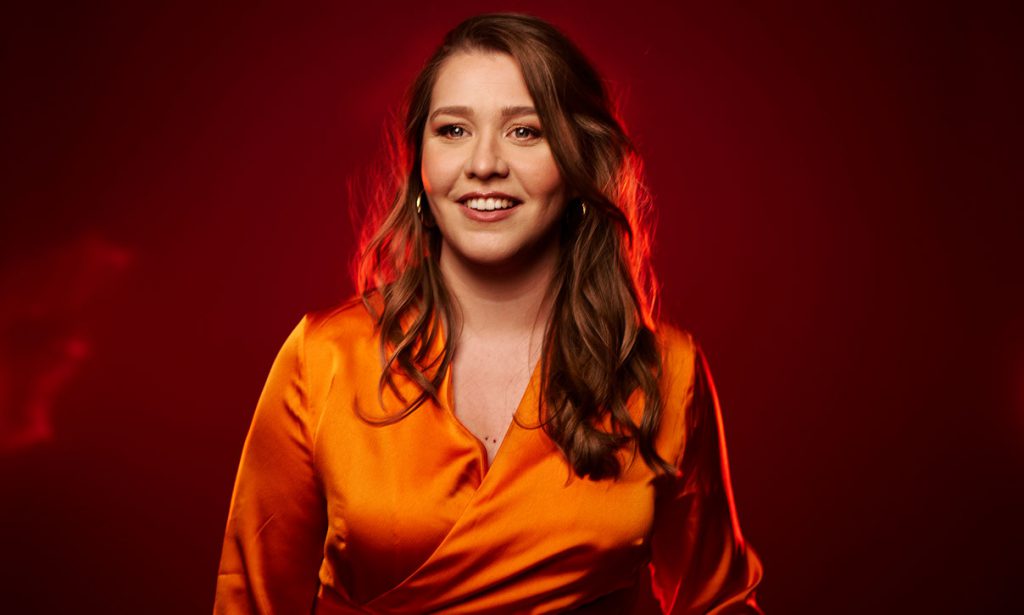 These short tours were valuable giving Franziska the opportunity to hone the repertoire in a live environment and with the material being well received Franziska decided to record an album as the next step.
"We recorded the album in early 2019 but at that point didn't have a definite plan as to when to release it. I wanted to plan the release to coincide with a series on concerts we had booked however the Pandemic hit and that was pretty much the end of that plan, so we needed a plan B and that was to wait to release the album until things got back to some form of normal."
Moving back to the album itself, I wanted to know more about the back story, the material and her choice for instrumentation. "Well, originally it was a five piece band, but I felt for the album that I needed a larger band to get the sound I was looking for. As it ended up, I knew most of the players who played on the album from when I was studying. I mentioned before, we did do some small tours and with many of the band members also busy with other projects we often had to use subs so that also widened the pool when it came to who to ask for the album. For me it was more than just the musicianship, the plan was that this was going to be a permanent band so it also had to click personally. When I started to work on the preparation for the album, I already knew that I wanted to expand the line up so I started working with my Loop Station, just trying out arrangement ideas. One of the first things I realized was that I felt the piano was two dominant in the sound so I started experimenting with other options. Using a Hammond worked well in the sound but touring with a Hammond is a pain and then I met vibes player Christopher Olesch and that worked perfectly."
Moving to the arrangements, Franziska had completed the compositions and had sketched the outlines for for the arrangements however the final arrangements were done together with Alto Sax player Vincent Dombrowski. The basic line-up for the recording was two saxophones, two trumpets and trombone with the reed players also doubling on flute and bass clarinet. when you listen to the album the brass sound defies the forces available so I was interested to know to what extent overdubs were used. "Yes, of course we did use overdubs but to be honest not that many. Most of the overdubs were not just doubling parts to expand the voicing but more just layering other instruments such as an extra voice on flute or clarinet. I really wanted to make sure that when it came to doing this live, things didn't fall apart."
Speaking of overdubs, I wanted to know about the vocal tracking. One of the main things that really impressed me about the album was Franziska's extended vocal range, her control and in particular the way she used her intonation to color the emotion. There are many moments on the album where Franziska would insert a vocal note into a chord played in the horns adding just the right coloration with jaw dropping effect. I asked her if in these cases there was much post production needed to get the effect. "No, there was no post processing needed at all. I have always seen my voice as an instrument and spent a lot of time finding the consonant to use to blend with a specific instrument, and this is the key to nailing it. To be honest when we mixed the album most of the vocals were single takes without a lot of editing."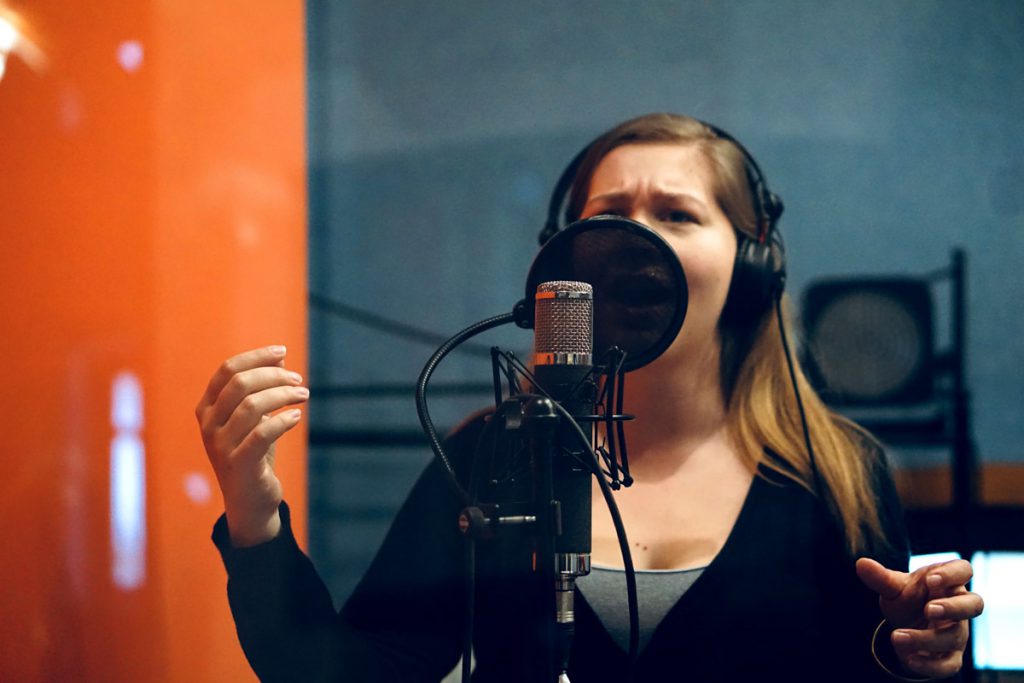 At this point we moved on to speak about the subject matter. From a lyrical perspective there is no doubt that the material on the album contains a strong social comment and in the albums press release the lyrics were described as "dark, poetic, cutting, poignant, direct and yet the message is in no way negative." I asked Franziska about the motivation behind her lyrics. "I wanted to write about things that are relevant today and specifically from the point of view of my Generation." She went on to say "Writing the lyrics was in a sense liberating, for example the song Rush. I wrote 'Why rush things, when no one is waiting for you' I see this as a relief. I mean things are often not as important as we think, so take it easy, don't stress as much."
One of the songs on the album that grabbed my attention is "Sad Excuses", a not to subtle dig at Donald Trump. I mentioned to Franziska that I found  a lot of musicians when writing lyrics with a social comment tend to be rather cryptic, and while clever, often the message goes over the head of the listener. This is not at all the situation here. "Yeah, I guess that one was pretty direct. You have to remember that when I wrote the song it was far more current than it is today. I mean he was still president and no one knew the extent of the damage this guy could do. But now he's no longer president he's less relevant, well at least outside the US, but there are many other's in power that this song can apply to, you just have to take out the "Grab them on the pussy" line and it could be any other bad leader we have on the earth at the moment."
Franziska's video for the first single from the album, "Wondering", is equally as impressive as is the song it features. It's refreshing to see an artist investing in a fully produced music video to promote their single in the jazz genre. Far to often is video an afterthought in the jazz world. I asked Franziska to give me a bit of background on this one. "Well, we discussed the choice of this track for the single and video a great deal. This track plays into what we were discussing about Sad Excuse, in fact you could see Sad Excuse as a sort of intro for Wondering. I was just feeling really fed up with the fact that these days in politics anyone can seem to get away with anything as long as you play dumb, deny it or change the context switching it up. I think there's a the psychological aspect it. You'll hear words in the lyrics like gaslighting, bread-crumbing. For example, take the situation in the US on January the 6th, it really put the spotlight on narcissism and that really highlighted it for me and put a lot of things in context. I started to see some of this behavior's in the people I used to be surrounded with so I just wrote about it because I was so fed up. Like I said, 'I bought the T Shirt, but I'm not waring it anymore."
We went on talking about specific lyrics and it became clear that Franziska has a lot to say and is defiantly not at all backwards in coming forward. When pushed about her thoughts on specific subjects, she is fully aware that it's possible some may take offence at some statements. She explained: "I know the lyrics are bit on the nose and I also I know it won't be everyone's cup of tea but it's me. It sort of goes back to when I was studying at the conservatorium. As a singer, what's the first thing you learn? Well the American Song Book and what do these lyrics contain? Birds, flowers, love, sometimes unattainable love but all subjects that are drawn from lighthearted musicals. Of course there are exceptions, Strange Fruit and Love For Sale come to mind but, generally there's not that much substance in the lyrics. During my studies I've sung more than enough of these standards. I needed something else and I needed to speak from the heart. I know there will be people listening in their free time who think, 'I've got enough of this shit in my life, why should I spend my free time listening to this', but there will be others who I hope will feel the same relief I did when I wrote them." Franziska went on to say, "Don't get me wrong, I'm not canning singers that do the American Songbook, there are a lot of them that do it really authentically, I just feel there are people that can do it far better than I can."
Apart from this project, Franziska also has a few other projects that are quite interesting. The first of these is the band A.tronic with André Nendza. Franziska described this project as "a peculiarly independent sound, which is difficult to describe with the usual stylistic terms. She stated "Especially since attempts to use terms as "a mixture of jazz-funk, 80s pop, prog-rock and singer-songwriter, played by musicians who – more or less – have something to do with jazz" doesn't sound that effective from a marketing perspective." Franziska has also been working with a DJ producing Dance Music. "I mean it's quite strange, the tracks are straight dance tracks but the lyrics are similar to those on Generation Anything. I wrote this track called the highest bidder, like, you know, history belongs to the highest bidder. It's really quite funny, all these people are dancing and having a great time but the songs message is really dark!"
With all of this I was interested to know how Franziska see's herself as an artist. Is she a singer, a composer, an activist or a bit of all. "Strange that you ask this because I was just thinking about the earlier today. Well, here we go, when I was a kid I actually wanted to be a writer or to be more specific, a novelist. And then I discovered my voice and realized, I could not only write stories but I can also transmit them with music. I love to write and compose, but I also love singing so I would hope I'm a bit of all of these things. As a singer I have the gift of being able to use words and music to be able to tell a story and I see this as a privilege so I always try to choose my words carefully and say what is dear to my heart."
With the Zoom 10 minute warning coming up on our second session, we decided to leave it there. After all, this is a good place to leave this highly enjoyable interview. I want to close with Jan Veldmans closing sentence in his review of the album here on Jazz In Europe. "This is not an album to put on in the background, this recording commands your attention. Franziska has a rather non subtle way to "poke the bear" and for those willing to dig into the lyrics, be prepared – she's could possibly be speaking about you."
I urge you to check out Franziska's album Generation Anything. It's a great album and like it or hate it, I'm sure it will leave you thinking and that's a rare thing these days.
You can listen to the album here below and you can find more information on Franziska at her website.

Last modified: December 21, 2022