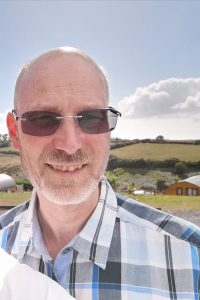 The brilliant Jazz Views website celebrates ten years of exploring, sharing and promoting jazz this month. Well known for his support of jazz artists and love of the jazz community, founder Nick Lea has been tireless in his work to share great music with the world. It was a great pleasure to talk to Nick and explore how it all began and his hopes for the future.
 How did Jazz first enter your life?
I was about fourteen or fifteen and my first encounter with jazz came via a friend who listened to a lot of jazz rock, and who introduced me to Weather Report, Jean-Luc Ponty, Chick Corea and Return To Forever, Colosseum II and Barbara Thompson's Paraphernalia. Something within the music made an instant connection with me and I began to listen to as much as possible. My friend's mum was a big jazz fan and suggested I might enjoy listening to that too. After that I would leave my friend's house carrying a selection of jazz LPs that his mum said I should listen too. I remember listening to the Dudley Moore Trio, Billie Holiday, Jazz At The Philharmonic, Oscar Peterson, Charlie Parker, Sonny Stitt, Ella Fitzgerald, Count Basie, and Duke Ellington. I just couldn't get enough, and so a lifelong passion was ignited.
When you first founded Jazz Views what was your main aim and has this developed?
The first edition of Jazz Views was founded in 2002 and ran for four and a half years. Initially the format was an email newsletter (I had just purchased my fist computer) with reviews of albums that I had bought, and this was emailed to friends. From this I started to receive emails from other people that had read the newsletter, and this encouragement and knowledge that the reviews were being read inspired me to develop the Jazz Views website. The idea with hindsight was quite simple, I just enjoyed writing and sharing my love of the music with others and this seemed a good way of doing just that.
This also gave me the confidence to approach some of the independent jazz labels in the UK, along with distributors to see if it was possible to obtain review copies of albums and arrange interviews with some of the musicians. As the number of albums for received for review increased, it became obvious that the site was growing quite rapidly and that I need some help, and I was lucky enough to meet Euan Dixon, Roy Booth, Ken Cheetham and Jack Kenny who have been writing for Jazz Views from the outset. Sadly, Roy retired from writing a few years ago and his contribution and input is greatly missed, but the others are still regular contributors bringing a wealth of knowledge with them.
The aim right from the very beginning was to share the music that I love with others. As the website continued to grow beyond my expectations the opportunity arose to review and interview some of the major UK and international musicians, and this in turn has brought more visitors to the website. Jazz Views has always tried to review as many albums as possible (but not as many as I would like to) by a diverse range of artists and styles that fall under the umbrella we call jazz. If by reading a review on the website someone goes away and buys a copy of the album and gets as much enjoyment from it as we have then it is a job well done. By the same token, if we can help musicians by reviewing their music and offering interviews and assist them get some exposure for their work then we have achieved what we set out to do.
Reviewing and interviewing is a two-sided process and not only are you supporting the artists, by exploring their music, you are also developing your own skills and musical awareness and of course, adding some (hopefully) great music to your own playlists. With 10 years of interviews and reviews, it would be a little cruel of me to ask for any favourites. But I do know you enjoyed reviewing Barbara Thompson's cd set and you are a huge supporter of Georgia Mancio…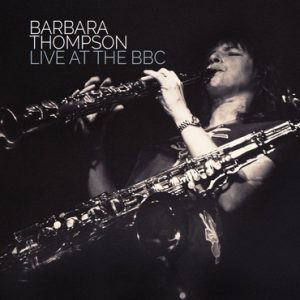 You are referring to Live At The BBC 14CD set released last year. Whew, that was some undertaking but hugely enjoyable. As I mentioned earlier, I have been a fan of Barbara's music for many years. In fact, I recall hearing her live with Paraphernalia at the Students Union in Cardiff in 1983. The boxset, although initially daunting, was a wonderful trip down memory lane as over the years I had heard Barbara perform much of the music in concerts I had attended and on her studio albums too. Listening in such a concentrated timespan, I must have listened to each disc at least 3 or 4 times before even starting to write a review, the sheer scope of Barbara's music is breath-taking. Across the 14 discs you could hear at close quarters how her music was evolving over time, and of course there are her often daring and melodic compositions and her wonderful playing on saxophones and flute. She was an inspirational musician and her passing in July was very sad to hear and a great loss.
Another inspirational musician whose music has given me much enjoyment is of course Georgia Mancio. An artist who has through patient and steady development and a lot of hard work become one of our finest vocalists and a lyricist of considerable importance with her song-writing partnership with Alan Broadbent. I've never admitted this to Georgia, but I feel that I was somewhat late for the party. Although I was aware of her work, apart from a few tracks I had not heard much of her music. That is until the album Songbook was released in 2017. Upon hearing it, I was aware that I was listening to songs from an important songwriting partnership and was immensely was touched and moved by the music. It was at this time that I was fortunate enough to be able to interview Georgia and Alan for Jazz Views. I also took the opportunity to chastise myself for not having made the effort to acquaint myself with Georgia's music before.
After many emails, telephone conversation and online chats, I had the very great pleasure of meeting Georgia when she was on tour with Kate Williams Four Plus Three performing music from their excellent album Finding Home; and also had the opportunity to set the record straight for my previous oversight when invited to write a piece about Georgia for Women In Jazz Media's inaugural magazine in an article about Women Who Inspire. I also owe a debt to Georgia for encouraging me to expand my listening and knowledge of the great Sheila Jordan, and this has resulted in collaborating on another article for Women in Jazz Media about Sheila and her astonishing career.  It was an honour and a privilege to work with Georgia on the article, and I hope the opportunity presents itself for us to collaborate again.
You must have had a huge number of writers working with you over the past 10 years. How do you support and motivate your writing team?
Over the years Jazz Views has been fortunate to have some wonderful writers who have contributed unstintingly of their time and knowledge, many who have been writing for the site many years. As I mentioned earlier, Euan, Roy, Jack and Ken wrote for the first edition of the website, and when I started up Jazz Views again in 2012 these four stalwarts all immediately jumped back onboard. Other regular contributors include Chris Baber, George Cole, Eddie Myer and Jim Burlong, who has sadly retired from writing at present, and our newest contributor Isabel Marquez.
Regarding motivation and support, I think that self-motivation and love of the music keeps the writing team ticking over and I often feel that they support and motivate me with the quality of their writing.
If anyone is interested in writing for you, what should they do?
I am always looking for new reviewers to assist with the increasing number of albums received for review. In the first instance any prospective writer can email us at jazzviews@hotmail.co.uk. It would be useful to give a little information about yourself and your musical tastes, and maybe an example of your work.
I am sure you get contacted by artists all the time but what is the best way to approach your team for a review or an interview?
Again, the easiest way to contact us is via email telling us about your album or project. We do try and reply as quickly as possible but do receive a lot of requests, so please bear with us.
 Jazz Views is a highly valued publication and you are well known for supporting artists and the jazz community. What support do you need to continue doing such incredible work?
Jazz Views receives an incredible amount of support from the artists, distributors and media PR in supplying albums for review and advising of artists who are available for interview. The other way that we can support each other and the jazz scene in general is by sharing information and communicating. If you have enjoyed reading a review, interview or article on Jazz Views or any of the other excellent jazz sites then please share it. The more people that get to hear about the incredible music that is being produced and available the better. The pen maybe mightier than the sword, but the internet and social media is an important communication tool that has the potential to reach out and extend the audience for the music.
 And finally, any exciting plans for the future?
Funny you should ask… Yes, there are plans in place to take Jazz Views forward with new collaborations that will look to expand the reach of the website, and let more people hear about the incredible musicians in the UK, Europe and beyond.
Last modified: September 14, 2022