This morning the news reached us the Joey DeFrancesco has passed away aged 51. According to reports, the exact cause of death is still to yet to be fully determined.
I first met Joey in the late 1990's at the North Sea Jazz Festival when he was touring with John McLaughlin's Free Spirits band and over the years had the great pleasure of interviewing Joey a number of times. I always found him to be open and a pleasure to speak with. Joey had an amazing sense of humor and often our conversations would veer off on unexpected tangents.
Originally hailing from Philadelphia Joey DeFrancesco become one of the best-known jazz organists on the scene today and a torchbearer for the City of Brotherly Love's long-standing tradition with the instrument.
The son of "Papa" John DeFrancesco, (an organist himself) in the 1980's Joey was credited with spearheading the resurgence of the instrument after a decade of hibernation in the mid-1970s and early 1980s.
In the early 1980s, while still a young boy, Joey's father would take him to gigs often encouraging him to sit in with the house bands. I remember Joey telling me "there were several clubs in town that catered strictly for organ trios and one of these was a club called "Gert's Lounge" on South Street. When the club first opened up it had Shirley Scott as the house organist and Johnny Williams on drums and they would invite different Sax players to come along and play. One night my dad took me down there to sit in, I was around 10, and at that time Don Patterson was playing the organ and Philly Joe Jones was on drums. Well, I sat in and they liked my playing, they enjoyed it and accepted me. The next thing I knew was that Don Patterson asked me if I could fill in for him for the rest of the summer, it was amazing, I was just a kid and still going to school. Well as it turned out, that summer the band was Philly Joe Jones on drums and Hank Mobley on sax." I felt rather amazed when Joey told me this, after all, there are not that many kids of that age that are given the opportunity in effect to learn their craft directly from the tradition.
During his career Joey notched up a long list of credits both as a sideman and a leader that reads like a compendium of jazz in the late 20th century however the next major milestone in his career came while still in his teens and that was touring with the Miles Davis Band.
How this came about was an amazing story. In Joey's own words the story goes like this.
"Well it's sort of a long story but Miles was doing an interview on a local TV station in Philly, It was a morning show called Time Out. Well seeing they were having Miles on the show the producers thought it would be good to have some live music for in between the commercial breaks. So they thought it would be a good idea to have some students from the High School I went to play. The band was me on organ, Christian McBride on bass and a drummer called Stacy Dozier. They also thought it would be a good idea to have four young local trumpet players to come along and play and have Miles critique them! – If you watch the interview you'll see that it didn't go all the well."
One of the trumpet players was John Swana, When he came up he asked me to play a chorus for an intro and after we played Miles interrupted the interview and asked "Who's your organ player", well I was a nervous wreck, here I am on live television in my home town and I had no idea what Miles was going to say next! I'm thinking is he going to tear me apart on TV in front of all these people that know me? – anyway, believe it or not, he dug it. He asked for my number but I didn't hear from him until the summer of the next year, 1988, I still can't believe that chorus got me a gig with Miles."
For those who are interested there is a video of the show up on YouTube and you can watch that here.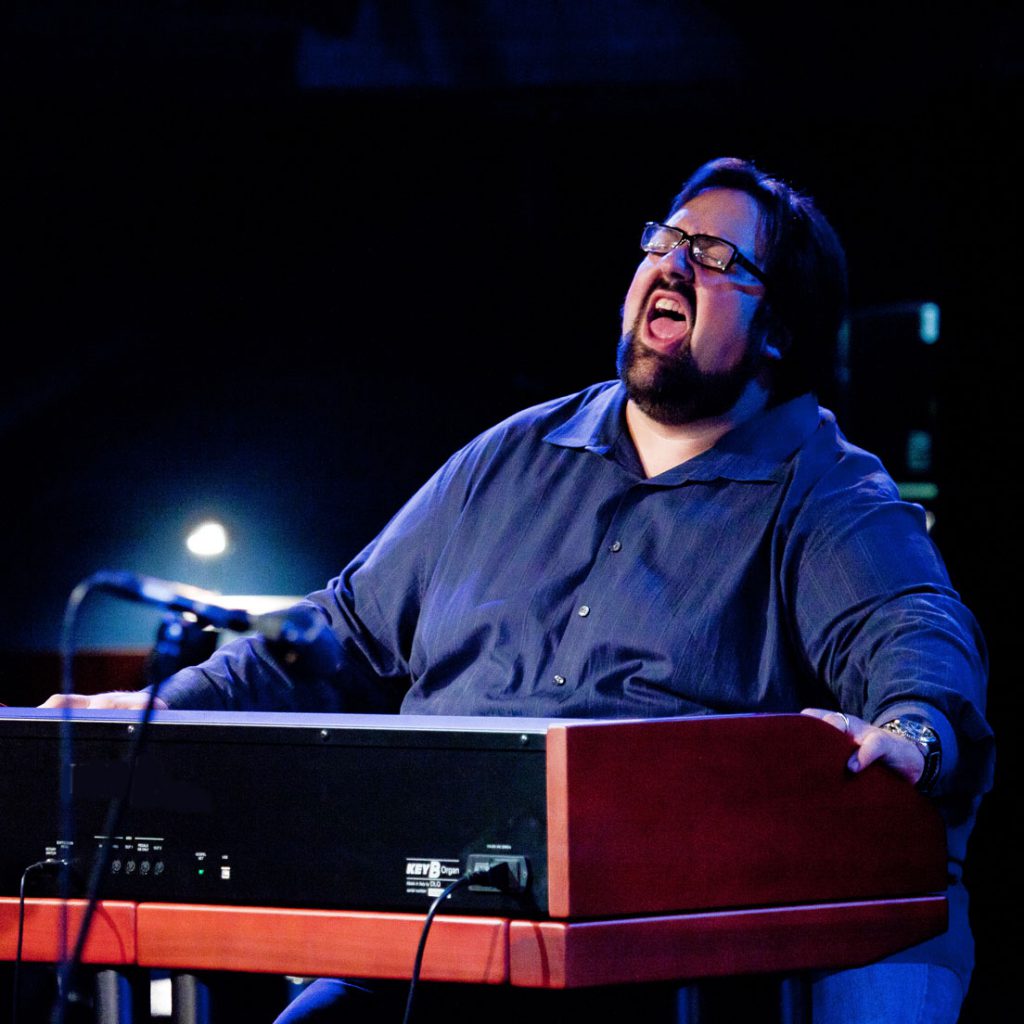 These are just two of the many amazing anecdotes that Joey shared with me over the years. As a multi-instrumentalist Joey never ceased to amaze me, I remember the first time I saw him live with John McLaughlin he had just laid down one of the most amazing Hammond solo's I had ever heard and then topped this off by grabbing the trumpet and blew an equally impressive trumpet solo holding the instrument with his right hand and comping on the B3 with his left and at the same time holding down a complex bass line with his feet!!!!
In addition to being a great musician, Joey was also a connoisseur of life and will be sadly missed by all those who had the pleasure of meeting him. We want to pass on our sincere condolences to Joey's family.
Last modified: August 26, 2022