Last month Mons Records released German saxophonist Denis Gäbel's latest album titled the "Mingus Sessions". As the title suggests, the album is dedicated to the music of Charles Mingus. Mingus was born on the 22nd of April 1922 and therefore would have celebrated his 100th birthday this year. So far this year I have reviewed a number of albums dedicated to Mingus, however none have quite grabbed me in the way this album did.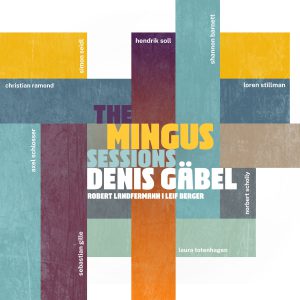 The album contains a selection of 10 Mingus classics and features a trio consisting of Gäbel on Saxophone, Robert Landfermann on double bass, drummer Leif Berger and a selected group of soloists specifically selected for each track by Gäbel.
Denis Gäbel cites Charles Mingus as one of his major influences. In the press release accompanying the album Denis states "I had my first contact with the music of Mingus at the age of 13 at the JungendJazzWorkshop NRW. Since then, I've been a passionate fan of his work. The first Mingus album I heard was his "Blues and Roots" and still to this day it's my favourite album". I was interested to read in the press release that in essence this recording is "stop gap" album. In 2020 Gäbel had planned a recording with his German-American quartet for Deutschlandfunk however, it comes as no surprise, that the project had to be postponed due to the Corona pandemic. With the studio time still available, Gäbel had to quickly change tack and decided to honour the music of Charles Mingus. "I had the idea of using the Deutschlandfunk slot to record an album with the music of Charles Mingus, after all, in 2022 Charles Mingus would have celebrated his 100th birthday."
Moving on to the music, the first cab off the rank is "Orange Was The Color Of Her Dress". Gäbel choose to take this tune as a slow medium blues feel with the sax taking the theme and both Landfermann and Berger playing quite freely. Special guest for this piece is pianist Simon Seidl who not only glues it all together harmonically but also provides a strong solo contribution. Trumpet player Axel Schlosser is the guest on the following track "Jump Monk". Both Gäbel and Schlosser are stunning on this track meshing perfectly in the unisono theme and I particularly enjoyed the collectively improvisation in the opening.
The special guests chosen for the recording by Denis were not limited to traditional solo instruments. For "Work Song" bassist Christian Ramond joined Landfermann and "Prayer For Passive Resistance" was performed with the addition of drummer Hendrik Soll. Doubling up in the rhythm section can be a challenging thing to do, there is always a risk of clutter, however, in my humble opinion, both of these tracks are a masterclass in how to do this. I particularly enjoyed "Work Song" and the manner in which both bassists blended without getting in each others way.
Other highlights on the album are "Fables of Faubus". The performance here not only captures the atmosphere of the original but, together with Alto saxophonist Loren Stillman, the group move this classic to a new level. And speaking of highlights, the albums closing track "Goodbye Pork Pie Hat", featuring both guest tenor saxophonist Sebastian Gille and Gäbel is wonderful. It's difficult to find a superlative appropriate enough to describe how both horn players weave in and out of each others space ramping up the pathos already contained in the composition.
Recorded at the Deutschlandfunk Sendesaal in Cologne by Oliver Bergner, the sound quality of the recording is top notch with all elements sitting perfectly in the mix. One may think that an album concept such as this with multiple guests could sound a little disjointed stylistically however this is not the case here. There is a strong musical cohesion throughout the album and all performances are fresh with each of the guests bringing their own unique flavour to the proceedings. I believe it's exactly this diversity together with the constant of the trio that sets this album apart.
In reading this, by now you have most likely come the conclusion that I enjoyed this album a great deal. I stated earlier that this album was in essence a "stop gap" recording however that does not mean that the album is in anyway lacking, In fact, it's just the opposite. I believe the circumstances surrounding the recording only add to the spontaneity and looseness that make this recording a joy to listen to.
Denis Gäbel's "Mingus Sessions" captures the true essence of what jazz is, freedom, interaction and improvisation at the highest level. Highly recommended.
Line-Up:
Denis Gäbel, tenor saxophone | Robert Landfermann, double bass | Leif Berger, Drums | Simon Seidl, piano | Axel Schlosser, trumpet | Loren Stillman, alto saxophone | Christian Ramond, bass | Hendrik Soll, drums | Norbert Scholly, guitar | Laura Totenhagen, vocals | Shannon Barnett, trombone | Sebastian Gille, tenor saxophones
Track Listing:
1. Orange Was The Color Of Her Dress | 2. Jump Monk | 3. Fables of Faubus | 4. Work Song | 5. Open letter to Duke | 6. Eclipse | 7. Prayer For Passive Resistance | 8. Remember Rockefeller at Attica | 9. My Jelly Roll Soul | 10. Goodbye Pork Pie Hat
Release Date: 24 June 2022
Format: CD | Digital
Label: Mons Records


New Release Spotify Playlist
The Jazz In Europe New Release playlist features tracks from the new releases featured on Jazz In Europe. Updated weekly, this playlist is the perfect place to discover new music from the leading jazz musicians currently on the scene. We hope you enjoy this selection.
Last modified: September 10, 2023