Every once in a while, an artist comes along who challenges the norm, be that because of their musicianship or singing ability. In the case of Cécile Mclorin Salvant, it is definitely the latter. Her latest record, "Ghost Song", is a seminal collection of songs that will make you sit up and take notice.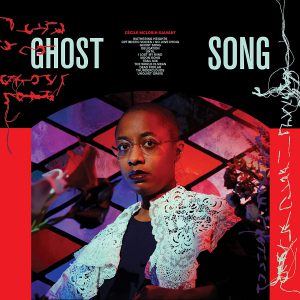 Cécile McLorin Salvant, a 2020 MacArthur Fellow and three-time Grammy Award winner, is a singer and composer and this is her debut on Nonesuch Records. Challenging the jazz norm is what keeps her writing and creating the music that she does. On this her sixth album, this is very evident with a collection of 12 songs: seven original compositions and five interpretations, all on the theme of ghosts, nostalgia and yearning. She says, "It's unlike anything I've done before – it's getting closer to reflecting my personality as an eclectic curator. I'm embracing my weirdness."
The album begins and ends with a sean-nos, which is a traditional Irish unaccompanied vocal style and in this case, recorded in a church to provide reverb and atmosphere. Track one, "Wuthering Heights", starts with the 'Cuirt Bhaille Nua' sean-nos and combines with lyrics from Kate Bush's song "Wuthering Heights". Having read the classic Emily Bronte novel of the same name, Salvant says she was "struck to the core" by this most poignant of ghost stories and it provided the inspiration for this album's theme and also its title, "Ghost Song". Her rendition of the 1978 chart-topper is shorter than the original but if anything, more haunting and deeper in the way it asks you to listen.
"Optimistic Voices" opens with a continued coldness and an almost shrillness to the vocals; but this soon warms to mellowness backed by a modern beat, combined with tuneful piano and vocals lets in the track reminiscent of the great Billie Holliday.
The third song is the title track, "Ghost Song", and this has a bluesy feel to it, after an intro that suggests a lament. Guitars provide a different sound along with a youth choir who repeat the refrain. The shortest track on the album is the fourth, at just over a minute and a half; "Obligation" again touches on the Bronte story.
Track five originally came from the pen of Gordon Sumner (Sting) and was featured in the 2001 Meg Ryan romcom film "Kate & Leopold". Salvant's version is slower, more complex in its sound, certainly more introspective but wonderful, nonetheless. The musical interlude, like a guitar solo in a favourite rock song, extends the storyline complimenting Salvant's rich voice, which returns, transporting the listener to a conclusion that begs for more.
The anticipation is of course only momentary but the title of the sixth song, "I Lost My Mind", could lead to anything and it doesn't disappoint for sure. The limited and oft repeated lyrics support a soundtrack that wouldn't be lost in a Bram Stoker adaptation.
But then, the next helping offsets the dark mood: "Moon Song", with a slower tempo, brush drums and lyrics that talk of love make everything nice again. Track three is a piano only track but here again there is some light amid the dark, Sullivan Fortner's keyboard playing keeping the shadowy theme going for "Trail Mix".
You kind of get the idea by now and "The World Is Mean", which originates from Kurt Weil's 'The Threepenny Opera', is no different, bringing a strange take on what would be imagined as jazz. Perhaps this could be termed as 'theatrical jazz' as the listener's mind conjures up odd characters cavorting across a macabre set, to the deep piano and contrasting shrill flute.
"Dead Poplar" isn't exactly a happy song and is vocalised by Salvant rather than sung but has a deep meaning, of course; the lyrics coming from a letter, in the public domain, between the renowned American photographer, Alfred Stieglitz and his spouse Georgia O'Keefe, famed for her modernist art.
"Thunderclouds" actually lifts the mood and is a really good straight up jazz composition, which then leads to the ending of the album and the traditional song, "Unquiet Grave", that echoes the haunting vocal-only beginning.
Here then is a jazz album that challenges the listener but intrigues at the same time. The talent in Cécile McLorin Salvant's vocals is immense with genuine ability across all ranges. Her musicians bring the whole concept to life with a selection of instruments and sounds both familiar and at times strange. Everyone who listens to this album will have a slightly different opinion of it because it will affect them all differently and that's what great albums do. Yes, this is a great album and needs to be listened to intently and perhaps in the company of a Scotch on the rocks – warmth and coldness for your ears, your soul and your stomach.
Track Listing:
1. Wuthering Heights | 2. Optimistic Voices No Love Dying | 3. Ghost Song | 4. Obligation | 5. Until | 6. I Lost My Mind | 7. Moon Song | 8. Trail Mix | 9. The World Is Mean | 10. Dead Poplar | 11. Thunderclouds | 12. Unquiet Grave
Line-up:
Cecile McLorin Salvant, voice/vocals | Paul Sikivie, bass | Sullivan Fortner, piano | Alexa Tarantino, Saxophone | Aaron Diehl, piano | Marvin Sewell, guitar | James Chirillo, guitar | Daniel Swenberg, flute | Burniss Davis, bass | Kyle Poole, drums |Keita Ogawa, percussion
Release Date: 04/03/2022
Format: Digital | CD | Standard vinyl | Limited Edition violet translucent vinyl
Label: Nonesuch Records


New Release Spotify Playlist
The Jazz In Europe New Release playlist features tracks from the new releases featured on Jazz In Europe. Updated weekly, this playlist is the perfect place to discover new music from the leading jazz musicians currently on the scene. We hope you enjoy this selection.
Last modified: August 26, 2022